Social media users are amused after noticing that the government ministry for corporate affairs won't let you enter it unless you "pledge for a digital and cashless India".
Headed by Arun Jaitley, who is also the minister of finance, the ministry is responsible for regulating companies, stocks and shares and is mostly accessed by investors and entrepreneurs. Nirmala Sitharaman is minister of state for it.
Reddit India posted the observation which turned out to be true: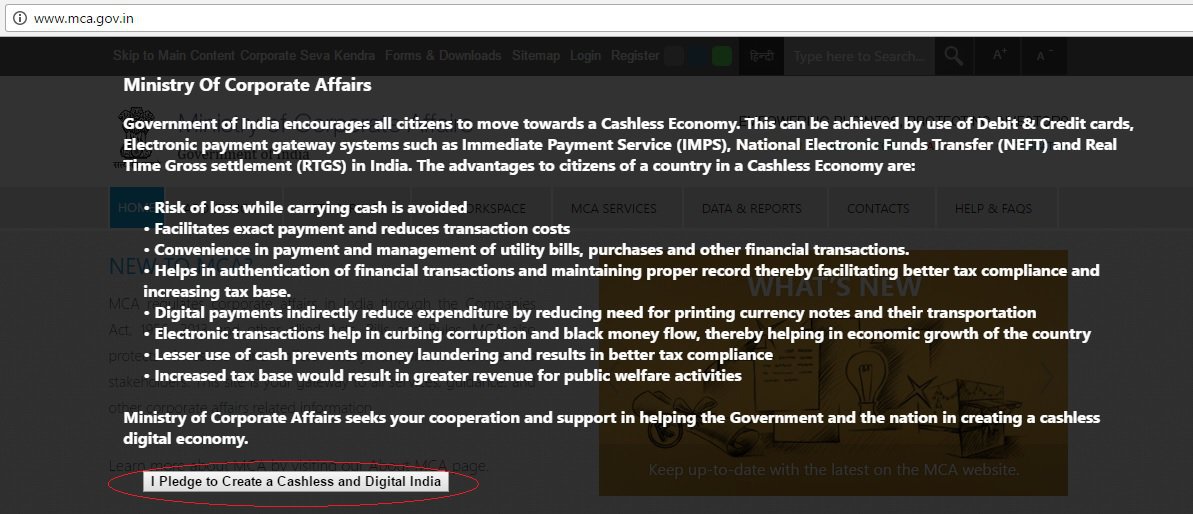 So if you don't share prime minister Narendra Modi's vision of a "digital and cashless India", this website is not for you. Certainly not if you don't commit to promises you don't mean to keep, that is.
This however isn't the case if you want to access the finance ministry's website, just in case you are wondering.

Social media users have slammed this submission by force.
A Twitter user suggested how government could misuse the statistics, which makes sense.
@redditindia not fair at all. Imagine them using these click numbers as a statistic to claim how many people are backing their policies

— Anjali (@jilibiii) December 19, 2016
Others find it plain annoying
On Reddit, users both poked fun at and raised an alarm over the condition. What next, sing national anthem to access government sites?


Some users even lamented their loss of "constitutional rights" in having to pledge for something they may not be particularly enthusiastic about.

Curiously, the corporate affairs ministry seems to be the most kicked about Modi government's various schemes and drives. In June, it made news for asking users to pledge for Swachh Bharat…