These days, no matter how secretive celebrity weddings are, we get a whiff of them. And the fact that as fans, we're all keen on finding out details or see pictures is understandable, as long as it is subtle. When these celebrities finally share the news with us, that's a celebration. Hounding them or the people around them for information is just crossing the line. Because if they wanted to, they'd do it. Forcing information out of people is torturous, no matter how happy or excited we are.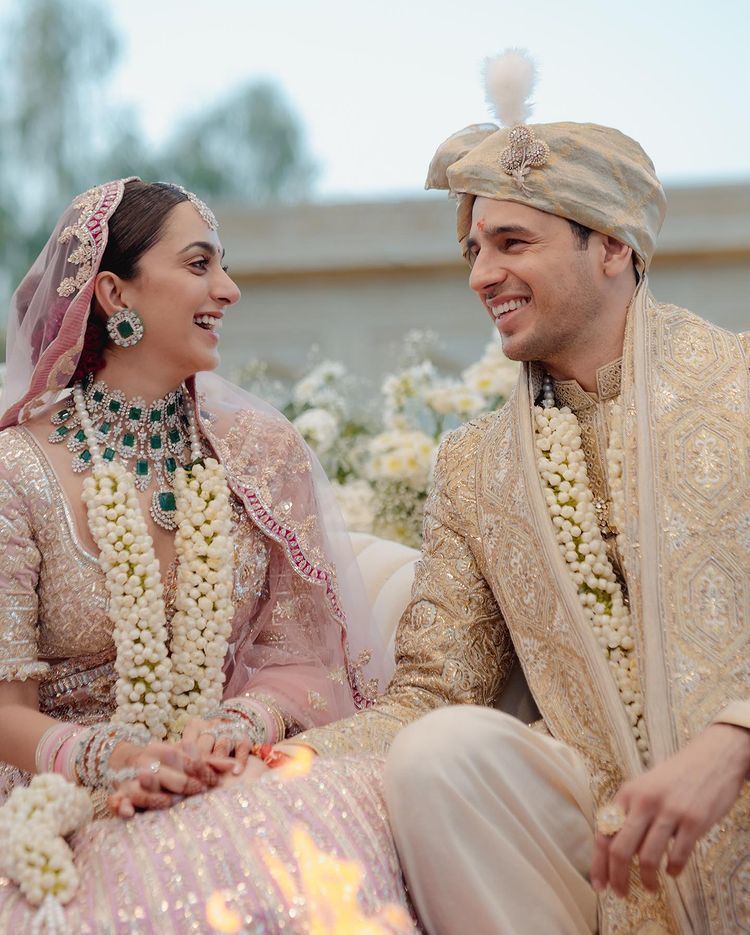 The sad part is, celebrities can do nothing but leave with a smile. Because, we know how any 'normal reaction' wouldn't be treated. Now, imagine being part of the wedding as a staff member for the event, the venue or for the couple. As people who have the details, they're definitely expected not to share them ahead. And it's one thing giving out information that concerns oneself, spilling someone else's news, even if it by mistake, isn't something that anyone would appreciate. So these staff members try very hard to avoid any attention, whatsoever, around the event days.
It is, however, a task to be able to do that. Let's take the Kiara-Sidharth wedding as an example. Paparazzi was constantly surrounding the actors before the wedding, since a long time, actually. They were questioned about the date and the venue, which isn't okay, in the first place. But this crossed the line, when they decided to enter the wedding venue and hound staff members who were literally in the middle of a job. They were stopped, forced and asked trivial questions like, "Sidharth ne dance kiya tha?" What difference would this information make, even if this person had decided to answer the question? On the other hand, he literally told media persons not to ask him anything, and that it would be unethical if he gave out these details.
Alas, our typical response to "NO" is, forcing, for some reason, grabbing the person and irritating them into finally agreeing.
The thing is, it's not just the people struggling with cameras and phones who are part of the problem. It's everyone who is part of media as an institution. We are so obsessed with 'doing things first' that we forget what we're actually doing. If the reasons behind circulating all this information is to celebrate the couple, being happy for them or just sheer love, then how does doing it without their consent justify any of it? Imagine being at a wedding, where you're the one being interrogated without consent. And your mistake? Just being there to do your job. No one would take that, so what makes it okay to do it to other people?
The bigger problem is that this has become a constant practice, which is expanding in terrible ways. So much so, that people have normalized it. There's no way zooming in, taking pictures and videos without consent is something we can sell as a regular journalistic practice. If dismissing privacy is frowned upon, everywhere else, then this is just as incorrect. And let's just face it, there's nothing remotely entertaining/funny about it. If anything, this is disrespectful to these celebrities, and especially the people being photographed.
It's a private event, with people they know and love. So, it's understandable when they want to keep the ceremony, and these details private. And while more people get their reasons, there are also some who have an opinion on their personal choices. Of course, this is not shocking. But it's also not okay. When media persons, paparazzi or news outlets seek and post this information, too many people have a lot to say. And it's not all good. No one likes to be told what they did wrong, at a celebration that literally JUST concerns them.
We didn't like how Alia Bhatt dressed up after the wedding, and we certainly do not like how Kiara Advani traveled to the venue. After all, who are they to make decisions for themselves?



We cannot stress enough on the need to respect people's privacy. So to lurk around a restricted venue, and wait for the staff to give in, is problematic on too many levels. In a way, it is our treatment towards the hospitality staff that comes off in weird ways. We think we own them, and nothing that we want is beyond limits. When media thinks that they're doing their work, they're literally disrupting someone else's work. And the worst part is, these staff members can hardly say anything. Anyone who works in hospitality is expected to behave a certain way – which means not expressing real feelings. Even if they feel terrible, or irritated with this constant hounding, they are left with no option, but to leave without a reaction.
We root for our favourite actors and actresses, even ship them. And it's normal to want to see wedding pictures – which we can still do, when they share them. So, nothing justifies the hounding and disrespect that their staff members are exposed to. It's not information that we can't live without, or a matter of urgent concern in any way. And leaving it to these celebrities, if and when they want to share it, is the only right thing to do.