It's 2023, but it feels like we are living in the past. You ask, why? Media keeps sending us nostalgia vibes. 'Throwback to this…', 'Flashback Friday', or 'remember when 'xyz' thing happened?' Reminisce about the good old days, be it about movies, shows, or songs. Isn't this we all discuss among our friends and colleagues?
However, sometimes, mainstream media go a bit too far while covering personal lives of celebrities and gossip articles about them are proof of it. Keeping an eye on stars' alleged relationships and rumoured break-ups. In the worst case scenario, defining them by their past which holds no importance in the present.
That's how starry gossips remain saleable till date. And this trend of media obsessing over their private matters way too much doesn't seem to stop.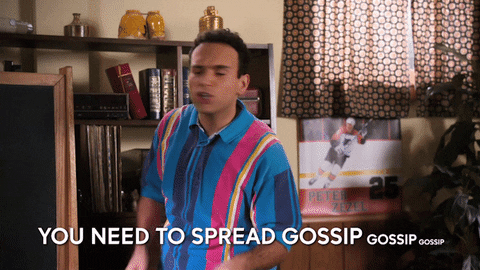 So, Raveena Tandon was recently asked a question regarding her past in the most unique (read: tweaked) way possible. Why does Google still highlight her relationship with Akshay Kumar?
Stressing on how the personal life of the Mohra actress has always in the news, ANI journalist said in a podcast, "Even today if I was to Google 'Raveena Tandon', Akshay Kumar's name comes up with it. You broke up with him like 25-30 years ago, but it still comes up." The journalist added, "The fourth or fifth story, when you type Raveena Tandon, comes up is: Raveena Tandon's engagement with Akshay Kumar."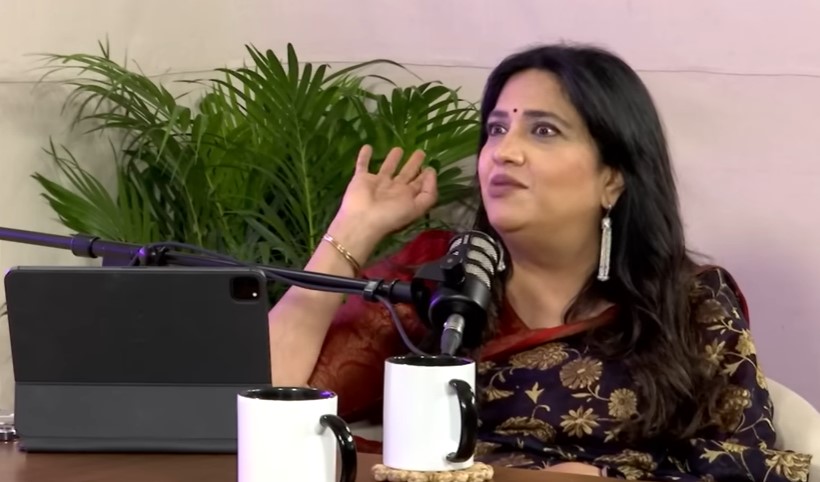 Google is held accountable for highlighting such old gossips. I ask, why? Who started it in the first place? We all know the answer to this question.
Raveena obviously handled it quite well. I quote her saying, "…Everyone moves on. Girls have been changing their boyfriends every week in colleges, but one engagement that has broken is still stuck to my head, I don't know why. Everyone moves on, people have divorces, they move on, what's the big deal?"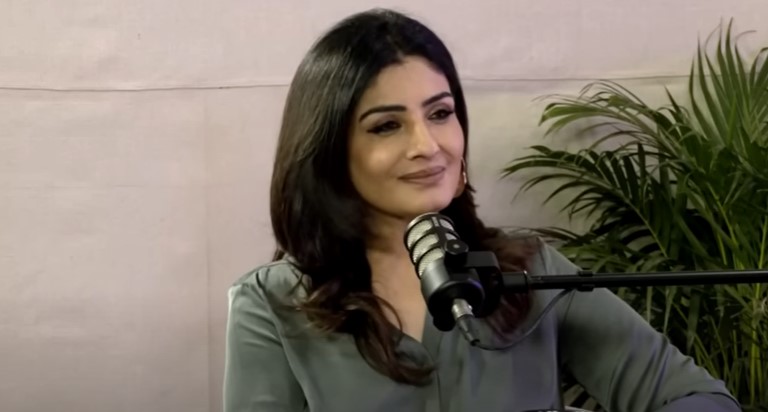 Yes exactly! Kaunsi badi baat hogyi? We all have 'broken' phases. What's the big deal? Both have moved on in their respective lives but this old gossip keeps floating around even after decades.
The very mention of Akshay Kumar in the interview gave enough meat to other mainstream media organisations and we got several 'new' articles about her "broken engagement".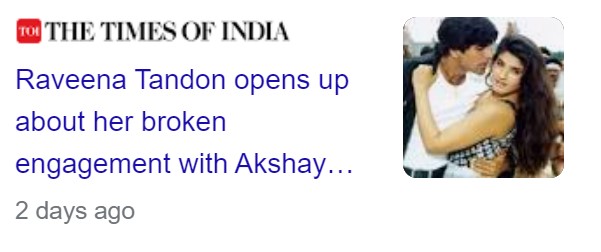 The trend of publishing such 'new' stories about old gossips is like presenting a stale dish to guest in a restaurant and be like 'purana hai toh kya hua, dekho dhaniya ek dum fresh dala hai'.
Also, if you search 'Raveena Tandon' on Google, the top question in 'People Also Ask' section that still remains is: Did Akshay and Raveena date? And the same engagement gossip garnished with Raveena's fresh byte currently comes up as the answer at the time of publishing this piece.

Let's not forget that it is the third 'new' story that I am mentioning in this article which was rehashed from the latest interview. If this isn't a vicious circle, then what is?
Raveena Tandon has closed this chapter a long time ago. Meanwhile, media is still flipping back its pages, confronting the actress to talk about her past in present, and then blaming Google for this obsession. I mean, why? Cut some slack please?
Raveena was recently awarded the Padma Shri, India's fourth-highest civilian honour for her contribution to arts. Let's take a trip down the memory lane about her illustrious career, please? Let's celebrate her films? Let's recall her evergreen songs, Tip Tip Barsa Pani and others? Let's recall her OTT debut, Aranyak? Let's talk about how she had adopted a daughter as a single mother in the 90s?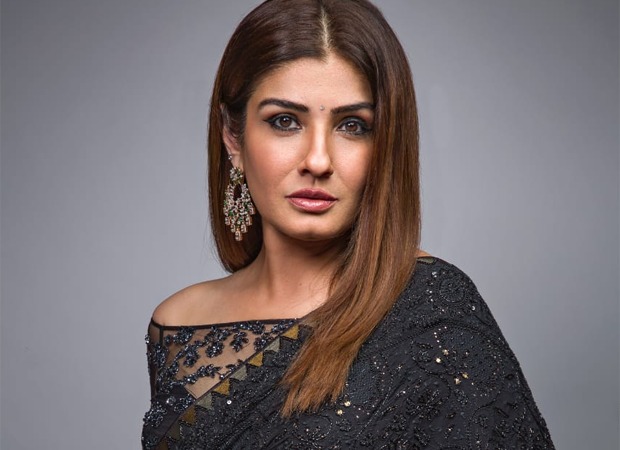 This episode has reminded me of Udta Punjab days, when Shahid Kapoor and Kareena Kapoor shared the stage after a long time for their movie promotion.
Shahid and Kareena collaborated in the 2016 film for the first time after their break-up, but didn't have scenes together in it. Without naming the stars, a reporter had asked, "How was it working after a while now?" To which, Shahid had said, "Mere aur Kareena ka ek bhi shot nahin hai film mein if you are asking about that. So, bada maza aaya ek doosre ke saath alag alag dino pe kaam na karke."
Later, when another reporter expressed his disappointment over no Shahid-Kareena scenes, the actress joked, "The DVD of Jab We Met is always available." Savage!
Seriously! Break-up kabka hogya dude! Shahid has Mira and their kids. Kareena has Saif and their kids. Get over their past please and if you are finding it hard and then as Kareena said, watch Jab We Met na? It's high time that media should stop this obsession and not make them uncomfortable every time they interact. Shall we?