A rare bonhomie was witnessed on Saturday between Union Minister Babul Supriyo and Delhi Chief Minister Arvind Kejriwal as both emphasised the need to have a better coordination between Centre and Delhi government in ensuring the city's development amid tussle between BJP and AAP.
At an event to launch an NDMC app, Singer-turned politician Supriyo, leaving aside political differences sang a song from Bollywood movie Hum Tum and even invited Kejriwal for a dance together.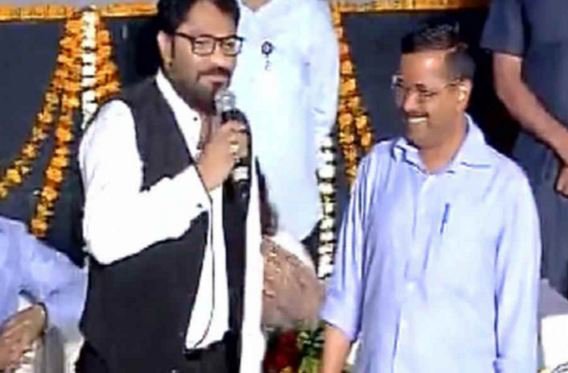 Responding to his call, Kejriwal rose from his seat and stood near Supriyo with a smile while the Minister of State for Urban Development was singing the song "Hum Tum paas jaye…sanso main sanso ko dhalne de jara, dhere se dhakan ko badne do zara."
The gesture by the two leaders drew loud cheers from the audience at the Central Park in Connaught Place. "I will play the role of Saif Ali Khan and Arvind Kejriwal will play the role of Rani Mukherjee. I am going to sing a song which will reflect the need of the current situation," Supriyo said before starting his song.
He said that it is important to have political debate, but at the same time, there was a need to work "harmoniously" to ensure welfare of people who have "voted us to power". Kejriwal on his part said, "We (Centre and Delhi govt) should walk together to make the condition of Delhi better and for this, Centre government and Delhi government should work together."
After launching the NDMC 311 app where people can pay their electricity, water bills online and register their complaints, Kejriwal said that on the lines of NDMC, there is need to make Delhi "VIP" area. 
(Feature image source: Twitter/NewsRoom Post)