Within days of being booked on charges of hurting religious feelings, BJP MLA T Raja Singh has brazenly repeated the threat, saying he was ready to give or take life for the sake of building Ram temple at Ayodhya.
In a video which purportedly shows Singh addressing a crowd on the occasion of Hanuman Jayanti in Hyderabad on Tuesday, he says, "It is the vow of every Hindu to build a Ram temple even if we have to give our life for it or take life. No force can stop the construction of a Ram temple at Ayodhya. We will see Ram temple built in a year or two and we will go for 'darshan'." Stating that he "does not intend to hurt the faith of anybody", Singh adds he would, however, not keep quiet if somebody created hurdles in the construction of the temple.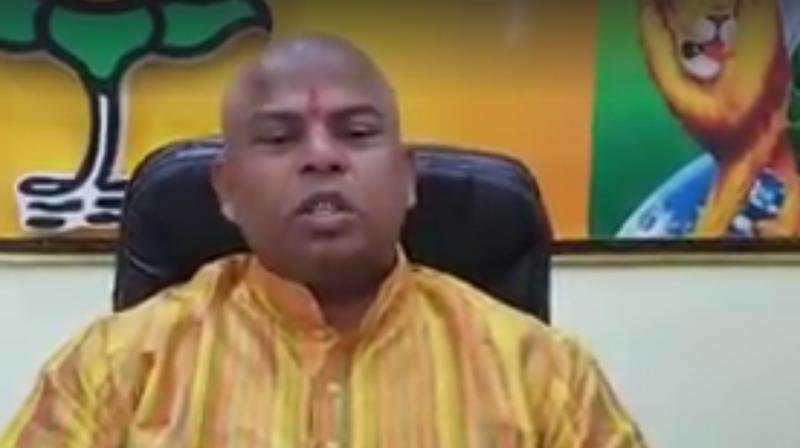 When contacted, Singh, BJP MLA from Goshamahal in Hyderabad, on Wednesday confirmed the genuineness of the video and his comments. "We will definitely build a grand Ram temple in the coming one or two years. Even during Hanuman Jayanti 'Sobha Yatra' on Tuesday, more number of 'Ram bhakts' and 'Hanuman bhakts' participated compared to last year. There is growing awareness about Ram temple (issue) and more voices are emerging in its support," he told PTI. 
Singh had kicked up a row last week with his remarks that the heads of "traitors" opposing construction of Ram temple in Ayodhya will be chopped off, drawing criticism from the Congress and getting booked for trying to "outrage religious feelings".
Singh can be heard threatening those who oppose the construction of Ram temple in Ayodhya in a video shot on April 5 during Ram Navmi celebrations. Hyderabad Police have registered a case against Singh on the complaint of Amjed Ullah Khan, the spokesperson for Majlis Bachao Tehreek (MBT), a local organisation.
He has been booked by Dabeerpura police under IPC section 295 A (deliberate and malicious acts intended to outrage religious feelings of any class by insulting its religion or religious beliefs), police inspector D Venkanna Naik had told PTI.
In his complaint, Khan had said, "When the title dispute is pending in the Supreme Court, such type of statements by Raja Singh (MLA) is the violation of the Supreme Court. I request to take appropriate action against the BJP MLA Raja Singh to allow law and order to prevail in the city (sic)." In the video, the MLA purportedly says, "The day is not far..the dream of every Hindu of building a Ram temple in Ayodhya (will be fulfilled).
"Recently, a video came on WhatsApp from Uttar Pradesh and someone was saying if Ram Mandir is built in Ayodhya they will create 'tehelka' (chaos) in entire country. We welcome this. In fact, we were waiting for this day for the past several years so that when you traitors raise your heads, we will behead you," the MLA said.
(Feature image source: PTI)