Home Minister Rajnath Singh at SAARC meet said that strongest action should be taken against terrorists or organisations but also against those individuals, organisations and nations who support terrorism.
Singh's speech was not aired by Pakistan's state-run PTV, which was the only media allowed to cover the conference. Indian media was kept away from the Home Minister, leading to a clash between the officials on both sides.
The ongoing strain in Indo-Pak relations was evident at the SAARC Interior/Home Ministers' conference in Islamabad when Home Minister Rajnath Singh came face- to-face with his Pakistani counterpart Chaudhary Nisar Ali Khan for the first time on Thursday and the two leaders barely shook hands.
As Singh arrived at the venue of the conference at the posh Serena Hotel here, Khan was at the gate to receive the dignitaries. The two leaders barely touched their hands, not even a formal handshake, before Singh moved ahead to enter the meeting hall.
 Rajnath Singh was a part of the joint delegation of the Interior/Home Ministers of SAARC nations when they called on the Pakistani Prime Minister at his office. The Interior/Home Ministers' of SAARC nations were with Sharif for about 20 minutes during which only pleasantries were exchanged, the official said, adding nothing formal was discussed.
However, Singh brought up the issue of terrorism at the meet."There should be strongest action not only against terrorists or organisations but also against those individuals, organisations and nations who support terrorism. There should be no glorification or eulogising of terrorists as martyrs. There are no good terrorists or bad terrorists. Mere condemnation of terrorism and terrorists is not enough," Singh said.
Meanwhile, Chaudhary Nisar Ali Khan Khan said Pakistan was "committed to SAARC processes, and, desires to see it as a successful regional organisation."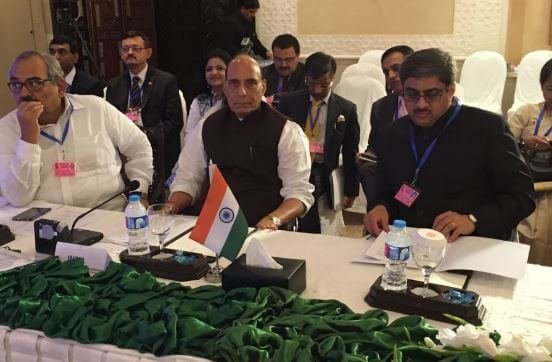 Prime Minister Nawaz Sharif  meeting with a senior Indian functionary came amidst the ongoing strain in bilateral relations between India and Pakistan following the killing of Hizbul Mujahedeen militant Burhan Wani in Jammu and Kashmir on July 8.
Not only did Prime Minister Sharif praise Wani but he also remarked that "Kashmir will one day become Pakistan", a comment which evoked a sharp reaction from External Affairs Minister Sushma Swaraj, who said his dream of the state becoming a part of his country "will not be realised even at the end of eternity.
The decision of Singh joining the Interior/Home Ministers in the courtesy call of Sharif was taken after several rounds of consultations among top officials of Ministries of Home, External Affairs an Prime Minister's Office last night. The eight-member SAARC grouping comprises Afghanistan, Bangladesh, Bhutan, India, Maldives, Nepal, Pakistan and Sri Lanka. 
(Feature image source: Twitter| NDTV)