At least 6 civilians were injured after mortar shelling by Pakistani Rangers along the International Border (IB) in the RS Pura sector of Jammu district in the early hours of Thursday, the DIG of the Border Security Force told PTI.
The attack was the second one since Wednesday night, after the Pakistani Rangers targeted Indian posts with small arms and heavy mortar shelling. 
Pakistani troops shelled over 15 Bops and 29 hamlets with mortar bombs and fired heavily from automatic weapons overnight in R S Pura and Arnia Sectors along the International Border in Jammu district. BSF troops guarding the border line retaliated to the Pakistani firing.
According to Indian Express, 10 civilians were injured. Among them, seven were women and belonged to the same family. 
On Wednesday night, a BSF officer was also injured as Pakistani Rangers targeted civilian areas and Indian paramilitary posts in two sectors of the IB in small arms firing which has lasted for almost 48 hours now, prompting authorities to order closure of schools and advise people to shift to safer places, PTI reported. 
The firing comes within two days of Pakistani troops firing and shelling in the RS Pura district, which killed a 6-year-old and a BSF soldier. There has been intermittent fighting in the region for the past week. 
BSF officials, in a high level meeting held by Home Minister Rajnath Singh, have allegedly told the Union Ministry that they had 27 Pakistani posts and 18 watchtowers in the last few days as part of retaliation to the series of Pakistani ceasefire violations along the border in the days following the Uri attack.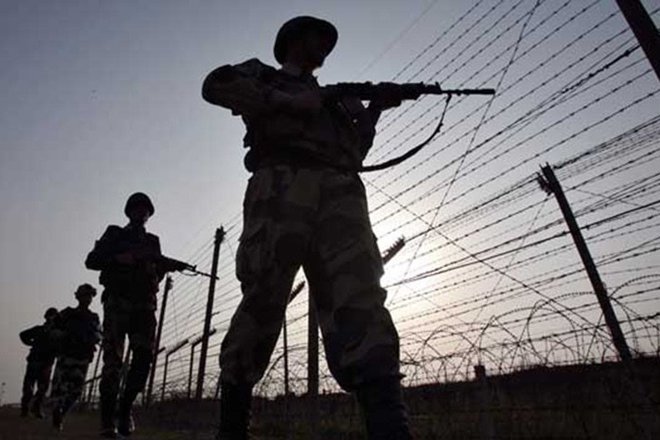 The army recently killed 7 Rangers during a shootout and the recent firing could also be in retaliation to that.
BSF officials also claim that the multiple ceasefire violations by the Pakistani army are just a cover, the Deccan Chronicles reports. They claim that it's it's a ploy to smuggle in terrorists across the border before winter while the Indian army is distracted fighting the Rangers.
(With inputs from PTI) 
Feature Image Source: PTI