RSS chief Mohan Bhagwat on Tuesday lauded the army for carrying out surgical strikes, saying it has enhanced India's prestige in the world and given the message to trouble-makers that there is a limit to its patience. 
The ongoing unrest in Kashmir, tension along the border, and cow protection was the focus of the annual Dussehra address of the RSS chief, who also vowed to root out social discrimination. 
On Kashmir and cross-border terror
He talked about Kashmir and said that Kashmir in its entirety is an integral part of India. Bhagwat spoke about the need to promote nationalism in Kashmir. 
He said that the situation in Kashmir has calmed down which needs to be maintained by taking strict actions against miscreant elements. 
Praise for the army
"Under our government, the army has recently given a befitting reply. The army's and India's prestige in the world have gone up. The trouble-makers have been given this message that there is a limit to patience… The one (Pakistan) which has been inimical to us is getting isolated. We are delighted with the valour shown by the army," Bhagwat said. 
The whole world is aware that the subversive activities constantly promoted from the across the border are mainly responsible for disturbances in the valley, he said. 
The need to co-ordinate between various forces
With thousands of RSS functionaries in their new uniform of dark brown trousers instead of khaki shorts in attendance, he said the "firmness and efficiency shown in the matter of diplomacy and defence should permanently reflect in our policies". 
"A level of perpetual co-ordination and co-operation is needed among in the defence forces and intelligence agencies as we have to pay a heavy price for a moment's distraction," he said. 
Bhagwat also stressed on the need for maintaining a strict vigil on maritime boundaries as well as frontier areas and said the government and administration should engage the locals to stop infiltration from across the border. 
On cow vigilantism:
Bhagwat in his speech strongly backed "countless good people" working lawfully for cow protection and said they should not be compared with those creating trouble in its name, remarks that come against the backdrop of BJP facing flak over anti-Dalit violence by cow vigilantes. 
"Countless good people are working for cow protection. The Jain society is totally devoted to it. These good people are working within the ambit of law and Constitution. The administration should see to it that those creating trouble should not be compared with cow protectors." he said. 
On the Una incident & caste
Apparently referring to flogging of Dalits by cow vigilantes in Una in Gujarat and similar incidents of violence, Bhagwat said such incidents are shameful and should never happen. 
There are some flaws in our society and there is discrimination as well, he said, adding that it is exploited by certain elements for their benefits.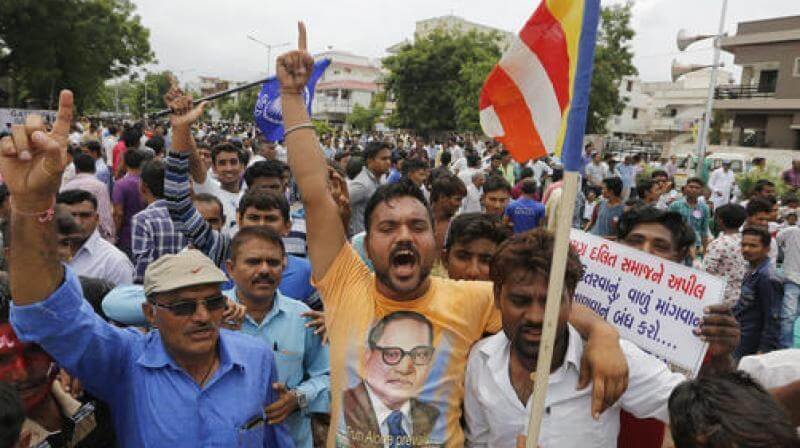 On the occasion, Bhagwat also pledged that RSS will work to root our discrimination in society and cited a survey done in the parts of Madhya Pradesh to say that 30-40 per cent people suffer from discrimination in getting water or entry to temple. 
"The Sangh has taken up the work of increasing social harmony. It will take time but we will rest only after rooting out this discrimination," he said.
(Feature image source: Twitter/@ANI)