Amar Singh got up screaming from my set, dramatically ripped the mike off and while virtually frothing at the mouth and yelled, "Amitabh Bacchan, Anil Ambani and Subrato Roy will never ever speak to you". 
I was nonplussed since they weren't really speaking to me every day anyway. I stared at Singh and asked if he would calm down so we could continue the interview. By that time the guest coordinators had rushed to the floor and were trying to pacify Singh who was not having any of it and staged a walkout.
The next day, several politicians and journalists called to tell me that until 3 am Singh had been calling them up and ranting against me repeating his threat that his three best friends would never speak to me.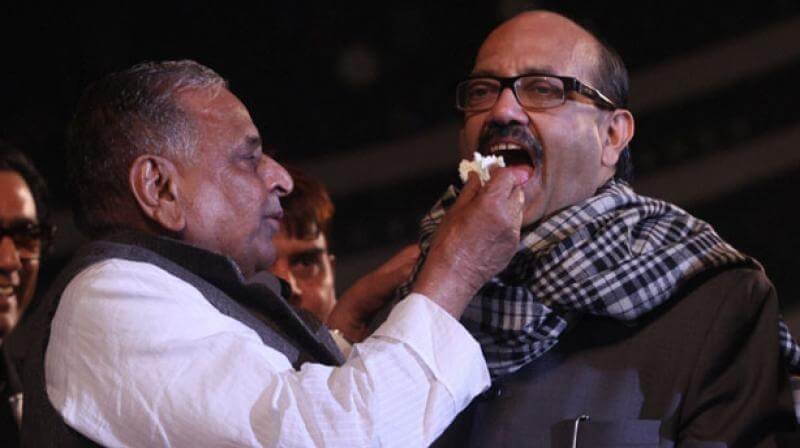 This was in the halcyon days of Singh when as Netaji Mulayam Singh Yadav's chief consigliere and BFF with power buddies in tow, he ruled the durbari roost in Delhi. What had set off that tirade against me was a question that I asked about how Singh could claim to be a socialist when, much like a socialite, he was wearing an Abu Sandeep-chikan kurta worth lakhs, a Patek Philippe watch and a four-carat diamond on his thumb (which he had told me before the shoot was to "settle his enemies"). 
Singh leered and said that he was wearing the aforementioned bling so that I would interview him. I said I was not interviewing him for the bling but because he was the Samajwadi Party General Secretary. That was it. That set him off. 
This is the same Singh who today after being called "dalal" and a "BJP plant" by Uttar Pradesh Chief Minister Akhilesh Yadav in his second innings in the SP is maintaining a circumspect silence. It's highly uncharacteristic behaviour on his part.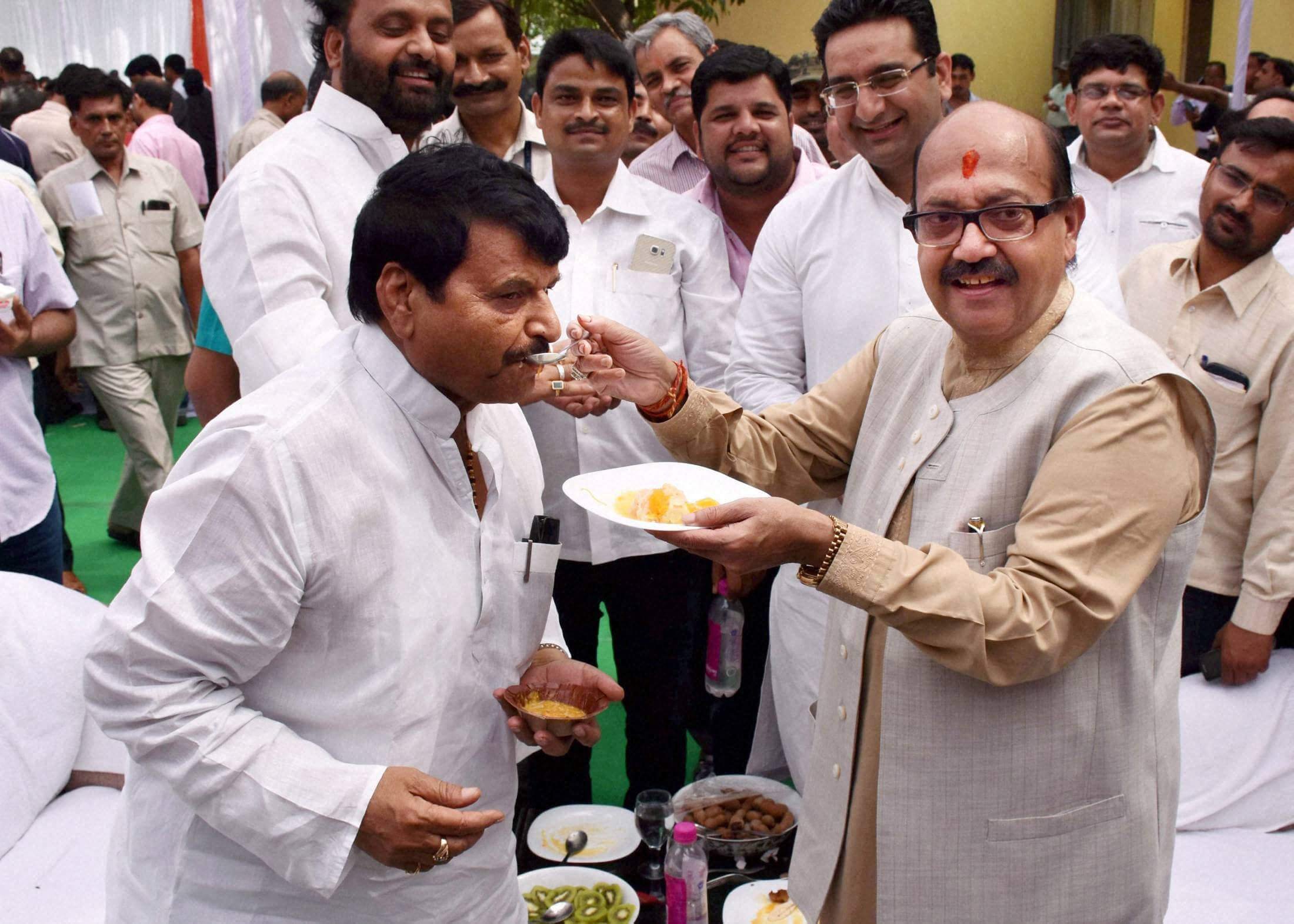 In his earlier avatar, Singh would boast about how he had the latest surveillance gadgets installed in his home and how he had "tapes on everyone". Whether it was the vote-for-cash scam or his famous leaked conversations, Singh was always in the public eye.
Singh entered politics as a factotum of the late Madhavrao Scindia and managed to get on the Hindustan Times board. From hanging around and facilitating Scindia's travels, Singh made a seamless shift to Mulayam Singh Yadav, helping him network with Bollywood and big business.
Netaji simply adored him. After all, he got starlets to come and dance at the Saifai festival and ensured that businessmen like Anil Ambani posed for photos while promising to change the face of UP. His other best friend, Amitabh Bachchan, got many sweet deals including his wife Jaya Bachchan nominated to the Rajya Sabha by the Samajwadi Party.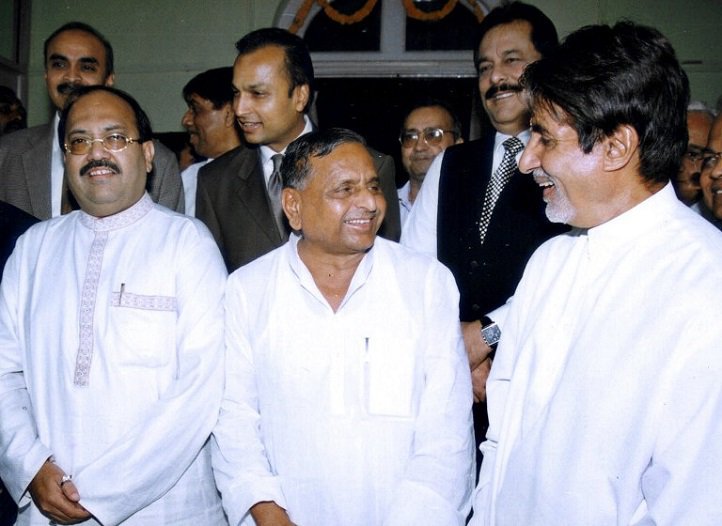 Amar Singh gushed about "bade bhaiyya" and "chote bhaiyya" and preened all over deal, striking deals. He even got Anil Ambani to briefly join the Rajya Sabha as a SP member, till the businessman realised how it made him look aligned to just one party and quit in a hurry. At that time, a rival of Ambani had sneered, "I can talk to 800 MPs and Amar Singh has made Anil into just one of them".
The late Murli Deora who had tracked Singh's histrionics said. "It's uncanny how he splits up families. Look at the Ambanis, Sanjay Dutt and his sister and now the Yadav clan". 
Sensing Singh's potential for trouble, Akhilesh Yadav and Ram Gopal Yadav prevailed upon Netaji to throw him out of the party in 2010. Azam Khan, one of Singh's biggest rivals threw a huge bash to celebrate his ouster in Rampur and publicly said that the "Amar kahani was over".
The minute Singh was thrown out of SP, Bachchan, the best political weather vane in India, distanced himself from him. Singh had become a persona non grata for "bade bhaiyya" and Singh dramatically blamed "Jaya bhabiji".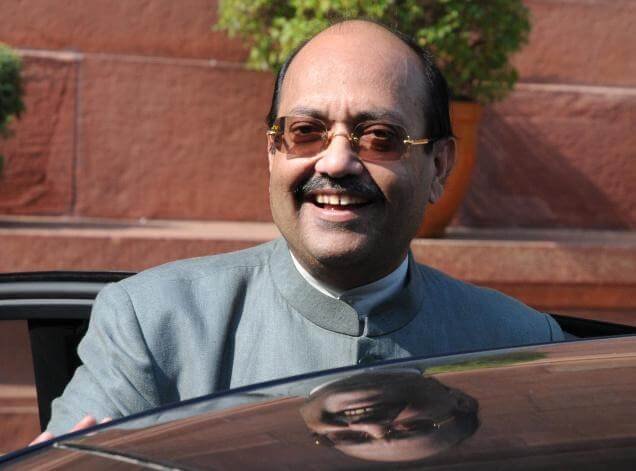 Things became so bad for Singh that when he had an organ transplant operation in Singapore he only had his wife by his side. He had become a pariah for his BFFs. However, few know that our current Finance Minister Arun Jaitley and India TV head honcho and Bharatiya Janata Party friend, Rajat Sharma took a private plane to see Singh in hospital in Singapore. So, Singh's links with BJP are old, deep and enduring. A fact which Yadav Junior keeps pointing out.
Singh tried to strike out on his own as a Thakur leader, but with only friend Jaya Prada by his side, he simply could not cut it. He lost his deposit in all the UP seats his party contested. Singh proudly told me the story of how he was Jaya Prada's ardent fan, having seen each of her films 50 times. 
And how after he got to know her, he called her and she said she was so lonely that she was driving around Mumbai. Singh, always dramatic, took the first flight out after promising her she would never be lonely again, and got her back into politics.
Singh has today wormed his way back in to Netaji's good books by working on his second wife Sadhana and brother Shivpal Yadav. Netaji perhaps also remembers the wonder years he and Singh had enjoyed. Whatever the reason, despite the resistance from Akhilesh, Singh was back.
And, back to creating havoc within the Yadav family as was his wont.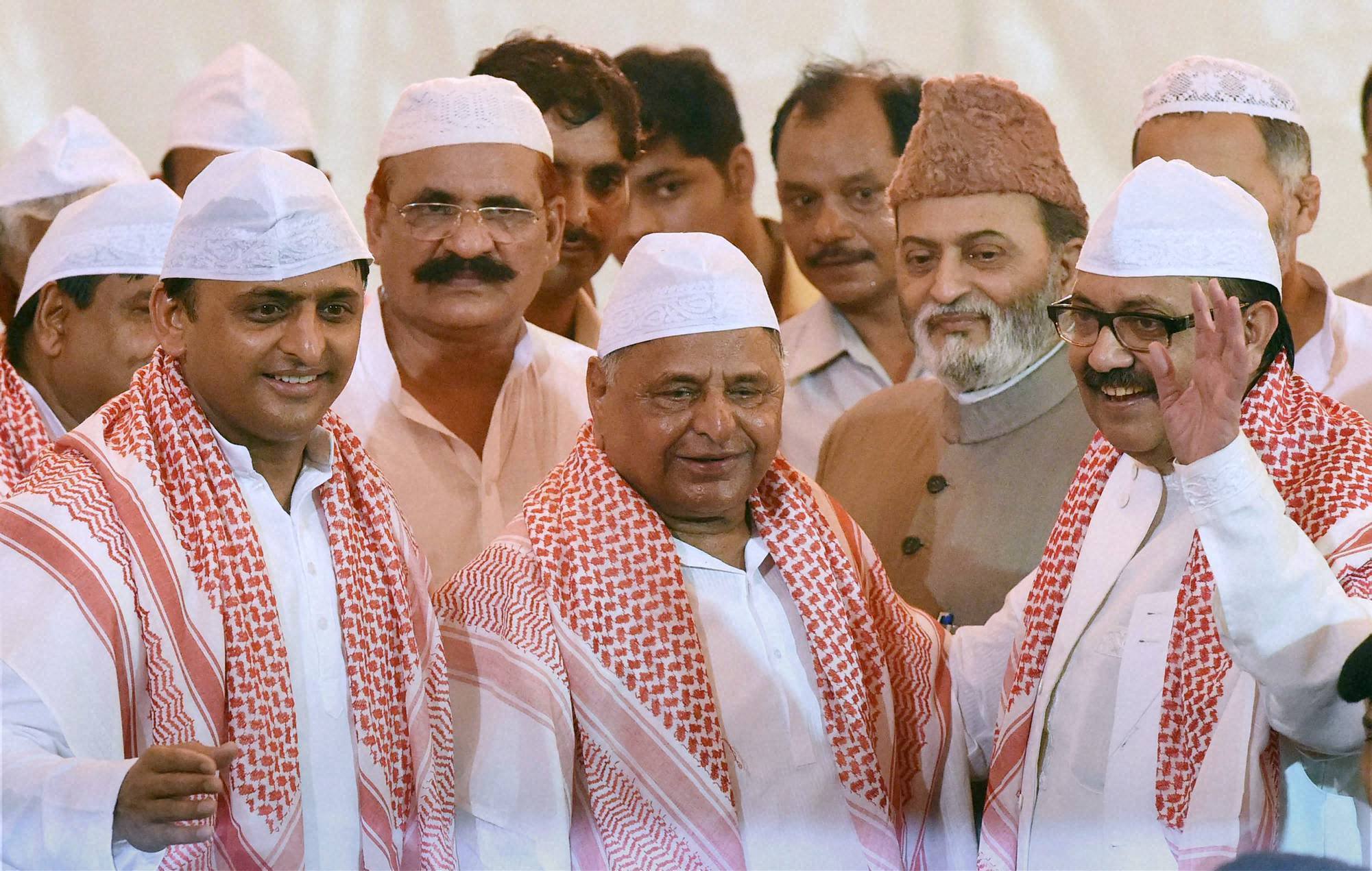 As Akhilesh broke down yesterday and said Singh got a story planted saying Yadav junior was Aurangzeb and Netaji was Shah Jahan, you could see the SP imploding on the eve of the mother of all state elections. 
 Through it all, Netaji still clings on to his "Amar Prem" while the party he created is smashed into smithereens by Singh's machinations, with his political heir and son cast as a villain in his eyes.
Watch this space for more Amar destruction.