Just like everyone, Union Home Minister Rajnath Singh on Tuesday expressed shock and condemned the militant attack on Amarnath pilgrims in Jammu and Kashmir.
The attack on Amarnath Yatris is a cowardly act of terror. Heartening to see the whole nation stand united against terrorism. pic.twitter.com/JglOdZWU34

— Rajnath Singh (@rajnathsingh) July 11, 2017
He also put out a tweet praising 'Kashmiriyat' and said people of Kashmir have strongly condemned the terror attack.
The people of Kashmir have strongly condemned the terror attack on Amarnath yatris. It shows the spirit of Kashmiriyat is very much alive.

— Rajnath Singh (@rajnathsingh) July 11, 2017
However, he got thoroughly trolled for his relatively mild response as many might have expected a 'stronger and a much more aggressive' reaction from him.
And then he was subject to all sorts of ridicule:
यार आप ठाकुर ही हो ?? संघ की शाखाओं में गए कभी ? ये घिघियाहट

ये आत्मसमर्पण ये ठीठपना तो नही सिखाता संघ शर्म करिये कृपया शर्म करिये— त्रिजटा (@trijata7) July 11, 2017
ninda mama pic.twitter.com/gHxYp8HfBu

— बाबू / Babu (@BabuSaheb90) July 11, 2017
Hum poora din yahi karte hain.- Ninda specialist! Humse kisi bhi cheez par kisi ki bhi Ninda karwa lo.

Note:Hamari koi branch nahin hai.— d.k.sardana (@dksardana) July 11, 2017
Given he is not a social media frequent, the minister maintained silenced and ignored the trolls.
However one such tweet caught his attention.
Shuchi Singh Kalra, author and freelance writer tweeted to him and asked: "Who gives a f*** about the spirit of Kashmiriyat at this moment? It's not your job to placate. Just drag those cowards out and cull them."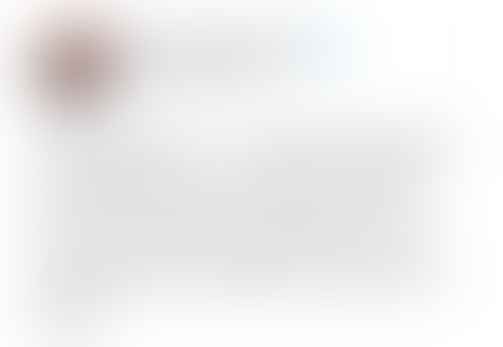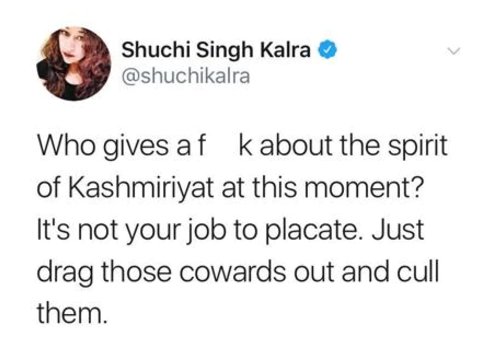 In an unusual rebuttal to the troll, he asserted that he 'cares'
Ms Kalra I certainly do. It is absolutely my job to ensure peace & tranquility in all parts of the country. All Kashmiris are not terrorists https://t.co/YdTnjDND9i

— Rajnath Singh (@rajnathsingh) July 11, 2017
After Singh replied to the tweet, Kalra has deleted the controversial tweet.
And needless to say, Singh got a lot of accolades for his fair and mature response to the ongoing situation:
Like Sushma Swaraj, Rajnath Singh is emerging as another Statesman in the Modi Cabinet. Most mature & sensible tweet by him https://t.co/MtbDdAfzDK

— Prashant Bhushan (@pbhushan1) July 11, 2017
Rajnath Singh (@HMOIndia) deserves great respect for saying what needed saying while others egged on the mob https://t.co/LXwYaNw0bK

— Praveen Swami (@praveenswami) July 11, 2017
Sir your words of calmness will be soothing in this atmosphere of hate! We expected this gracious warmth from you @rajnathsingh ji

— zafar sareshwala (@zafarsareshwala) July 11, 2017
Wow,this is amazing! Respect for you @rajnathsingh sir, not just for how you've put down the vicious trolls but your stand on Kashmiris https://t.co/kiYWer6Teo

— Nidhi Razdan (@RazdanNidhi) July 11, 2017
.