"The course of true love never did run smooth." 
-Shakespeare
Love is as challenging as it's amazing. Marriage takes it to the next level. When two individuals, from two totally different worlds, come together to make it work, there are bound to be clashes, fights, and many disagreements before they reach a common ground. When Kathy and Brandon Gunn received a gift from their great aunt, it came with a clause – that they could not open the gift before their first disagreement.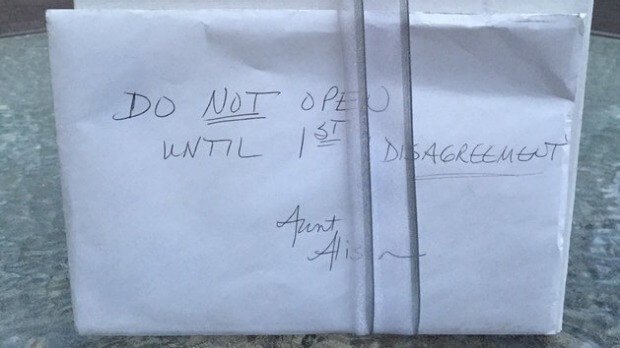 In a Facebook post, shared on the page Love What Matters, Kathy Gunn wrote that when she and her husband, Brandon, married in 2007, her great aunt Alison gave the pair a white box.
They did fight in all those nine years, of course. But they kept saving the gift for the one major fight that might force them to break apart, expecting a marriage-saving remedy in the gift. But what they found gave them a realization greater than the gift itself.
"All along, we assumed that the contents of that box held the key to saving a marriage – an age-old trick – unbeknownst to us rookies After all, my Great Aunt and Uncle had been married for nearly half a century."
They decided to open the box on an average night. This gift, that now means the most to them, contained a few wine glasses, bath products, and some cash with the instruction: "Go get a pizza, shrimp or something you both like." 
That's when the realization hit both of them that the power to save their marriage lay within them. 
"The tools for creating and maintaining a strong, healthy marriage were never within that box — they were within us"
Here's the Facebook post.