Like a well-oiled pendulum that was given the perfect initial push, the momentum swung back and forth between India and Australia on an action-filled opening day of the first Test in Pune.
Steve Smith won the toss on what looked like an "8th day track" as Shane Warne remarked, and Australia began with a solid first session despite losing David Warner just before lunch. India then applied the choke. Australia resisted first, and then collapsed. It looked like their innings would be heading to an embarrassing end. But Mitchell Starc had other ideas.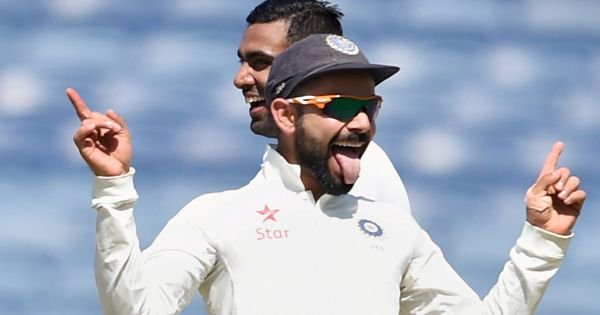 At the end of day one, it's tough to say who the advantage lies with, but here are the definitive highlights of a riveting first day.
Matt Renshaw's upset stomach
You know the cricketing cliche -- on a tough pitch, one wicket brings two? Well, Australian opening batsman Renshaw made that happen, quite literally. When Yadav struck minutes before lunch to dismiss Warner, Steve Smith -- who was walking in at No. 3 -- was greeted with confusion as he saw Renshaw run past him into the dressing room. Turns out, he had an upset stomach and could not hold it in till lunch. Retired ill, as it turned out.
While some saw the lighter side...
Renshaw out retired ill it seems. One wicket for Misal Pav

— dorku (@Dorkstar) February 23, 2017
Can we get a hotspot on Renshaw pls ump?

— Adam Zampa (@zamps63) February 23, 2017
...some were left fuming!
Allan Border was gobsmacked by the #Renshaw retirement: 'I hope he's lying on the table in there half dead.' https://t.co/FP7PtaOjj0

— FOX SPORTS Australia (@FOXSportsAUS) February 23, 2017
I'm still getting my head around this... JL would of lost a limb and still batted on #oldschool #cricket #AUSvIND https://t.co/1IVu2aUC9N

— Damien Martyn (@damienmartyn) February 23, 2017
But on either side of his toilet break, Renshaw played some excellent cricket that belied the inexperience of a 20-year-old who is playing his first Test in India.
And more importantly, he gave the world a cricket quote that will be remembered for years to come as well.
Matt Renshaw in PC: Was struggling to hold it till lunch. When u have to go to the toilet, u have to go. Thats life. #IndvAus #QuoteOfTheDay

— Chetan Narula (@chetannarula) February 23, 2017
Umesh Yadav's star turn
Pitch from Mars. Dust bowl. Rank turner. Spinner's paradise.
As it turned out, it was an Indian pacer who was the best bowler on the day. Umesh, India's most consistent pacer in the home season, stepped up for his captain once again.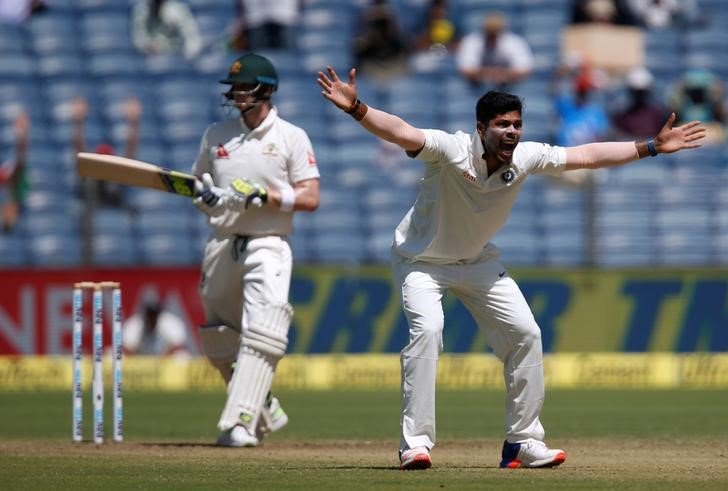 With India struggling for a breakthrough in the first session, Umesh came on to bowl as the fifth bowler in the 28th over of the innings. And what did he do? Got Warner bowled with his second ball. He did the same in the first over of his third spell as well -- getting Matthew Wade leg-before before taking two wickets in two balls after tea to leave Australia reeling.
On a turning track, he finished with figures of 12-3-32-4. Brilliant.
Wriddhiman Saha's stunner
Is it a bird? Is it a plane? No, it's WriddhiSuperman.
Mitchell Starc's counter-attack
"Starc turned the game around with the new ball" is not an unfamiliar statement. He has swung many a match in Australia's favour with a fresh red cherry in his hand.
Well, in Pune, he did it with the bat in his hand.
Just before the second new ball was taken, with Australia already reeling at 211 fir 9, Starc was batting on 14 from 21 balls. Off the next 26 balls he faced, he smashed 39 runs -- hitting boundaries at will, taking the attack to Indian bowlers, pushing Australia past 250.
Starc pulled back the momentum at the end of a day that was shaping up to be India's out and out.