It was the largest contingent of para-athletes India ever sent to the Paralympic Games and delightfully, they come back from Rio de Janeiro with their best ever showing in the event. Two gold medals — one with a world record — to go with one silver and one bronze, saw India finish 43rd in the medals table.
The 19 athletes, whose journeys to Rio were in itself incredible considering the odds they have had to overcome in their sporting careers, made the country proud. 
The Paralympics — which literally stands for "parallel to Olympics" — showed that these athletes are no less in comparison to the able-bodies Olympians. 
Here's how each of the 19 athletes performed at Rio 2016.
Devendra Jhajharia – Gold Medal, Javelin Throw
Gold medal? Check. Break his own world record? Check. 
Devendra could not have asked for a better return to the Paralympics, 12 years after his first gold and world record, as he sent the javelin arching through the night sky, for a whopping 63.97 metres, beating his old mark of 62.15 meters.
After his event was not included in the 2008 and 2012 Paralympics, Devendra went where no other Indian athlete had gone before — win two individual gold medals. 
Mariyappan Thangavelu – Gold Medal, High Jump
He is 21 years old but Mariyappan Thangavelu's calm reaction after clearing 1.89 m — the only competitor in the men's high jump T42 category to clear the mark — belied his age. It was just one moment of joy and then a calm walk to the dugout.
It was a truly remarkable achievement to kick off India's medal haul at the Paralympics. Considering he comes from a family of abject poverty — his father abandoned him when he was a kid and his mother is a vegetable vendor in Salem — the rewards that Mariyappan has got will go a long way in helping him sustain his family. 
And we hope to see him emulate Devendra at Tokyo 2020 as well.
Deepa Malik – Silver Medal, Shot Put
She shares the names with two of the Olympic heroes and Deepa Malik bettered the achievements of both Dipa Karmakar and Sakshi Malik by becoming the first woman athlete to win a Paralympics medal. India's story in Rio de Janeiro has mainly been about the women breaking the conventional norms in Indian sport and Deepa took that narrative one step further.
And to think the 45-year-old has undergone three spinal tumour surgeries. Absolutely inspirational!
Varun Singh Bhati – Bronze medal, High Jump
In one of the rarest of rare occurrences in any Indian sport, the men's high jump T42 event at the Paralympics saw the World No. 1, 2 and 3 being from the country. Varun, as the World No. 2, set the pace through the night, clearing all markers with ease with an eventual mark of 1.86 meters, ensuring India's first medal at the Games.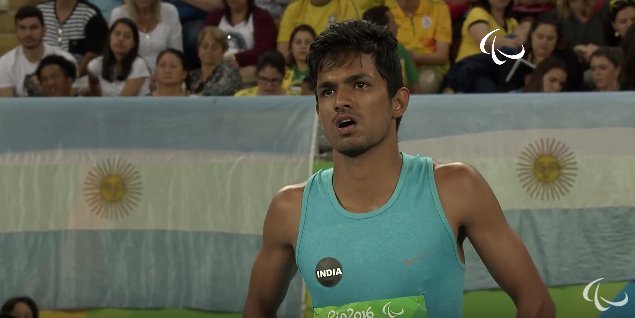 And remember Varun, who suffers from deformity in one leg due to Poliomyelitis, is just 20 years old. There's plenty more to come from him hopefully.
Amit Saroha (Club throw – 4th, Discus throw – 7th)
Amit was moments away from winning India's fifth medal when he was occupying the bronze medal position in his pet event — club throw, F51 category. With a personal best attempt of 26.63m, he saw Slovakia's Marian Kureja go past his mark by 0.19 in his final attempts and the bronze medal taken away. 
In his other event, the discus throw, he finished 7th among 7 athletes.
Amit was also the mentor for two other athletes — Rampal Chahar (High jump) and Dharambir (club throw), who were introduced to para-sports by him, along with the help of GoSports Foundation.
Sandeep – 4th place, Javelin Throw
Another close call at Rio 2016 for India. Sandeep, in the F42/43/44 category for Javelin throw, missed the bronze by 0.69m despite throwing his personal best.
Farman Basha – 4th Place, Powerlifting
Indian powerlifter Farman Basha came close to winning the country's first medal on the opening day of the Rio Paralympics but missed out on the bronze medal. In the men's 49kg category, he lifted 140 kg in his first attempt but could not lift 150kg and 155kg in the second and third attempts respectively. He finished fourth.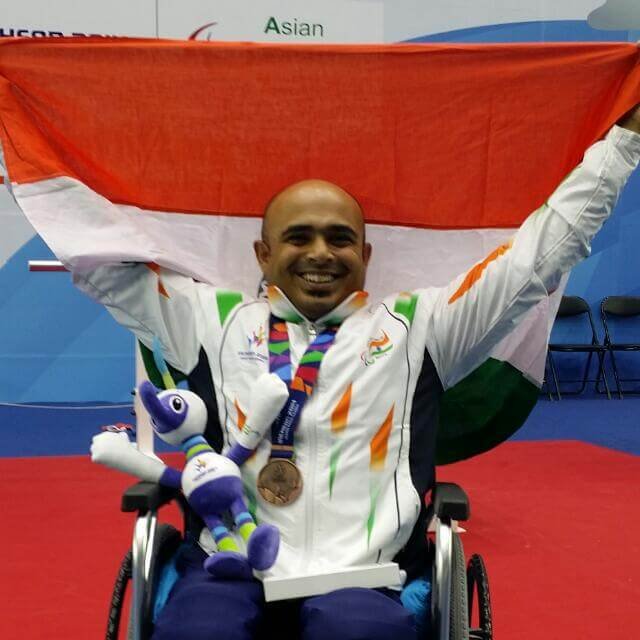 The Bangalore-born Basha is already an Arjuna Awardee and holds a diploma in electronics and television engineering. He was diagnosed with polio when he was a toddler, which led to permanent physical impairment of his lower body. This was the 4th Paralympics appearance for the 42-year-old.
Rinku – 5th Place, Javelin Throw
As Devendra was setting the field ablaze with his javelin, another youngster was quietly going about his business — smashing his own personal best over and over. Rinku, the youngest Indian to have competed at Rio 2016, had a night to remember along with Devendra. The 17-year-old lost his left arm in an accident involving a fan blade, leading to amputation when he was a kid but on this evidence, he has a lot to gain from the sport over the next few years.
Suyash Narayan Jadhav – Finished 9th in 2 of his 3 events
India's only swimmer at Rio 2016 Paralympics had close calls in two of his three events, finishing 9th overall in the 50m freestyle and 50m butterfly events — where the top eight made it to the finals. He finished 10th in the 200m medley event.
Ankur Dhama – Did not qualify for 1500m final
Ankur, India's first ever fully-blind paralympian, had reasons to be aggrieved in his debut Paralympics. The athletes run with their eyes blind-folded, along with a guide-runner and at the beginning of the race and Ankur's guide was involved in a collision which tripped him over and saw Ankur fall back all the way to the end. He recovered remarkably well to finish 2nd in the heat but his overall ranking was not high enough to merit a place in the final. An official appeal was lodged but nothing came of it.
Good luck for Tokyo, Ankur!
Ranbir Narender – 6th Place, Javelin Throw
In the same event as Sandeep, Ranbir had a similar story — recording his personal best but could not medal. He finished 6th. 
Pooja – Archery, Eliminated in round of 32
The first Indian female archer to make it to the Paralympics, Pooja was eliminated by the world no. 2 from Poland in a tough four set match. 
Sharad Kumar – 6th place, High Jump
In the event which saw Mariyappan and Varun win gold and bronze, Sharad was having a clean run till he reached the 1.77 m but could not clear the mark in his 3 attempts, eventually finishing 6th among the 12 athletes.
Rampal Chahar – 6th place, High Jump
The T45/46/47 category saw yet another Indian set a personal best mark at the Paralympics as Rampal jumped an impressive 1.93 meters. Another 0.3 meters, and he would have won a bronze medal.
Virender Dhankar – 8th in Shot Put, 9th in Javelin
A last minute addition to the Indian contingent, Virender — competing in the F56/57 category — finished 8th and 9th in his events. 
Naresh Kumar Sharma – Did not qualify for final
The veteran shooter had a disappointing Rio 2016 Paralympics, finishing 21st, 22nd, 40th and 44th in his four rifle shooting events in the qualifiers.
Dharambir – 9th in Club Throw
In the event that saw Amit miss bronze by the smallest margins, Dharambir finished 9th among the nine competing athletes. 
Karamjyoti Dalal – No mark, Discus Throw
Karamjyoti, who had seen a meteoric rise in the world of para-sports in the last year or so, could not register a single valid attempt in the F56/57 category of discus.
Sundar Singh Gurjar – The Curious Case Of The Missing Man
For those read ScoopWhoop's introduction to the 19th para-athletes, you would have known that Sundar Singh was a big medal hope. Earlier this year, he threw a whopping 68.42m – five metres more than Devendra's mark. But since the event was not recognised by the world body, the record hadn't been ratified. He was World No. 2 in that category, no less.
But why did he not make it to the list of medal winners? Because he did not report for his event on time.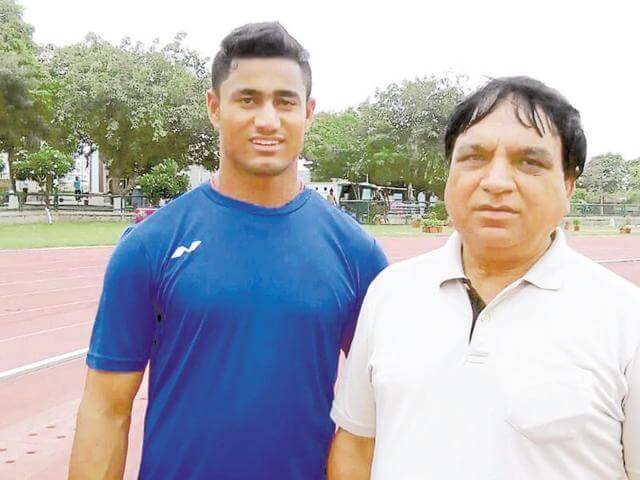 Yes, you read that right. In news that has gone under the radar, India was robbed off a definite medal, due to tardiness. 
Speaking to the Hindustan Times, Sundar said:
"SAI officials and team coach Deepak Bhardwaj took the other two athletes for the registration process while nobody even came looking for me. The coach never made me aware of the rules. Instead, he just ignored me. By the time I returned, I was one minute late and my entry was not accepted. All my efforts went down the drain because of this one minute."
While it is not clear if this entirely true, ScoopWhoop can confirm that he did indeed report late for the event. Just like Narsingh Yadav finding out hours before his event that he won't be taking part in the Olympics, Sundar had a shocking no-show at the Paralympics as well.
All said and done, it was a Paralympics worth celebrating for India. And for making the country proud, we salute all the athletes who took part!