Mahendra Singh Dhoni came back to the Indian side and began on a winning note in the five-match ODI series against New Zealand in Dharamsala. 
Batting first, New Zealand were bowled out for 190 on a pitch that really did not pose too many questions for the batsmen. And when you give Virat Kohli an easy target to chase, well, there is not much hope to win.
As it turned out, Kohli made an unbeaten, majestic 80-ball 85 and finished yet another run-chase in style — stepping down the track and smacking Ish Sodhi for a straight six.
Fair warning: Since this article is about what we learned from the first ODI, Kohli's brilliance in run-chases or his form in 2016 will not be discussed. You know the drill now — he came, he saw, he chased.
Virat Kohli's averages this year:

Tests – 56.00 in 10 innsODIs – 92.80 in 6 innsT20Is – 106.83 in 13 innsAll T20s – 89.66 in 29 inns

— Bharath Seervi (@SeerviBharath) October 16, 2016
Kane Williamson's wretched run at the toss
You remember Harvey Dent in The Dark Knight? The man who 'makes his own luck' with a coin that has two identical sides. Well, Williamson must feel the Indian captains on this tour are all Harvey Dents. 
Thrice in the test series against Virat Kohli and in the first ODI against MS Dhoni, Williamson has called wrong at the toss. And all four matches have ended in defeats. While the toss had a much bigger impact in Tests — their loss at Dharamsala was self-made — Williamson would sure love to get the call right soon. Luck, like wins, has deserted the Kiwi captain on this tour.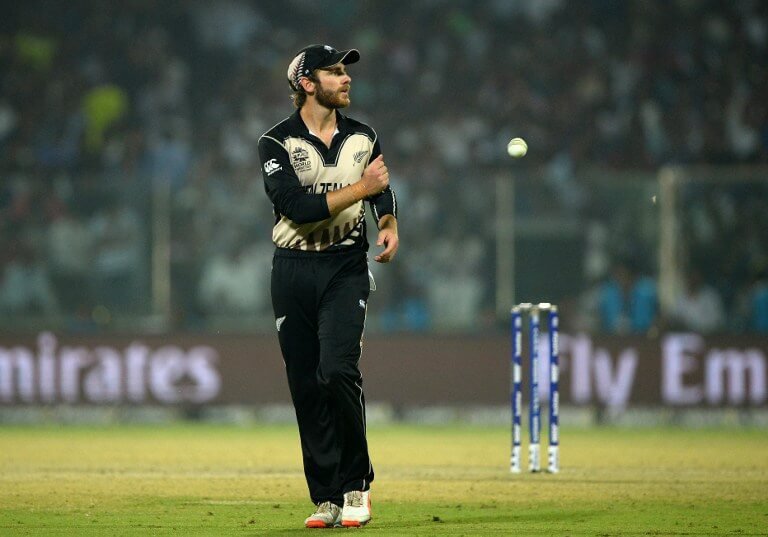 On a serious note, this New Zealand tour of India is another tick in the 'pro' column for those calling for the pre-match toss to be scrapped and let the visiting team decide. You'd imagine Williamson will sign on for that in a heartbeat.
Hardik Pandya's impressive debut
In what was a moment that will stay with the youngster for the rest of his life, Pandya received his India cap from the greatest all-rounder India has produced — Kapil Dev. It won't be an exaggeration to say India have not had a fast-bowling all rounder nearly as good as Kapil since. 
It's an area that has been a worry for Dhoni of late in the limited overs format. He has bemoaned the lack of a good fast bowler who can bat for a while now. And in Pandya, he finally has someone to fill that role. In Dharamsala, the Baroda all-rounder showed he has the talent to hold that role. What was most heartening to see was Pandya stepping up to the challenge of bowling with the new ball on what looked like a beautiful pitch to bat on.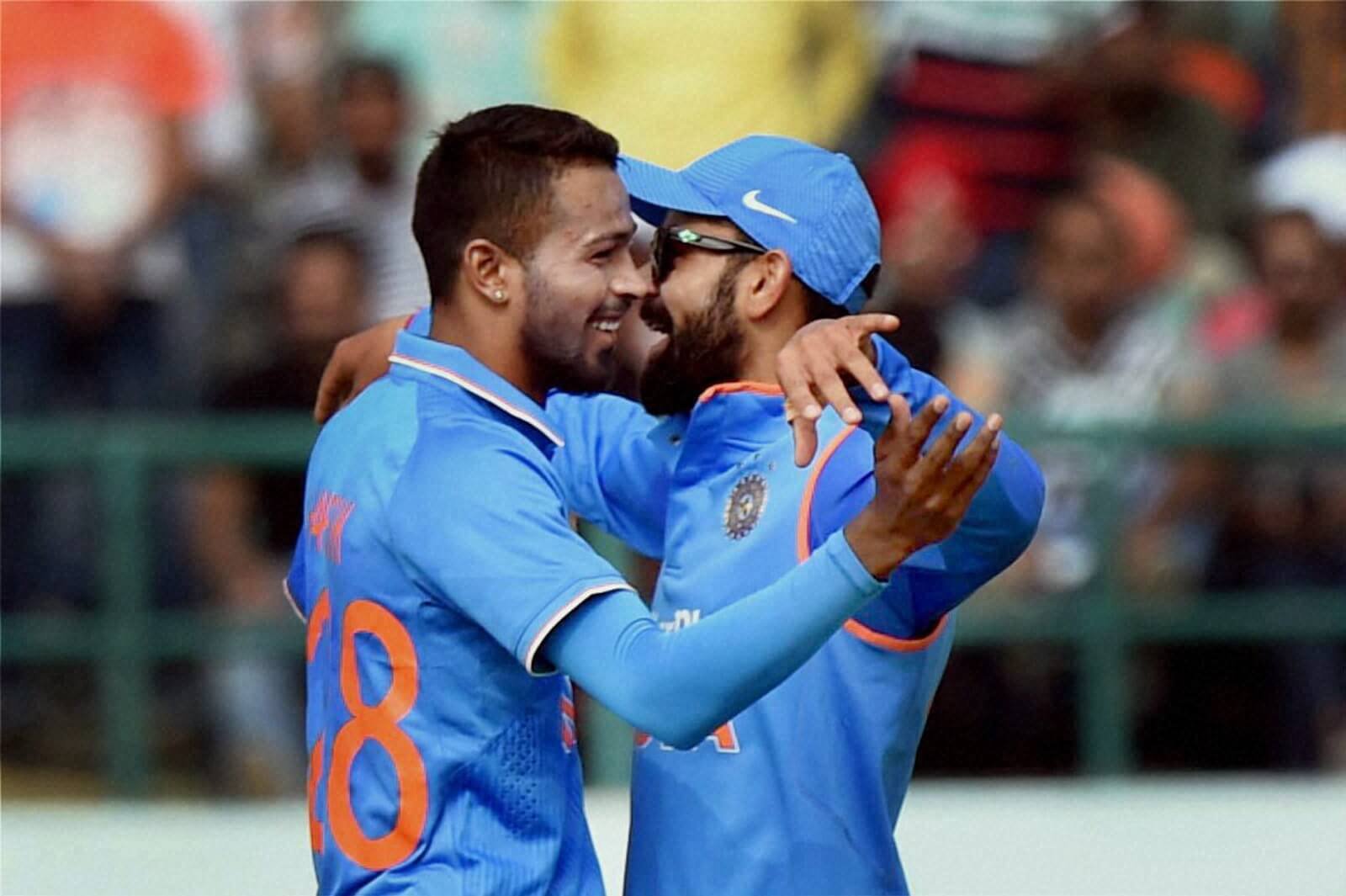 His pace has improved drastically — his fastest was above 143 kph and the average touching 140 kph. He got good carry. He swung the ball well. He showed great character to come back with a good delivery every time he was hit for a boundary. And at the end of the innings, his figures read 7 overs 31 for 3.  
"Pandya hit the right lengths consistently. He is quicker than you'd expect and with an awkward action that is difficult to pick. If he continues bowling like this, he is going to be great for the side," said Dhoni after the match.
Captain's faith repaid. Man of the match award. A good day in the office for young Hardik.
Umesh Yadav's innings of two halves
Yadav has not had the best of times playing under Dhoni. The captain has said many a times before on how he would prefer players not known for their pace over someone who struggles to bowl to the field in the subcontinent pitches. While he never named Yadav, it was clear he had to improve his accuracy if he wanted to feature in Dhoni's plans.
He did exactly that in his first spell in Dharamsala. He cut his pace back by a few yards, stuck to good lines outside off stump and returned with figures of 6-0-16-2. What more, he took a stunning catch at mid-off to dismiss Corey Anderson.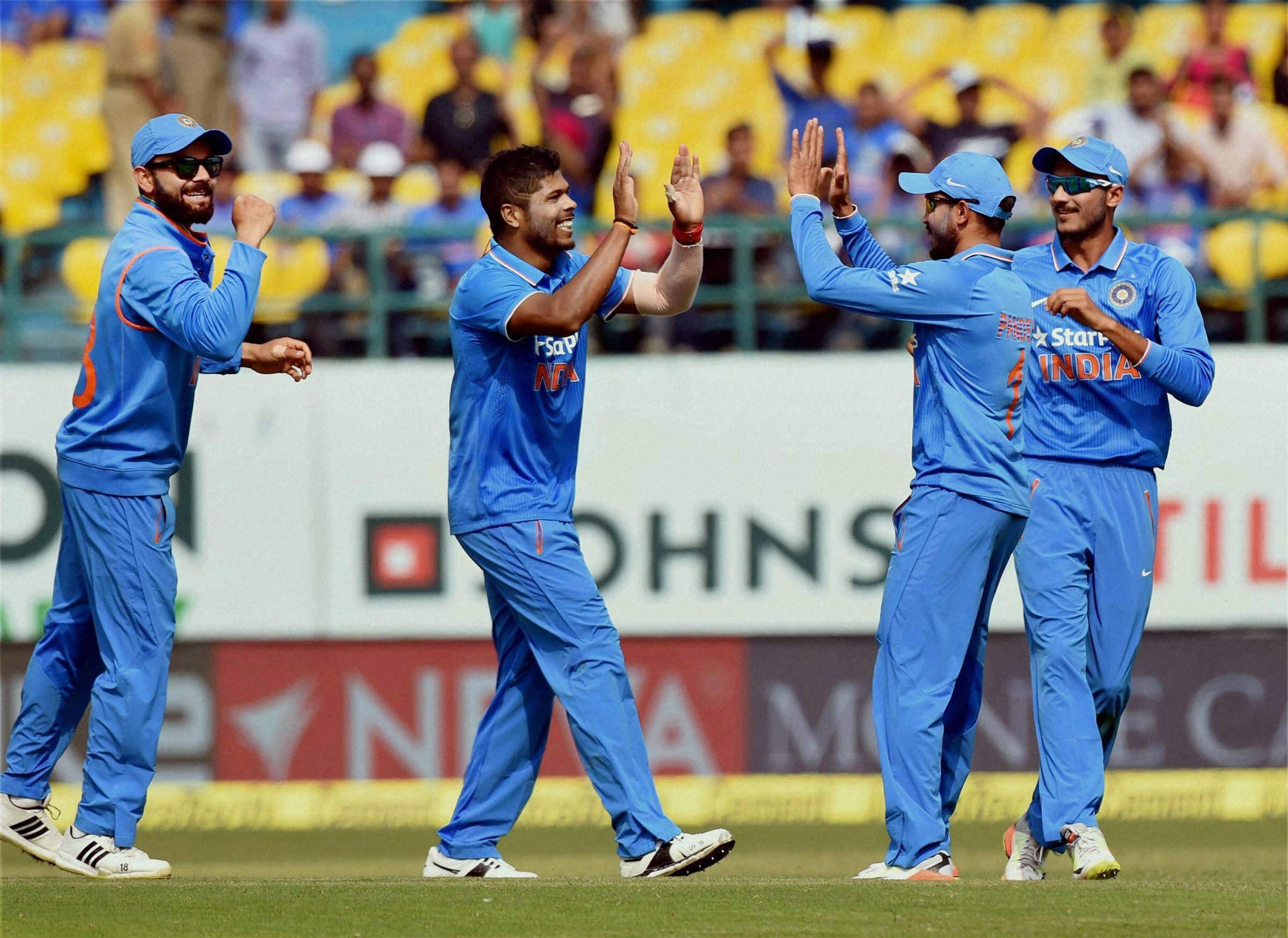 It did not end too well though. When Tim Southee was on 2, he put down a sitter at fine leg. He would go on to make 53 more runs. To add insult to injury, Yadav conceded 14 runs in his comeback over — with familiar troubles of straying in his line resurfacing. Dhoni wouldn't give him another over after that. Yadav, as good as he was today overall, would do well to cut that part of his game out if he wants to make the plane to Champions Trophy next year.
New Zealand's brain freeze
It was a clinical performance from India on the field, no doubt. But when the New Zealanders look back at how their batsmen got dismissed, they'd want to forget this match ever happened. On a pitch that Sunil Gavaskar described was as flat as a road, the Kiwis threw their wickets one after the other. Williamson chased a wide one, Anderson got out off a juicy half-volley, Jimmy Neesham and Luke Ronchi gave catching practice to the fielders.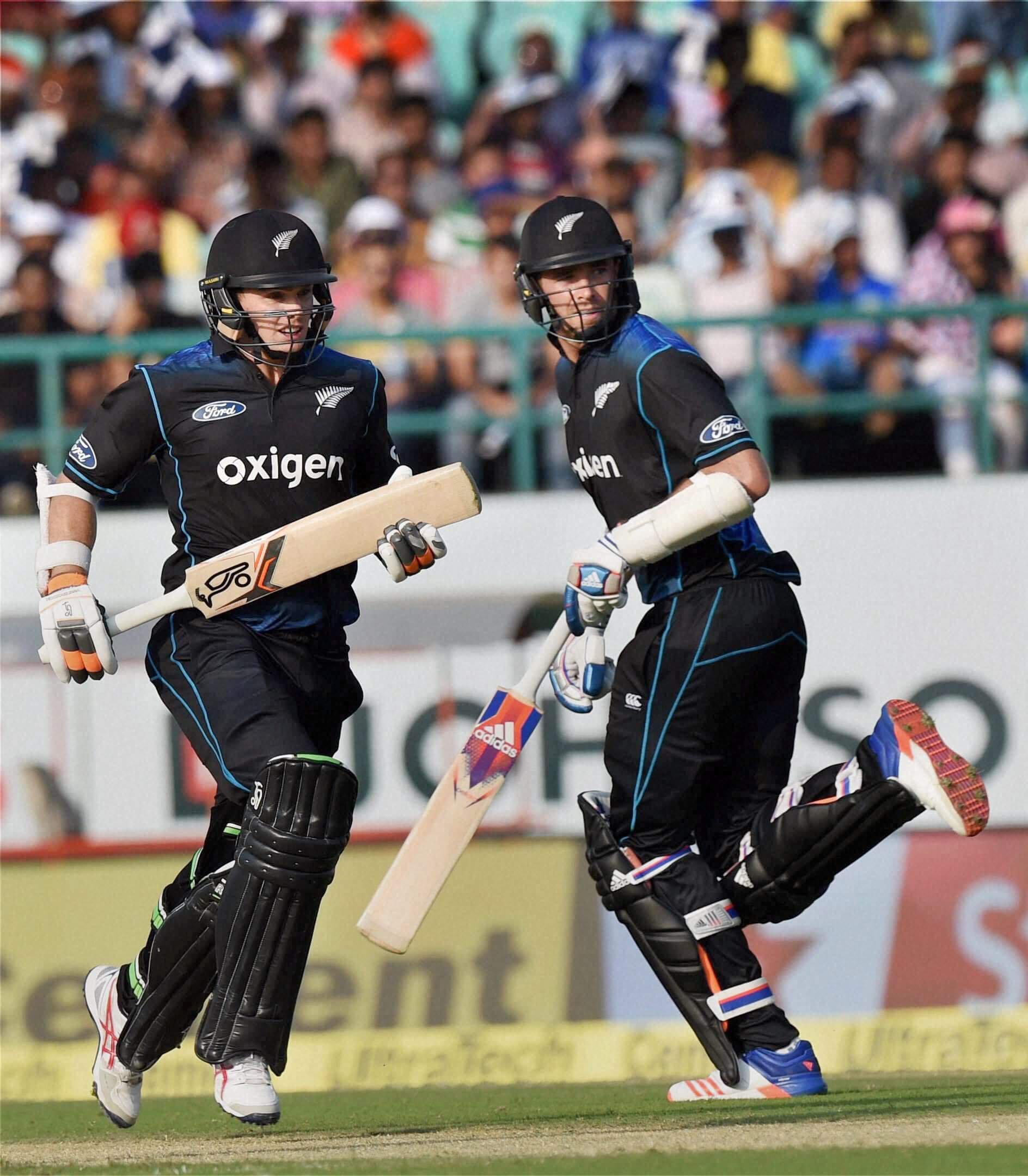 And as all this was unfolding, Tom Latham was giving his teammates a lesson on applying oneself, He rarely put a fut wrong, holding forte at one end as wickets tumbled at the other. The reward? He became the first New Zealander and 9th batsman all time to carry his bat through in an ODI.
Ajinkya Rahane and Manish Pandey's missed opportunity
Despite the cliched 'it's not over until the last ball is bowled' line, India's chase was always going to be a formality under the lights in Dharamsala. With the dew kicking in, the ball expected to skid more, it would have been a massive upset if India did not win.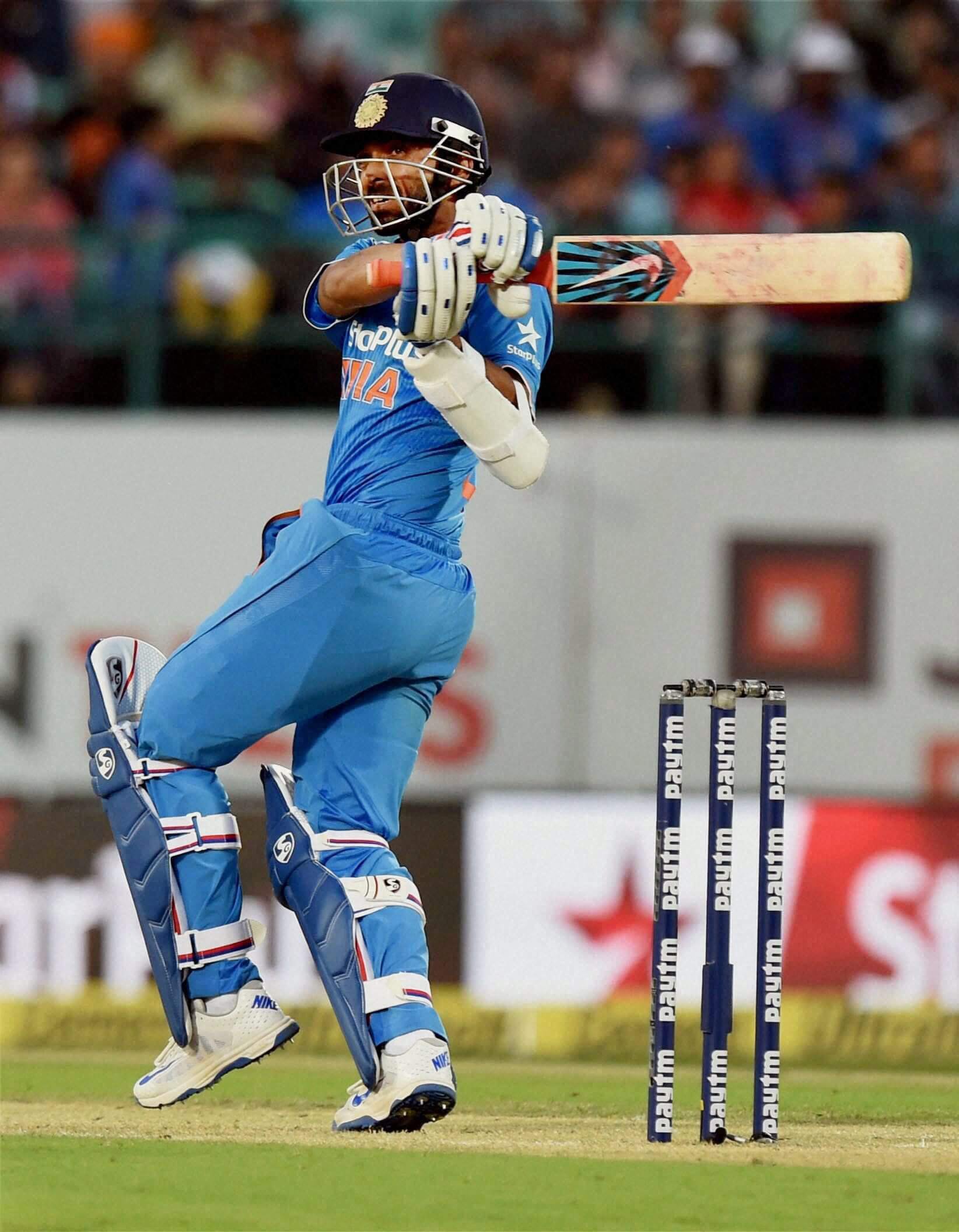 Rahane, opening in the ODIs again in the absence of Shikhar Dhawan, looked in wonderful touch at his favourite batting position in limited overs cricket. He was pulling the fast bowlers for massive sixes, cutting and driving with authority but then played a shot that he'll kick himself for. Poking wide outside the offstump is not how you'd expect Rahane to throw away his wicket. 
Pandey too, playing in the middle order again after his match-winning 100 in Sydney in January this year, also played a loose shot to throw his wicket away.
For Rahane and Pandey, this series is vital to nail down their respective slots in the batting order and they'd both be disappointed with the way they threw their wickets away.
Feature image source: AFP