The Indian Super League is back. 10 months after the second edition ended in fisticuffs between two teams and a player ending up in jail, India's football extravaganza is back for the third edition. The debate still continues over whether ISL has done Indian football any good, but it is safe to assume that, starting October 1, 2016, fans will make a bee-line for the football stadiums around the country once again — one of the undeniable positives to emerge from the league.
And a big part of the impressive attendance figures has been the presence of foreign superstars. Even a long-time sceptic, Indian national team coach Stephen Constantine, acknowledged that recently. 
"The positive impact [of ISL] has been the sharing of experience from the foreign recruits, or may I call it the knowledge transfer. So many foreign recruits who have played at much higher levels are coming to India to play in the ISL. They are here to share their experience," he said, adding that Indian players have a lot to learn from these foreign players.
So, who are biggest foreign stars around for the third edition? Here are our picks:
Diego Forlan
Arguably the most exciting player to have set foot in India. Sure Roberto Carlos, Alessandro del Piero and Robert Pires are players who are more popular in India given the clubs they played for. But they were exciting because they were big names. In terms of possible impact and the value he brings to the ISL, 37-year-old Forlan, the player of the tournament at 2010 World Cup, is right up there along with the likes Nicolas Anelka and Elano.
A total of 208 goals and 68 assists in 555 club matches — an incredible record — aside, Forlan will bring a lot of attacking flair to a Mumbai City squad that was let down by player-manager Anelka in 2015. Along with Sunil Chhetri, the Mariners have, undoubtedly, the best strike force in the ISL this year. 
Didier Zokora
Being the most-capped Ivory Coast player is no mean achievement with the African nation being a powerhouse in their continental championships and a regular at the World Cups. Zokora, who has moved from Pune City to North East United FC after a not-so-great first year in India, will be looking to spearhead the Guwahati-based club's bid to make it to the playoffs for the first time. North East have been one of the feel-good stories of ISL, with a fan-base that showers love on their players — many of who are local lads. Zokora, along with Nicholas Velez, will look to add steel and flair to a side that has promised a lot without delivering results in the two editions so far.
Helder Postiga 
One game, two goals. That was the sum total of Helder Postiga's contribution to the ISL last year. The marquee player for Atletico de Kolkata started the season with a bang — both in front of goal and in terms of a serious injury in the season opener versus Chennaiyin FC. He never recovered from that knock despite multiple reports about him being fit for the latter stages of the campaign.
He gets another chance to show his mettle this year and ATK fans will be hoping he'll last much more than two-thirds of a game.
Iain Hume
Hume has been an ISL constant. He was the leading scorer in the inaugural season and after a slow start to the 2015 campaign, he made a roaring comeback with some stunning goals in the second half. Alongside Postiga, ATK will be hoping for more of the same from the 32-year-old marksman. He will be hoping to add to his stats — 16 goals in the two seasons in ISL — and to his legacy in India, as ATK look to wrestle the title back from Chennaiyin.
Sony Norde
The Haitian is no stranger to India. The Mohun Bagan winger is one of the rare cases of an I-League star catching the attention of one and all in the ISL as well. In a largely disappointing season for Mumbai City last year, Norde was a shining light down the left wing with pace and trickery that very few possess in the league. His end-product was not always the best but in a four-match winning run in the first half of last season, the Mumbai fans got a glimpse of how good the combination between Norde and Chhetri could potentially be. Throw Forlan in the mix and this is a mouth-watering forward line that Mumbai will field at the Andheri Sports Complex — their new home ground.
Lucio
A world-cup winner with Brazil and a treble-winner with Inter Milan under Jose Mourinho, 38-year-old Lucio is back in India after an impressive first season to help Zico's charges go one better than their runner-up finish in 2015. His 105 international caps — and stints at clubs like Bayern Munich will hold FC Goa in good stead. At 38, he is still at a good age for a center-half and fitness permitting, will hope to guide the defence for what has been the best attacking side in ISL over the first two seasons. 
Florent Malouda
Delhi Dynamos have their talisman back. It was a strange season for the team from the capital city in 2015, with Roberto Carlos at the helm. They struggled to score goals for most part of the campaign and made it to the semi-final on the back of a series of 1-0 wins. Malouda, however, was the chief creator, raking up eight assists. If the Dynamos have to better their return in front of goal, the French winger will once again have to be at his creative best and hope for better from his forwards. 
Raphael Augusto
Elano is gone. Bruno Pelissari has switched clubs. The off-season has not been kind to the defending champions Chennaiyin FC. But Marco Materazzi will be delighted to see one name on his squad sheet – the Brazilian midfielder Raphael Augusto.
The form of Augusto, which was highlighted by Matterazzi on many a occasion last season, at the base of midfield was perhaps the most underrated aspect of Chennaiyin's late charge to the playoff spots. The 25-year-old is perhaps the most technically gifted midfielder in the ISL — he can be physical, his touch is excellent, his passing range is phenomenal. And in the absence of the bigger names, the stage is set for Augusto to make a bigger impact in the league this year.
Dudu Omagbemi
Dudu makes this list not just for his goal-scoring abilities — which he showcased in FC Goa's run to the final last year, netting seven times including a hat-trick. He makes it because his journey is a story worth re-telling over and over again. He left is home country Nigeria to India — to Goa, precisely — as a 16-year-old who had no idea what was in store for him. What followed was an adventure — one of finding his feet in a new country, finding a club to play for, finding money to send back home to his family. Having scored 73 goals in 89 appearances for Sporting Club de Goa, he left India and came back again in 2014 as ISL came calling. Success didn't follow him but he grabbed his late chance at Goa last year.
And in 2016, he will be vying for the spot left vacant by Stiven Mendoza at Chennaiyin FC. He is not the biggest name in this list by any means but does his story have one more fairy-tale chapter in it? We'll find out soon.
Eidur Gudjohnsen
Along with Forlan, the Iceland star is the only other 'big' name coming to India for the first time in 2016. The former Chelsea and Barcelona star will be FC Pune City's Marquee Player in the 3rd edition.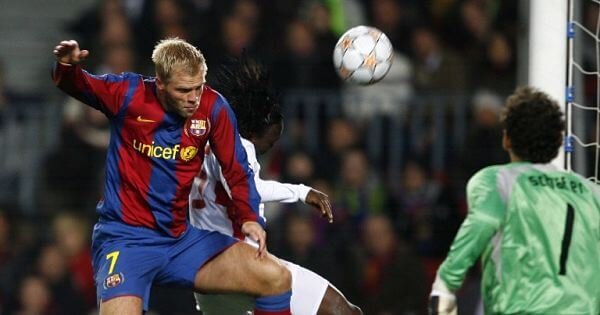 Gudjohnsen is 37 now, and by his own admission, 'not the same player as he was 10 years ago', there's no questioning his pedigree. The striker has won the Premier League, La Liga and the Champions League among others, with stints at Chelsea and Barcelona.
Oh well, Gudjohnsen won't be playing the ISL after all, as an injury has ruled him out of the campaign.