Virat Kohli's childhood coach Rajkumar Sharma termed Jimmy Anderson's comments about the batsman's technique as "immature" advising him to concentrate on his own performance.
Kohli scored his career-best 235 in Mumbai Test which India won by an innings and 36 runs but Anderson said that any technical deficiency that the Indian captain is not in play because of the pitches.
"This is a childish statement from Anderson. What has he done in the matches that he has played? He is also not getting wickets in India. He may be a good pacer but he has to also take wickets in India. Taking wickets in England can't be a parameter to term someone great," Sharma told PTI.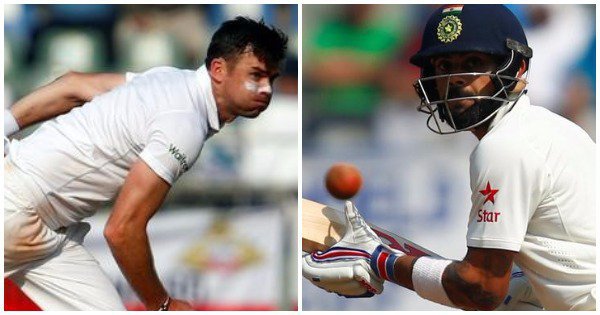 Sharma thinks that Anderson has not been able to digest that Virat has been scoring runs in every Test match.
"Just wanted to remind Anderson that Virat has five Test hundreds in Australia which produces the fastest pitches," said Sharma referring to Kohli's 992 runs in 8 Tests.
If Kohli, who has 640 runs in the series so far, can score another 135 in the Chennai Test, he can surpass Sunil Gavaskar's record score of 774 runs in his debut Test series in the Caribbean in 1971.
"I expect him to break Sunil Gavaskar's record and he may get two more innings to achieve the target. Although Virat does not play for records and may be he is not even aware of any such record but this is a golden opportunity I must say," Sharma said.