Haryana sports minister Anil Vij on Sunday rejected Sakshi Malik's claim that the state government was yet to honour its "promises" made to her for winning an Olympics bronze medal.
The minister alleged that some people might have "prevailed upon" her to tweet in which she raised questions about the Haryana government's commitment towards fulfilling its promises.
"Medal ka vada maine pura kiya, Haryana sarkar apna vada kab pura karegi? (I fulfilled my promise of winning an Olympic medal for the country, when will Haryana government fulfil its promise?)," tweeted Sakshi.
"Announcements made by Haryana Government after my OLYMPIC MEDAL win were for MEDIA ONLY ?," she further posted on her twitter handle.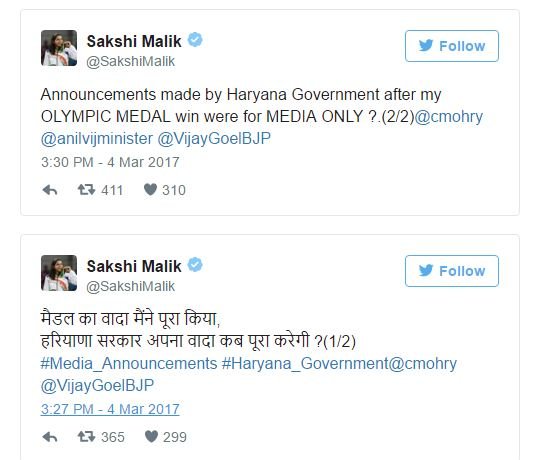 "We gave a cheque of Rs 2.5 crore the day she landed in India (after the Olympics event)," Vij said.
"Regarding the issue of job, she had a unique demand. She had sought job at Maharishi Dayanand University (MDU) in Rohtak. But it takes time to complete the whole process. We have taken all the approval and MDU has also framed rules and she will be appointed Director Sports at MDU," the Minister said.
The minister also said the athlete would be given an appointment letter within 3-4 days and added that she knows it very well.
With regard to the issue related to rewarding her coach, the minister said that the state government had asked the Olympics bronze medallist wrestler to give a name of one coach for giving him the reward.
"She had given names of 3-4 coaches from whom she got training. But we asked her give us one name with affidavit and we will give him the award. But that has not been given yet. We cannot give award to all the coaches," Vij asserted.
Vij further claimed that Malik has not yet applied with Haryana Urban Development Authority to get plot at concessional rate. The state government offers a plot to International sportsperson at concessional rate.
The minister also said that the government approved a sum of Rs 80 lakh for installing air conditioning system in the stadium where she took training for wrestling.
The minister said he had even apprised about all these issues to her parents who met him a week ago. He said:
"Some people may have prevailed upon her to write in this manner. Sports politics is deeper than our real politics and we do not understand that."
Sakshi had claimed that she had not yet received the incentives promised to her by the state government for winning the bronze medal at the Rio Games.
The Haryana government had announced before Olympics Rs 6 crore for gold medallists, Rs 4 crore for silver and Rs 2.5 crore for bronze winners.

Meanwhile, the Congress took a swipe at Haryana government after Malik claimed that state government was yet to honour its promises
"Hope this budding athlete & Haryana's daughter won't now be dubbed as 'anti-National' for reminding BJP Govt of its lame promises," Randeep Surjewala, In-charge Communications, All India Congress Committee tweeted yesterday.
Responding to it, Vij today said, "It is the problem with the Congress that they see traitors in patriots and patriots in traitors."
Vij, Haryana's outspoken minister, had earlier said that those who were supporting Delhi University student Gurmehar Kaur for her campaign against the ABVP, were pro-Pakistan and should be thrown out of the country.