Javelin thrower Anu Rani stole the limelight as she smashed her own national record en route to winning the gold medal on the fourth and final day of the 21st Federation Cup National Senior Athletics Championships.
Rani, representing Uttar Pradesh, threw the spear to a distance of 61.86m to better her own earlier national mark of 60.01m in the last event of the competition at the NIS Patiala.
In the process, she also qualified for the World Championships to be held in London in August. The qualifying mark for the World Championships stands at 61.40m.
Suman Devi, also of Uttar Pradesh, took the silver with a best throw of 55.03m, while K Rashmi of Karnataka won the bronze with 51.12m.
Rio Olympian Nirmala Devi of Haryana also qualified for the World Championships as she won the gold in women's 400m race with a meet record timing of 51.28 seconds.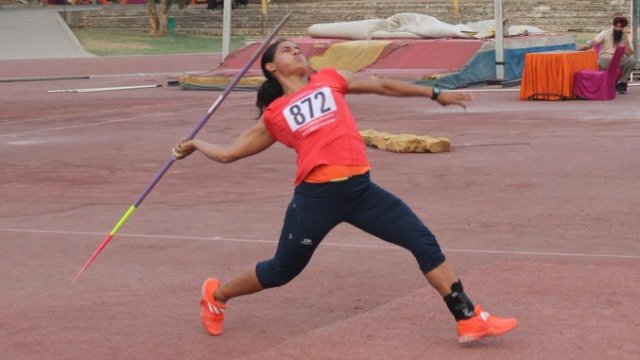 The World Championships qualifying mark for women's 400m stands at 52.10 seconds.
Seasoned MR Poovama of Karnataka came a distant second in 52.70 seconds while Debashree Mazumdar of West Bengal claimed the bronze in 53.59 seconds.
"I was expecting to make a national record here but I am satisfied with the meet record. I will target the national record at the Asian Championships," said Nirmala.
Meanwhile, four athletes took home their second gold of the meet. G Lakshmanan and his sister L Suriya added the 10000m crowns to the 5000m titles they had won on the first day of the competition.
On Sunday, Lakshmanan claimed the men's 10000m gold with a time of 29:23.46. He finished ahead of Kerala's Gopi Thonakal who clocked 29:55.67 and Kalidas Hirave of Maharashtra (29:57.94).
Suriya bagged the women's 10000m crown with a time of 33.12.67. She finished ahead of Maharashtra's Sanjivani Jadhav (33.15.77) while Delhi's Meenu finished third in 34:17.11.
They were joined by Nayana James of Andhra Pradesh, who claimed the women's 100m hurdles gold in 13.96 seconds, to go along with her long jump title earlier in the competition.
Among the double gold winners was Amoj Jacob, only 19, who completed both 400m and 800m and won the men's single lap race.
Jacob, a student of New Delhi's Khalsa college, ran a personal best of 46.26m to claim the 400m men's title. He edged Arokia Rajiv of Tamil Nadu, who clocked 46.64m and Sachin Roby of Kerala, who took the bronze with a time of 46.87 seconds.
Feature image: AFI/Twitter