Keaton Jennings impressed on his debut for England with a century but off-spinner Ravichandran Ashwin brought India back with a late three-wicket burst on the opening day of the fourth cricket Test today.
England were going strong by taking tea at 196 for two but India reduced the visitors to 288 for five at stumps as Ashwin removed Moeen Ali (50) and Jennings (112) in space of three balls and later got rid of Jonny Bairstow (14).
Ben Stokes (25) and Jos Buttler (18) were the unbeaten batsmen at close after an unfinished stand of 39 on a track that would be difficult to negotiate with passage of time.
Here are the talking points from day one in Mumbai:
Kohli's field placements.
For the major part of this domestic season, Kohli's captaincy has come in for a lot of praise. During England's second innings in Mohali, every thing Kohli touched was turning into gold — his field placements clicked, his bowling changes invariably brought about a wicket. 
But there have been instances from Rajkot to Mumbai today, where Kohli has baffled everyone with his tactics. As early as the first hour at the Wankhede, Kohli had long-off and sweeper cover out for Alastair Cook and debutant Keaton Jennings when the spinners were bowling. This is Cook we are talking about — the man who plays a lofted shot as often as Shahid Afridi dead-bats a good length ball. When Jos Buttler came in to at No. 7, with England in trouble, he kept a fielder at long-on. Easy singles all day.
In Vizag, for instance, when Alastair Cook and Haseeb Hameed came out blocking everything, he kept just two men around the bat for long. 
That's it. Pack it with fielders. India have let down themselves with some atrociously defensive field sets today.

— Alagappan Vijaykumar (@IndianMourinho) December 8, 2016
The prevailing theory has been that Kohli has been content to give batsmen the singles and play with their patience by drying out the boundaries. And in his defence, it seems to have worked for him this series. 
But the amount of edges that repeatedly went through the vacant gully regions off Ashwin and Jayant could have easily resulted in a wicket — just like it did the moment he put a second slip for Keaton Jennings in the final session when Ashwin picked up two wickets in one over.
It is tough to criticise his tactics when the results are going his way, but one wonders if this is an area he can improve on.
England's collapses
It was going swimmingly for England. The toss was won, a chance was given and not taken — centurion Keaton Jennings was put down by Karun Nair on 0 — partnerships were built. Just two wickets were lost till tea, with their debutant getting a century.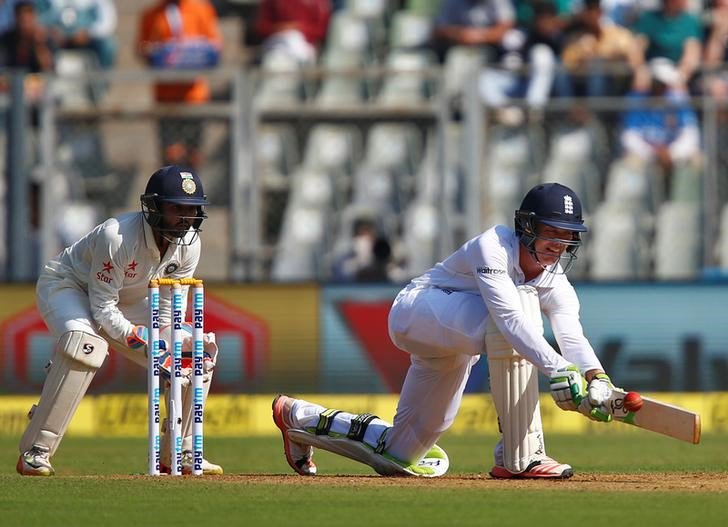 Not for the first time either. The same happened in Vizag and Mohali too, where good starts were thrown away before the lower order fought back.
It must be said however that England seemed intent on attacking the Indian bowlers more than they did in the previous matches, because they need a win in Mumbai — no two ways about that. But their inability to arrest a slide will probably be the defining factor come the end of the series.
A tall, South Africa-born English batsman had a day to remember at Wankhede.
Yet again.
Following in the footsteps of Kevin Pietersen, Johannesburg-born Jennings played an innings of high quality in his very first international appearance for England. Using his height to his advantage, Jennings — much like KP did in 2012 — blunted the Indian spinners. He was aggressive once he got over the initial butterflies, he swept and reverse-swept with great success and his off-driving was a delight to watch all day.