Time away from national team has given Harbhajan Singh a fresh perspective about the condition of an average domestic cricketer, prompting him to request chief national coach Anil Kumble to raise the issue of their match fees with the COA.
Kumble is set to give a presentation to the Committee of Administrators (COA) on May 21 about the revised pay structure of the contracted Indian cricketers with an eye on substantial hike on current central contract. The grades are Rs 2 crore, Rs 1 crore and Rs 50 lakh.
While the elite Indian cricketers are a sorted lot along with a handful of first-class players, who have IPL contracts, an average domestic cricketer still gets a match fee of Rs 1.5 lakh (first XI player) for a first-class game (Ranji Trophy and Duleep Trophy) compared to the Rs 15 lakh for a Test match.
One of India's finest spinners, Harbhajan has recently written to Kumble about the financial insecurities of domestic cricketers.
The letter, accessed by PTI, has Harbhajan making an emotional plea to Kumble.
"It's been last 2/3 years (that) I am playing Ranji Trophy. I hate that I've found constant struggle around me in the financial situation of my first-class teammates. Even though Ranji Trophy is hosted by the richest cricket board in the world, I appeal to you as a player, who is an inspiration and role model for all Ranji players," Harbhajan wrote to Kumble.
"I request you to please take this up with the top brass of BCCI and players like Sachin, Rahul, Laxman, Viru to ensure that a change is brought about in the pay structure, in the amounts they get paid," Harbhajan wrote.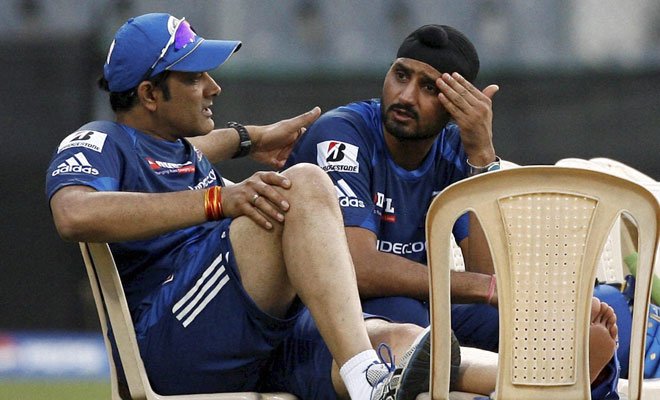 Harbhajan finds it difficult to digest that the Ranji pay structure has not undergone revision for a long time.
"I am willing to help/assist in any way to help bring in a change. It's shocking to say the least that the payment system hasn't been changed since 2004. Imagine the value of 100 rupees then and now. It is so different."
India's third highest wicket-taker in Tests felt that an average domestic cricketer can't plan his life and investments.
"Imagine in today's day and age how can you call yourself a professional if your 'job' doesn't even tell you how much you will earn yearly? How can you sign up and commit your life to a job which doesn't promise you a fixed income every year.
And that too, you are paid one year after you complete your work.
"The guys can't even plan their future because they don't know whether they would earn Rs 1 lakh or Rs 10 lakh in that year and it leads to huge issues in their lives and families and (affects) state of mind. Anyway, let's try and gently make a change for our brothers," he concluded the letter.
When asked about the letter, Harbhajan told PTI: "If I wouldn't have played domestic cricket during last four-five years, I wouldn't have known what an average domestic cricketer goes through. Not everyone has a job. By God's grace, if they get an IPL contract their lives improve.
"I have achieved enough because of cricket and I have been fortunate to play close to 400 international matches in India. I am not talking for myself but those who are grinding it out at the domestic level."
Harbhajan talked about the fact that only a few domestic players get IPL contracts.
"But how many get IPL contracts? There will be hundreds of domestic cricketers who will not play for India or have an IPL contract but they are also cricketers just like any top India cricketer. They also have families, dreams, aspirations.
This is a request that these domestic cricketers are also looked after.
Feature Image: PTI