India skipper Virat Kohli should avoid making any changes to the team for the Champions Trophy summit clash against arch-rivals Pakistan on Sunday, believes former captain Rahul Dravid.
India will be taking on bitter rivals Pakistan on Sunday in a bid to defend their title. It is the first time the two teams are clashing in the final of an ICC event since the 2007 World T20 tournament.
"I think Virat has to stick to what's worked well for him. India loves chasing, we saw that today. They have got some really experienced players who have played in big pressure games, they know how to handle these kind of situations and I think this is a tactic that works for them," Dravid who is an 'ESPNcricinfo Match Day analyst right now, said.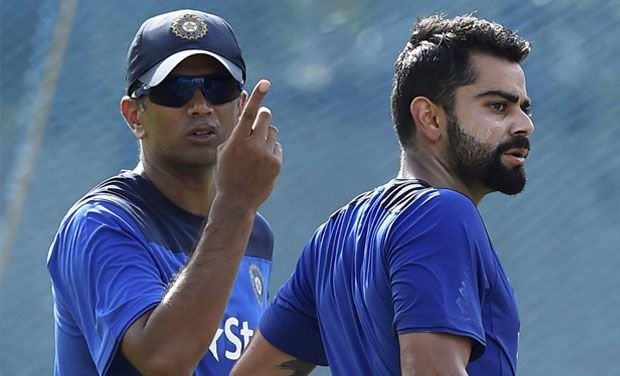 "People might question why are you only getting 4.8 run average in the first 10 but you know that's how they like to set up their innings with Rohit and Shikhar, knowing fully well that they have got the power at the back end of the likes of you know, Hardik Pandya, Dhoni, Yuvraj Singh, Kedar Jadhav, Jadeja.
"So you know they have got some big power that can make up a lot of runs in the end as well, as long as they can keep wickets in hand, they play spin well through the middle as well. So look, I won't change anything, India's batting has been exceptional," he added.
India have done well chasing but if they have to put up a mammoth total in the final then lower-order batsmen Kedar Jadhav and Hardik Pandya might have to play a big role, feels Dravid.
"I think if you get Pakistan chasing in the final, anything above 280, you would be happy. Look if we have the batsmen in hand, and they do play the extra batsman, Kedar Jadhav, at 6 and they have Hardik Pandya at 7 and they have shown that he can be pushed up a little bit," he said.
"It will be case of pushing one of up through the middle, Jadhav is a very good player against spin we know that, he does take it on. And if you are in that position, I guess you could do that, push Pandya or Jadhav ahead of even Yuvraj and Dhoni and have a crack."
As for Pakistan, Dravid said experienced cricketers Shoaib Malik and Mohammad Hafeez will need to step up if the team has to have any chance against India.
"It's a fantastic final. I guess Pakistan have something to prove, that they can put up a better performance than they did at the start of the tournament," Dravid said.
"They are going to need people like Shoaib Malik and Mohammad Hafeez, their two most experienced players to really step up if they want to win this game," he added.
Talking about Pakistan's bowling, Dravid said: "You know they've probably learned from the last time they played India, in that they didn't take wickets and India hurt them really badly in the last seven or eight overs, so they can't afford to let that happen again.
"One of the nice things about Hasan Ali is the length that he bowls.He pitches the ball up, he gets people to drive and I think that's one of the reasons, in these kind of conditions, he takes wickets.
Feature image: PTI