With a win and a loss, Asian Cup has been a mixed bag for India till now, and the Blue Tigers will try to get the result in their favour in tonight's match against Bahrain.
While reaching the knockout stage seems doable at this point, the chances can diminish in case of a loss and unfavourable result from the match between UAE and Thailand. 
This is how the points table looks after 2 games per side.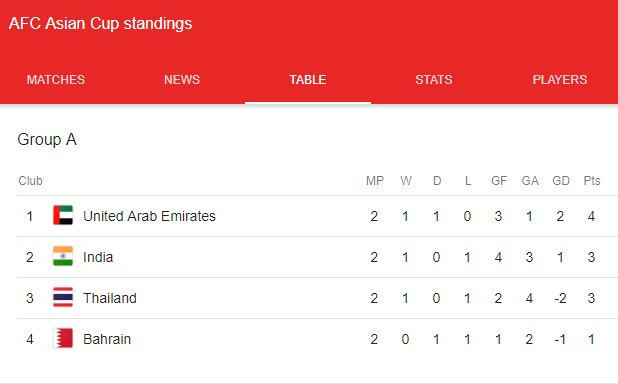 Here are all the possibilities that could take us further in the tournament. 
1. India defeats Bahrain
If India beats Bahrain, the chances of progressing to the next round will be very bright because even if UAE beats Thailand, India will end up at the second spot on the points table.
2. Draw with Bahrain
In this case, if UAE beats Thailand, they will claim the top spot and India will be on the second position. 
If UAE-Thailand match ends in a draw, India will still be on the second position owing to better head-on-head performance and will progress to the next round. 
If Thailand beats UAE, they will be the top ranked team in the group followed by UAE and India. India will still go ahead as one of the best performing teams on the third spot. 
3. Bahrain defeats India
In this situation, the result of Thailand vs UAE will become very crucial. 
If UAE gets defeated or the match is a draw, India will be on the bottom of the points table and will crash out of the tournament.
If UAE defeats Thailand, India will be placed third and will have to hope to get in as best among the third-placed team. 
India started their Asian Cup campaign with a historic win against Thailand and we are hoping for them to emerge victorious in the tournament.