Virat Kohli is happy that his bowlers have been able to decimate a quality New Zealand side on tracks which are not exactly rank turners which is an ample testimony that Ravichandran Ashwin and Co are capable of winning matches irrespective the surface provided.
"We knew before the series that people will start talking about pitches. We knew pitches will not be dry as monsoon is everywhere and especially in Kolkata, which is a newly-laid wicket. We knew our abilities and we knew we should be good enough to do well on any surface and against any team," Kohli told mediapersons at the post-match conference.
Kohli believes that a right step has been taken in ensuring that bowlers are not overtly dependant on spin friendly tracks.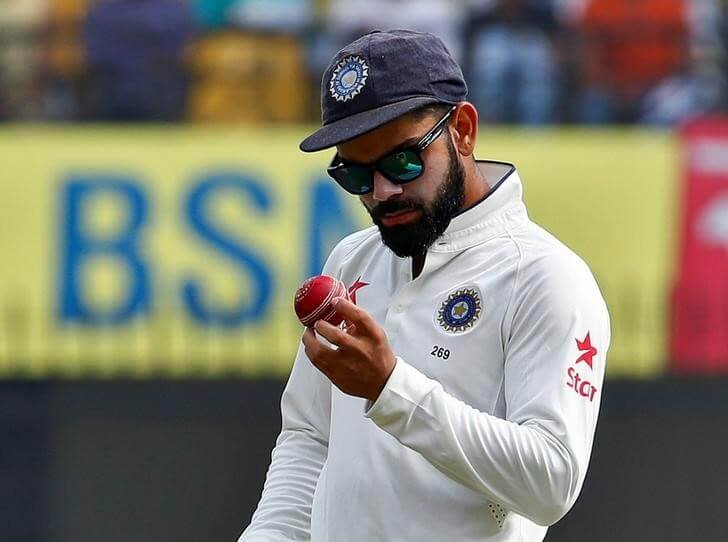 "That's the right step we have taken. We believe in our skill and not believe in creating conditions or atmosphere which might suit us partially. We wanted to express ourselves. We finished two games in four days and that gives us a lot of confidence," said Kohli.
Asked about Harbhajan Singh's recent tweet that had pitches been as helpful earlier in his career he and Anil Kumble would have grabbed many more wickets, Kohli pointed out the World T20 Cup game (at Nagpur) when the same set of New Zealand spinners had outshone the same set of Indian bowlers.
"Even if it is a turning pitch you have to bowl well. Spin is just not something to happen only off the pitch. It depends on how many revs (revolutions) you give to the ball and the use of the shoulder. When we lost to New Zealand in the World Cup, I quite clearly remember, suddenly their spinners were quality bowlers and we were found out! I don't see anyone talking about it now."
"The same (New Zealand) spinners had played (in this series). Why did not they pick up wickets? It's as simple as that. Our fast bowlers (also) picked up wickets everywhere. Give a guy a cement track to bat on. He should have a mindset to do so. It's as simple as that. That's all I am going to sum up."
He also said the team looked to bat with more intent in the second innings.
"We try to play positive cricket in the second innings and try to give the bowlers as much enough overs to bowl and secondly enough runs to keep expressing themselves and not set defensive fields. This was a situation where we batted them out of the game. We could express ourselves best and give our bowlers time to bowl out the opposition. The last two Tests played out nicely for us and that's why we could finish both the games in four days.
Kohli attributed small but important contributions from team members at different stages as key factors in the series.
"It's a team sport. For me, the most important points in the series were (Ravindra) Jadeja's batting in the first Test (at Kanpur), (Wridhiman) Saha's batting in the second and (Mohammed) Shami's spell in the second innings of the second match. They matter a lot for us as a team. We focus more on smaller contributions. You (media) write about those who are performing (big), but the (small) contributions from the entire team is important," he added.
Feature image source: