India vs Australia has always provided for exceptional entertainment. There were times when the Aussies were the titans, and there have been years when we have dominated. One thing I love and hate at the same time about the Aussies is their fighting spirit. You can never count them out and you can never ever take them lightly. 
Over the years, we have seen some monumental battles. Who can forget the famous Sachin vs Warne rivalry? Sure, things have changed. It has even spilled to off-field debates. The rivalry will never get old though. It resonates in the Kohlis and Smiths of today. There will always be controversies and there will always be sledging. 
It's all a part of India vs Australia. It has been that way for a few decades now.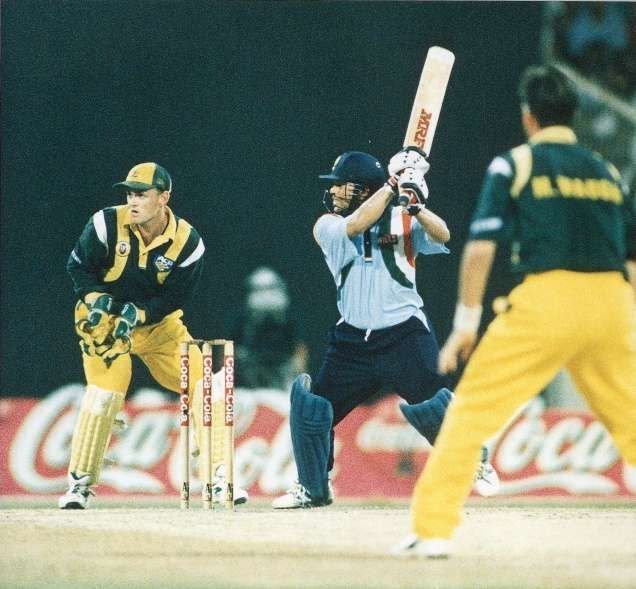 There's a certain satisfaction you get after India beats Australia. It doesn't come with other victories. Probably because they are so good. Having said that, since the ODIs commence on 17th September, at 1:30 pm, it is time to relive some of the best performances by our men against the men from Down Under.
1. Yuvi's gladiator-mode in the World Cup Quarter Final – Ahmedabad, 2011
Yuvi letting out a cry on his knees after victory was sealed has become an iconic image. This was one of the knocks on his way to becoming the Man of the Tournament after we bagged the trophy. He scored 57 not out to guide us to the semi-finals and knock-out the then champions. He was battling cancer at that time and he didn't even know it. That made this innings all the more special.
Here are some of the highlights:
2. Virat's fastest ODI ton and a grand Indian chase – Nagpur, 2013
India were given the task of chasing a mammoth 359 runs. Rohit Sharma and Shikhar Dhawan started things off incredibly well. Dhawan got out after a quick-fire 95 off just 86 balls while Sharma remained not out on 141. Of course he got the MOTM award. But it's rare to see someone in a supporting role outshine the highest scorer. Virat Kohli did just that. He scored 100* off just 52 balls. It included 8 fours and 7 sixes at a strike rate of 192.3. His knock did not just seal the victory, it left the Aussies gasping for air. No slogs, pure hitting. Kohli's onslaught was inspiring. It remains the fastest ODI century by an Indian.
3. Rohit Sharma's deadly double – Bengaluru, 2013
It was one of those rare occasions when the game was already snatched away from the Aussies before they even came out to bat. Rohit Sharma pummeled the Australian attack with 12 fours & 16 sixes and ended up scoring 209 off only 158 balls. India gathered 383 on the board and won by 57 runs. The victory sealed the series. Rohit was adjudged Man of the Match and Man of the Series.
4. Praveen Kumar's bowling masterpiece – Brisbane, 2008
India were playing the Aussies in the 2nd of the best-of-3 finals. We had already won the 1st one. To win the series on Australian turf is a herculean task. We posted 258 and given the depth of batting they had, it wasn't a great total. But it was a fighting one. Two runs into the chase, Praveen Kumar removed Adam Gilchrist. He claimed 3 more victims including Ricky Ponting and Michael Clarke. His 4-46 helped us to a 9-run victory and the trophy.
Again, there's no individual video on his incredible performance. But his wickets are in there:
5. Operation Desert Storm (part one and two) starring Sachin Tendulkar – Sharjah, 1998
There is not much description required for this. By far one of the best ODI innings in history and one, or rather two, of the greatest knocks by the Little Master. These back-to-back innings made him immortal. First, he helped us qualify for the final all on his own. Then he won us the final, all on his own. The two innings included his then highest score of 143 in the qualifier and 134 on the day of the final. It was also his birthday. Every cricket fan remembers these two matches. Indians and Australians alike can never forget Desert Storm.
Part 1 – qualifier.
Part 2 – final.
We take on the Aussies again. There will be new moments to savour and new heroes to look up to. Here's to another great series. Here's to the Men in Blue and the men from Down Under. 
Let the battle begin.