In a series that has swung back and forth between India and Australia, the third day of the final Test match was no different – there were a dozen momentum shifts crammed within six hours of breathless action, starting with the very first ball of the day when Ravindra Jadeja was given out caught behind, but replays showed he hadn't edged it. 
DRS was not available for about 30 minutes in the first session due to a power cut, but when Jadeja was wrongly given out, it was working. And from that moment on, till the last ball was bowled, no one could take their eyes away from what would be another dramatic day of Test cricket.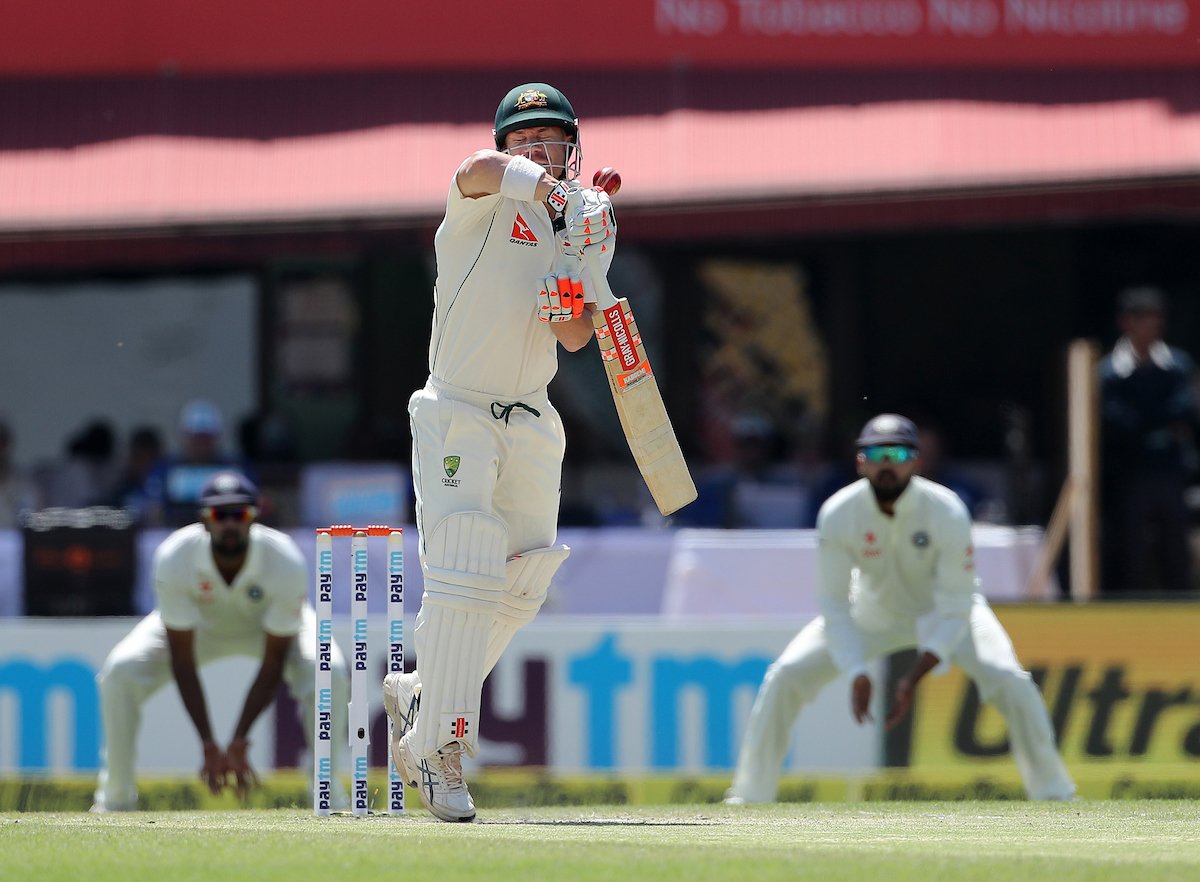 It was Jadeja who will grab the headlines for his all-round heroics that has put India on the brink of a famous series win. And deservingly so. He top-scored with the bat for India, he produced a typically miserly spell with the ball and picked up three wickets. It was Sir's day out in Dharamsala, make no mistake about it.
But India, not for the first time in this grand home season, have their fast bowlers to thank for decisively tuning the match in their favour. 
A lead of 32 runs gave the hosts the psychological edge, but not by much. All it would have taken for Australia to get the momentum back was a few boundaries from the bats of David Warner and Matt Renshaw. It could have been erased in no time. But Umesh Yadav and Bhuvneshwar Kumar produced a spell for the ages.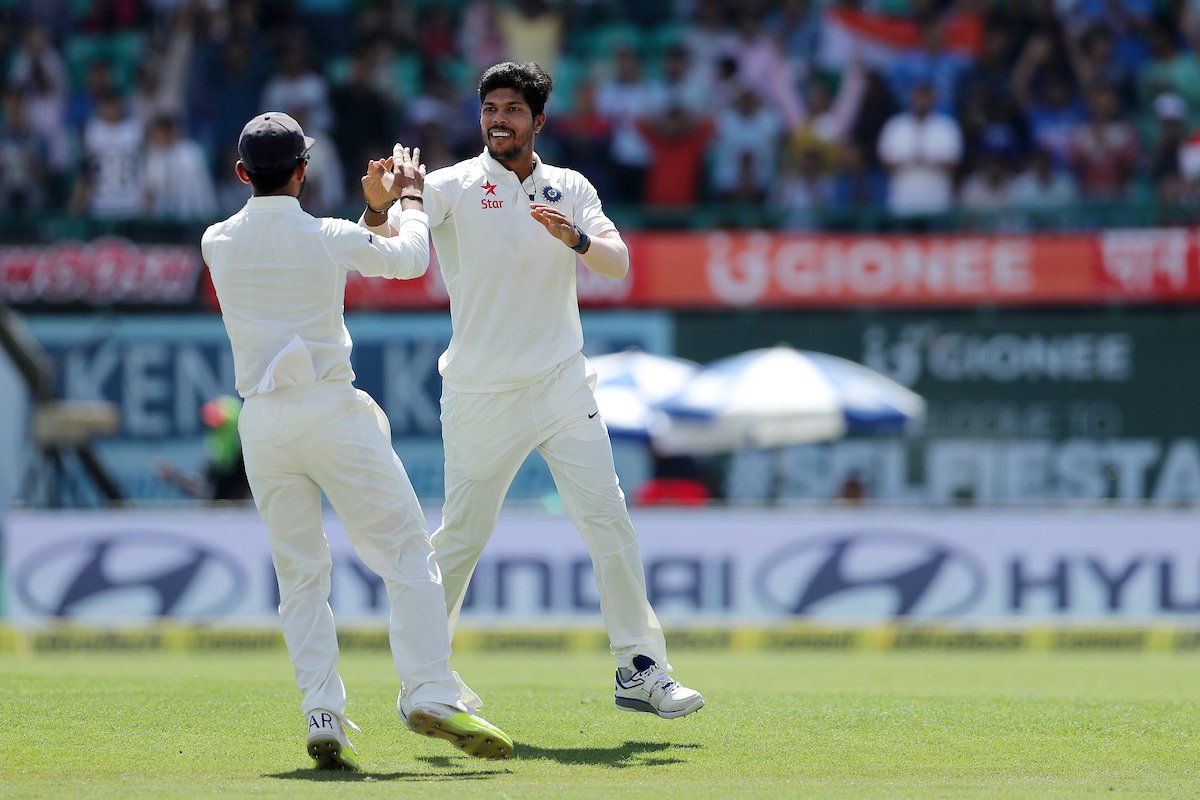 Umesh was the wrecker-in-chief. His first ball was a bit short and wide, dealt with disdain by Warner. But he immediately started hitting the right length from the word go. He bounced out Renshaw and Warner. He made Saha fly vertically to gather a ball well over his head. He bowled a peach on Warner's off-stump that he had no option but to edge to Saha. He did not trouble Smith, but who can? And then he got Renshaw out with a delivery that would have had any batsman around the world in trouble.
His performance during the home season has to be one of India's biggest positives and he was now finishing it in style.
Bhuvneshwar, meanwhile, played able side-kick. He left Renshaw fishing outside his off stump from the very first over. He nearly broke Warner's thumb (and collar bone) with one that shot up from good length. For the second time in the match, he was unlucky not to get Warner caught at third slip with Karun Nair dropping an easier chance this time. But ask him if he would have liked Warner's wicket twice in the Test or Smith's wicket once — he would have no hesitation in choosing the latter.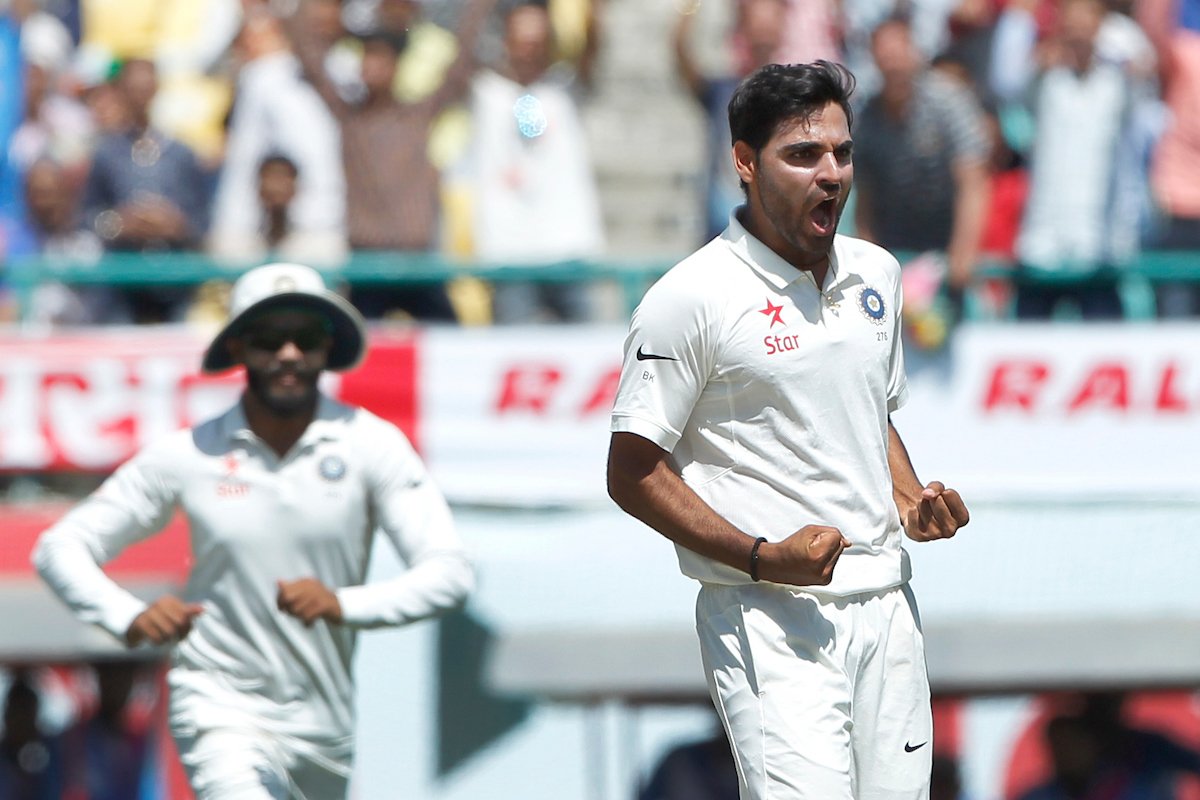 It was the ninth over of the Aussie innings which provided another twist to the tale.
The first ball — short and slightly wide, Smith cracked a pick-up pull to the square leg for four. Second ball — full and wide, Smith played a stunning cover drive, opening the face of the bat at the last minute. Third ball — short, slightly wide, screaming to be hit, but Smith pulled it on to the stumps. This was no master-plan. This was happenstance. And this more than compensated for the two catches that Nair dropped off Bhuvi's bowling.
31 for 3 in 10 overs, after an hour of adrenaline-pumping fast bowling had sent back the big three. Warner was hopping. Renshaw was dancing around like a cat on hot bricks. Smith — well, Smith was smashing boundaries but, out of the blue, was cursing himself and walking back.
Credit to Ajinkya Rahane too. Yes, it was clear that the Dharamsala pitch had enough for the fast bowlers, but any Indian captain would have gone with spin from one-end, with such a small lead to protect. Especially after Nathan Lyon's five-for, it was a no-brainer to start with Ashwin. As it turned out, Bhuvi and Umesh bowled a spell that would have made any Australian / English / West Indian / Pakistani new-ball bowler proud.
Ashwin and Jadeja would go on to take six of the remaining wickets. Spinners took over soon after, as you'd expect on a day three pitch in India. The spin twins did the needful, but Ashwin was quick to point out after the match that the Umesh & Bhuvi were the architects of the Aussie downfall.
"We could not have asked for more after that first session. Great spells by Umesh and Bhuvi and we capitalised on that. They set the tone for us. Not often we spinners get such a platform before we start bowling, but this was one of those days where theY came out firing, all guns blazing," said Ashwin.
Like we have written before, the Indian pace-quartet have been a bright spark throughout the course of this home season. On not-so-helpful pitches, Mohammed Shami, Ishant Sharma, Umesh, and Bhuvneshwar have consistently delivered. It was only fitting, as the curtains come down after 13 Test matches, that the fast bowlers came to the fore yet again to leave India on the brink of a famous series win.