Karun Nair was at the non-striker's end. Virat Kohli, in the form of his life, plays a cut shot to Jos Buttler at point who flings himself to his left, gathers the ball one-handed and releases a throw to the non-striker's end. Karun, answering to his captain's call, is half-way down the pitch before Kohli stops.
Normally, he would have made it back in time and hoped to laugh it off with his captain later. But this was no normal throw from Buttler. A direct-hit and Karun's debut innings is over before it even began, so to speak.
Kohli had a guilty look on his face, he knew he had sold his teammate short. Karun walked back, not knowing when he would get a chance again. He, after all, was a stop-gap for this Test. And then, Rahane was ruled out of the series.
Here we are, 22 days later, when Karun Nair became only the third cricketer in the history of the game to convert his maiden Test hundred to a triple century. In 2241 Tests, only two other batsmen — Bob Simpson and a certain Gary Sobers —  have managed to make a triple century at the first time of asking. And to think, but for Rahane's injury, he would have been carrying water bottles at Chepauk.
Three hundred and three, not out.
In India's rich cricketing history, only Virender Sehwag has ever gone past the 300 mark. Batting legends have come and gone, but no one else has managed what Sehwag did — twice.
Has that sunk in yet? 
When Karun started the day on 71, you can bet a triple century was the last thing on his mind. His first 71 runs weren't exactly indicative of a classic. He was getting beaten, he struggled to pick up Adil Rashid early on in the innings, he was put down by Alastair Cook at first slip when he was on 34, his edges flew through vacant slip region. He was sweeping well, like he did throughout the innings but until he reached his 100, he did not really look like asserting himself over the English batsmen.
But once he got to his first hundred of the day, the wheels came off.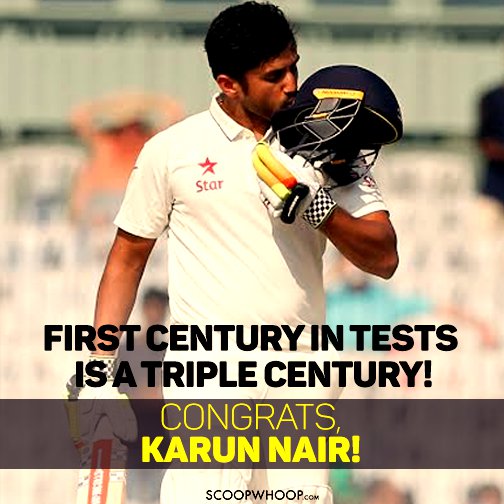 He went from 100 to 200 in 121 balls. 200 to 250 in 42 balls. 250 to 303* in 33 balls. He swept like he was Graham Gooch. He reverse-swept like he was Andy Flower. He cover drove like he was Virat Kohli. He danced down the track against spinners like he was… any good Indian batsman. Once he got to his double hundred, with every shot, he was setting records.
And England were seemingly just passers-by. There was not much of a challenge thrown at Karun — except feeding him balls to hit. He pummeled the English bowlers, he sucked the last bit of soul left in them as their dreary tour comes to an end. Alastair Cook's field placements began to look pointless. 
At one point he moved Joe Root to a deep first slip, packed the leg-side field, asking his bowler to aim for the helmet. Karun responded with a tennis backhand that trickled down to the long-on fence. He had an answer for pretty much everything England threw at him.
For the initial part of the innings, he looked shaky. Even in the later stages, he got reprieves — Root dropped him on 216, Bairstow missed a stumping when was on 244. 
But Karun made the most of his chances. Just like he has made the most of the chance to be playing in the XI at the first place. Just like he has made the most of the second chance he has got in life, after cheating death in a boat accident.
With declaration looming, Karun never once slowed down in his innings after 200. He later revealed that he had the team management to thank for, for letting him get to the landmark.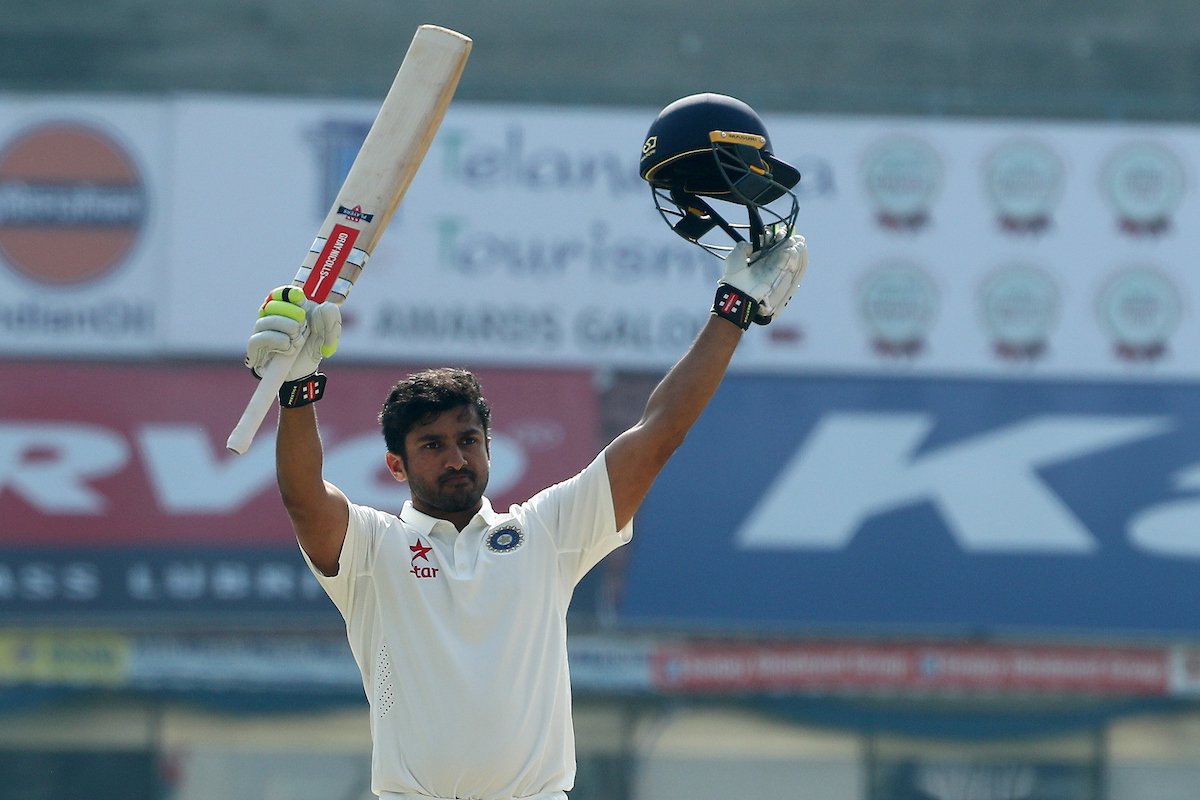 "I think it never crossed my mind. Once after I crossed 250, the team management had certain plans of going after the bowling and declaring. So I think within the space of five overs, I got to 280-285, that is when I started thinking and Jaddu kept egging me on to not throw it away and get to 300 easily." 
While the debate was going on in social media over whether Kohli should call off the misery India were piling on England, Karun did not take the foot off the pedal. He swept even more powerfully, he reverse-swept finer, and the sixes started flowing. This was the Karun Nair that convinced Delhi Daredevils to pay 40 times his base price in the IPL auction & the Karun Nair who made a triple hundred in a Ranji Trophy final two years back, rolled into one.
Walking back after a 381-ball innings, he head his held aloft. He lifted his bat up, looked around at the adoring Chennai crowd, and had the look of a man who could barely believe what he had just achieved.
The England players rushed to congratulate him. Kohli welcomed him to the dressing room with an Australian 'scruff-up-the-hair' ritual. Anil Kumble had his camera out. It was a moment so surreal, that he would do extremely well to top this in a career that has just begun. Indeed, it will be great for Indian cricket, if he could.