When Cheteshwar Pujara got off the mark on the first day of the second Test at Eden Gardens with two elegant boundaries, one began to wonder if all the talk about his strike rate was getting to him. Was he going to strike his way out of trouble just to prove a point? Or will he show the restraint on a newly-relaid pitch that was offering assistance to the New Zealand quicks?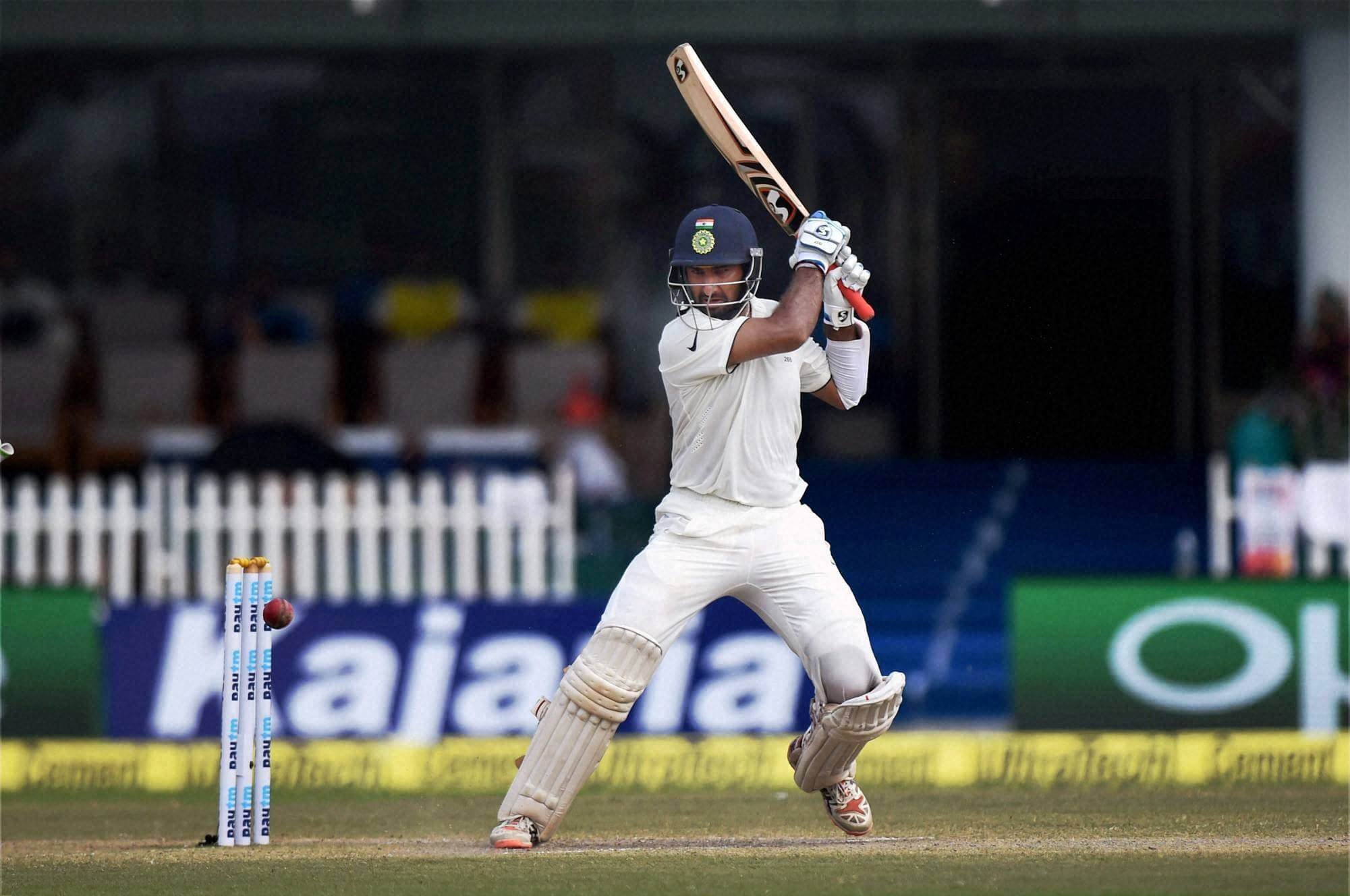 But with India's top-order failing to make the most of winning the toss, Pujara dropped anchor and blunted the New Zealand attack — taking India from 46 for 3 early in the session to 136 for 3 at tea, along with an equally patient Ajinkya Rahane.
Shikhar Dhawan once again failed to produce at the top of the order, chopping on to the stumps while cutting a ball that was nowhere to be cut. Virat Kohli chased an over-pitched ball that was almost outside the pitch. Except Murali Vijay, who edged an unplayable delivery to the 'keeper, India's top-order did not show the application to fight it out on a difficult pitch.
But Pujara was in his zone. After a flurry of early boundaries, he refused to entertain anything outside his off-stump. Against the spinners, he was quick to rock back to anything that was pitched short. 46 of his 87 runs came in the region third man and cover — a measure of how well he adjusted to the two-paced nature of the wicket. After bringing up his 50 off 146 balls, Pujara scored his remaining 37 runs in 73 balls — upping the ante in the third session — showing meticulous calculation to pace his innings. 68 of his 87 runs came in boundaries as he conserved his energy on a hot, humid day in Kolkata. 
All signs of a thinking Test cricketer.
Pujara showing what patience can do on a slightly difficult wicket.

Great demonstration of sticking it out.@cheteshwar1

— Mohammad Kaif (@MohammadKaif) September 30, 2016
Rahane was equally dogged in his approach too but the reason we are focussing on Pujara is the — quite ridiculous — debate about his strike rate in the lead up to this Test match. Taking Virat Kohli's comments about how Pujara must focus on picking up his pace later in the innings out of context, head coach Anil Kumble had to respond to questions about Pujara's strike rate and he treated it with the disdain it deserved.
"In the team you need different characters, you need different quality players; you need different players with skill-sets that are suited to the challenges in a Test match. Because every session can be different in a Test match (and) we have seen that. And that's the beauty of Test cricket. From my point of view, strike-rates are only relevant to bowlers in Test cricket, not the batsmen."
It is a testament to the day and age we live in that a No. 3 batsman in Tests is questioned over strike rate! But at the end of day's play, the Indian think-tank must be thankful for the old-fashioned Pujara, who dug the team out of a deep hole, with his third half-century in three innings in this series.
Third half century in a row…Cheteshwar 'consistent' Pujara. His success is a great advert for the success of Indian domestic season. 👏👏

— Aakash Chopra (@cricketaakash) September 30, 2016
Let's leave the final word to Kumble:
"I'm extremely surprised and a bit disappointed this talk keeps coming up. As long as someone reads the situation and plays according to the situation it's okay. He is a very important cog in our plans. He has been successful. I know that he will continue to be successful."