There are two types of players who make it to the very top in any sport. The naturally gifted and the ones who push themselves to the limit and beyond. Rafael Nadal belongs to the second ilk. It features athletes like Cristiano Ronaldo and Virat Kohli. The likes of Federer, Messi and Sachin are the first kind: supremely gifted and beautiful. But there is a different beauty about the other set of people. One that shows perseverance and one that demands blood, sweat and tears. 
Roger Federer was in his prime and dictating tennis in the early 2000s. Up stepped a 17-year-old Spaniard who won the first contest they had. Yes, Rafa was the answer to Federer. And the man who seemed indomitable had suddenly met his match. A relentless one.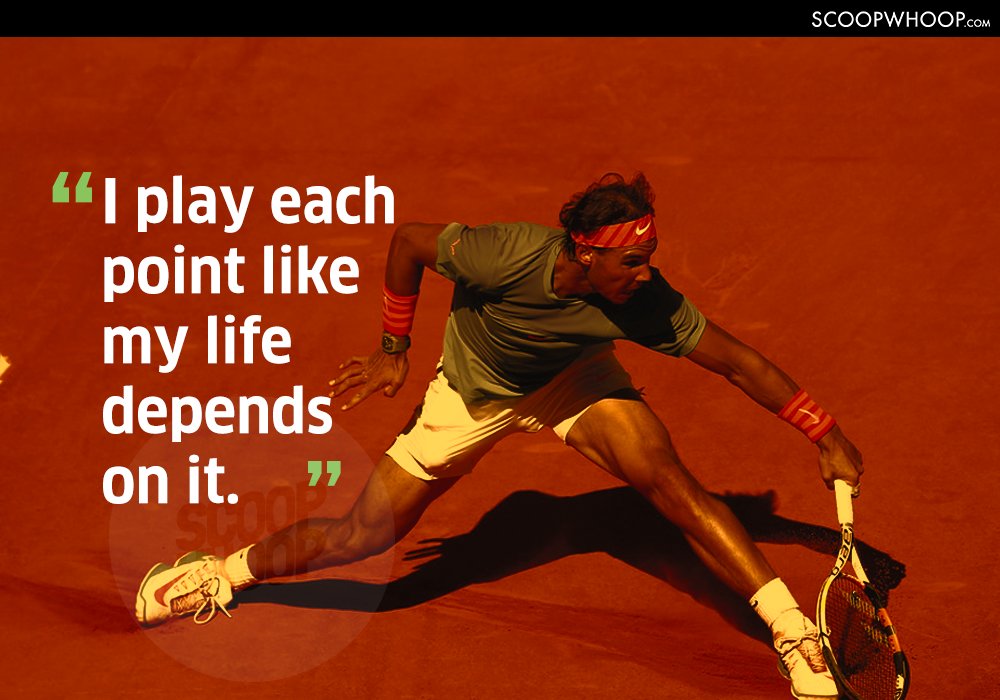 There was nothing similar about the two. Much like his native land, Switzerland, Federer too was calm, poetic, fine as cheese and perfect melt-in-your-mouth chocolate. Rafa, on the other hand, took after the Spanish bull. Destroying opponents, leaving dust in the air as he moved about on the clay, ferociously agile and, most of all, brutally powerful. With his left hand in a perpetual hulk mode. 
It started as a rivalry, moved on to friendship and will end as a legacy. But there is much much more to Nadal than just being the final three letters of 'Fedal'. 
It's a very different story. Not of rags to riches, but of downfalls and comebacks. Of failing and then conquering. To him, being the best is not what was important, but the effort involved in getting there. And he really has been a conqueror. He will know when to bid goodbye and he will have no regrets.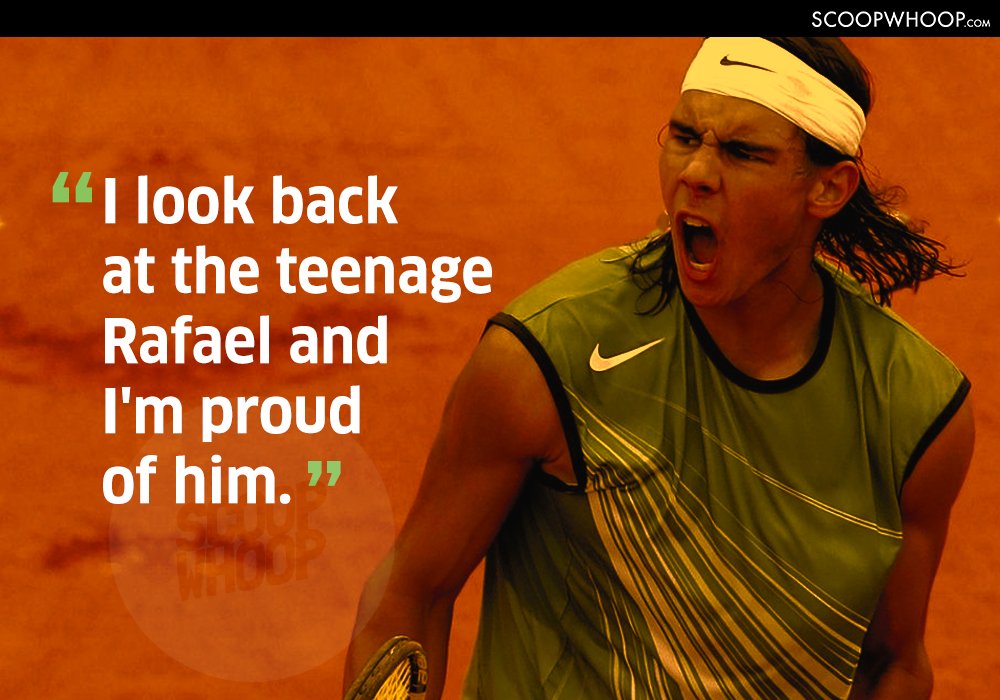 The amount he pushes his body, the stretches he makes to reach the ball and the speed he does it with like there are two of him on the court, made for a career that had to be riddled with injury and pain. The human body can only take so much. But I believe that his career and his life are like his left hand and the racquet in it. There is power and then there is an instrument that helps him to channel it. 
Sometimes the hand may falter, sometimes the racquet may not serve its purpose. The grip may loosen, the gutting may break, but he can always fix it. With age, the fix may not be permanent. But as long as he can move, as long as he can push his body, he will not give up. That's the brilliance of Nadal. Just a little hope and he comes bursting out with unwavering courage.
People keep writing him off. They have been doing so for the past few years. But somehow, he always finds his way back. When he reached the final of the Australian Open in 2017, there were glimpses of his younger self. And let me tell you, even a glimpse is enough for him. 
He can be a bull that has only one charge left, but that one charge can leave destruction in its wake.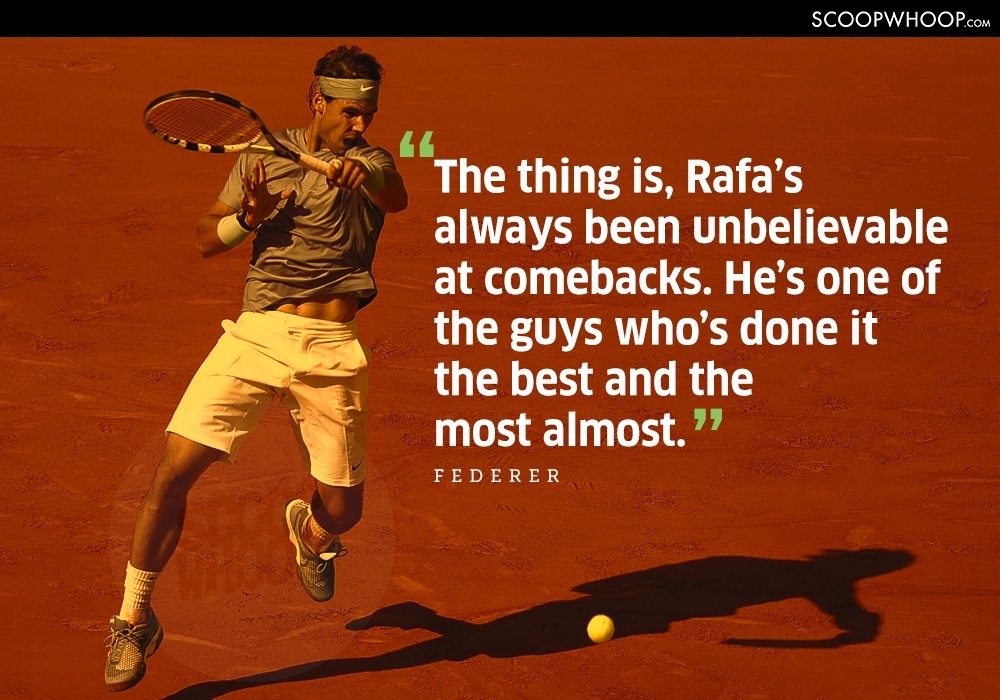 Over the years, Nadal has created his own cult of followers. They remain loyal. Because they know how deep his will runs, how strong his heart beats. There is always a chance to comeback. Especially on clay, especially in the French Open, where his record reads 72-2 and 9 titles. Yup, only two matches lost. He has a .916 winning percentage on clay and a total of 52 trophies. Beat that!
You can't compete with those odds. He probably wins half the battle through intimidation. Any player in his right mind would be scared to face him. You can't ignore his might on that orange surface. It's like the court was made for him. No matter where you hit the ball, he will find a way to return it, he will stretch, slide, dive, glide, get hurt, bleed and do whatever it takes to fizz it back across the court at the speed of no return. 
I may have campaigned for him as a physical specimen of a different class. But he has amazing mental strength too. One that makes him quicker than opponents and helps him put his mind over matter.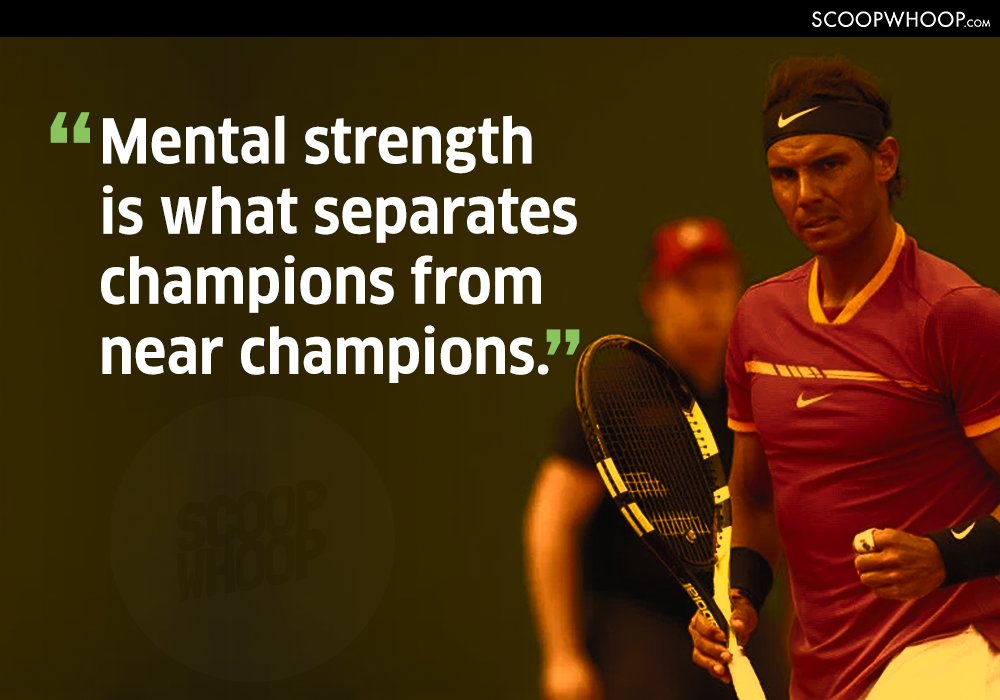 The great thing about Nadal is his will to always make a comeback. But what is even greater is his humility. The part where he cares about his fans, where he cares about people. He flew to Anantpur, Andhra Pradesh, in 2010, and inaugurated a tennis academy. You didn't hear about it because it was not a PR stunt. He also provides ₹50 lakhs every year for its development. 
There are many such things, but this article will run out of room just like his opponents do when he's on form. He was humble enough to stop a match because a mother was looking for her kid, he does countless charity matches and despite his better head-to-head record, he has conceded that Roger is the better player. That is pure respect and class. 
But don't remember him as someone who was second fiddle to Federer. That would be a disgrace. Without him, Roger wouldn't be Federer and tennis won't be tennis. He is easily one of the greatest athletes in history, one of the best players of the sport and probably the most relentless opponent tennis has to offer.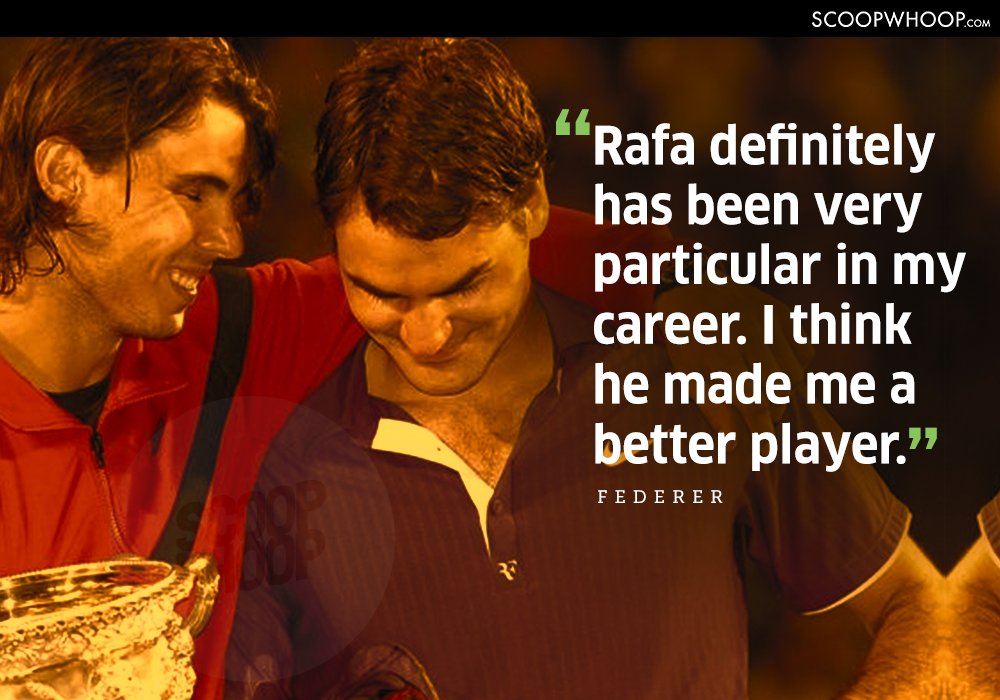 He is out chasing 'La Decima' at the Roland Garros this time around. For the sake of tennis and this man's hard work, let's hope it happens. No matter how old I grow, the image of Rafa sliding across the clay court for every point will never leave me. 
Because as long as there is clay, there is only one king and as long as there is tennis, there is only master of comebacks – Rafael Nadal Parera!