Yes, you read that right. The former Australia spinner lost a bet to our very own Sourav Ganguly and now has to buy him dinner and also don a Three Lions jersey for an entire day.
Shane Warne will be wearing an England jersey for a day!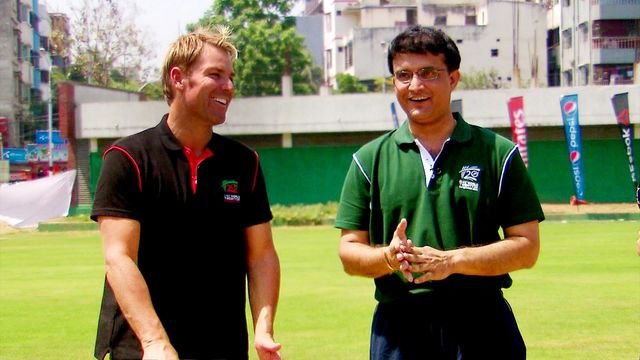 Last month, the two former rivals had a conversation at an Aaj Tak Salaam Cricket event in London. Discussing the England vs Australia Champions Trophy clash, Ganguly told Warney that England were the better side and that he would wear the Australian jersey if the Aussies won. Warne would have to wear the England jersey if the reverse happened.
Here's the full conversation between Ganguly and Warne at the Aaj Tak Salaam Cricket:
Ganguly: England is a very good side. They have a number of match-winners in their side. They have good side, better than Australia, I firmly believe.
Warne: You think England are better than Australia. You buying me dinner if Australia win on June 10 and it won't be McDonald's.
Ganguly: I actually back England to win.
Warne: That's what I am saying, I'll buy you dinner if England win.
Ganguly: Fair enough.
Warne: One more thing. If Australia win, you will wear an Australia shirt for day and if England win, I'll wear an England shirt.
Ganguly: No problem.
Dada must've been pretty confident about the Englishmen considering how much he hated the Australian team during his playing days. Wearing their shirt would've been unimaginable.
As it turned out, the Aussies were beaten by 40 runs and Warne, being the total sport that he is, has agreed to honour their agreement.

Bad luck, mate! Should've known better than to bet against Dada.
You can watch the full video here.