India's chief coach Ravi Shastri has made a bold statement ahead of the second India-Sri Lanka Test. The coach believes that the current lot captained by Virat Kohli has achieved way more than some of the teams of yesteryears which had illustrious names in their ranks.
"This Indian team has been with each other for two years and they are much more experienced now. They have already done things that a lot of other Indian teams and a lot of big names couldn't do in their careers, for example, winning a series here in Sri Lanka (in 2015)," Shastri said.
When Kohli's men won the Test series in Sri Lanka back in 2015, they had won after a gap of 22 years with Mohammed Azharuddin's team winning a series back in 1993.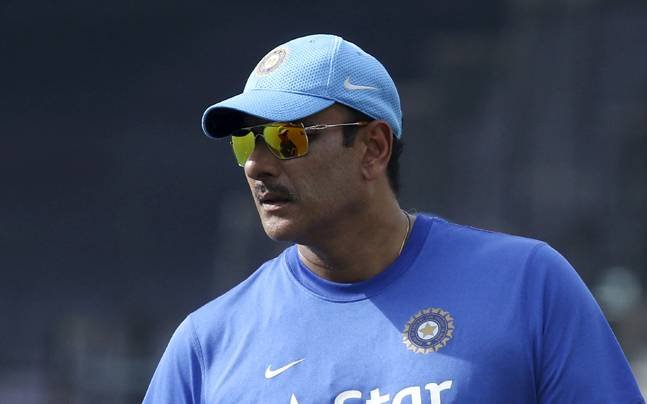 Not exactly known to hold back his views, Shastri made a telling statement about teams of the past that had players with experience of two decades not winning a series in the island nation.
"A lot of big (Indian) names have played for 20 years and they have come to Sri Lanka many times but they have never won a series. This team has done that. This team is used to doing things that a lot of other (Indian) teams haven't done and that too overseas," the cut-throat former India skipper said.
Shastri's observation is, however, debatable given that the Indian team under Rahul Dravid beat a full-strength England 1-0 in a 2007 away Test series.
Prior to that Sourav Ganguly's team drew 1-1 in Australia back in 2004 and also drew (1-1) the rubber against Nasser Hussain's England in 2002.
Mahendra Singh Dhoni's men won a series (1-0) against New Zealand in 2009 and drew (1-1) against South Africa in 2011.
He also praised Kohli's growing stature as a leader, comparing his present status as the Indian captain to the time he first led in Adelaide more than two years ago.
"I think he is still young. I can see a very big difference from when he captained in his first Test to what he is now. I was there in Adelaide, when he captained in his first match and he is 27 Tests old now as captain. You can see a big difference.
"You can see it in the body language that he has matured, and he will continue to mature and learn. For his age, he has done a lot (already) and there are signs that he can be right up there with the very best," Shastri said.
Under Kohli, India will be doing four tours of South Africa, England and Australia, next year.
"When you say overseas tours like South Africa, England, etc. It is a lot of tough cricket coming up and I see it as an opportunity. I am very positive that this team can do things that probably no other Indian team has done," the coach insisted.
Shastri refused to look too far ahead.
"I am not going to go as far ahead as South Africa tour. I live in the present. We are 1-0 up (against Sri Lanka). We want to keep that record intact and treat every game as a new game where the rules are the same. You go out to play your brand of cricket and you go out to win. As simple as that!" he added.
The former India all-rounder did not want to get into how the dressing room has been for the past 10 months.
"I don't know what (the dressing room) was like 10 months ago. As far as I am concerned I just had to walk in and that was enough," he said.
"My role is to be in charge of the entire support staff, to make sure that we get the boys in some great mental space to go out and express themselves with nothing else on their minds but to go out and play a brand of cricket which you have seen India play over the last three years. That is positive and fearless," he added.
The designation may have changed thrice during his three stints but his role has remained the same.
"When you have been around the game for 37 years you probably learnt a little bit. So that experience is very handy for me in knowing exactly how to deal with the players. I have been manager, director, now I am head coach — it's the same role, absolutely the same role."
Feature image: PTI