The recently concluded Paralympics saw Indian athletes with disabilities make the nation proud. The likes of Mariyappan Thangavelu, Devendra Jhajharia, Varun Bhati and Deepa Malik brought unprecedented attention towards the special athletes in the country — their fight to overcome physical challenges, the will to overcome obstacles and the inspiration the provided a medal-starved country.
And a few weeks after their success stories, comes yet another inspiring tale. Shradha Vaishnav, 18, who suffers from incurable speech and hearing impediment, has been be selected to play first class cricket for the Chhattisgarh women's cricket team. She is the first physically challenged woman to do so in Indian cricket history, according to a Times of India report.
Shradha was born in Bilaspur town in Chhatisgarh and started playing cricket when she was 13. Her father, Ramesh Vaishnav, told TOI:
"When she was 13, Shradha used to watch cricket with her younger brother," Ramesh said. "One day , she said she wanted to bowl. I took her to a cricket coach who put her in practice sessions. Within a few months, he said she could become a good spin bowler."
"Her extraordinary achievement has inspired many. After hearing her success story, 15 young girls have joined our cricket academy." President of Chhattisgarh State Cricket Sangh Baldeo Singh told TOI. "Shradha is an inspiration for all girls who want to play cricket. She has accomplished a unique and rare feat."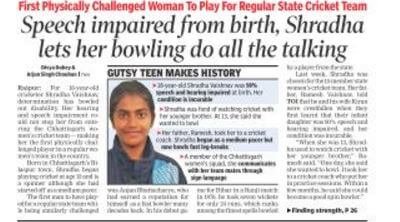 Deepa Malik, who became the first Indian woman athlete to win a medal at Paralympics, called the disabled athletes' journey to success as a fight for equality. She had told this to ScoopWhoop recently:
"This is not just a medal. This is a fight for equality. This is what puts us at par with the able-bodied athletes. It's an inspiration to women. The medal has changed perspective. A medal hungry nation has embraced our achievement as one of mainstream sport. This is not just a medal. It is a movement."
With news about Shradha's inclusion into her state's team, that dream of Deepa Malik is already becoming a reality. Slowly but surely. 
Featured image source: Flickr