One man has scored 27, 109, 8, 28 and 178* in five innings this series. The other has made 0, 13, 12 and 15 in four innings. One has seen his Test average steady itself above the 60 mark and the other has seen it drop below 50. While both Steve Smith and Virat Kohli have dominated the headlines off the field, when it comes to the battle of runs, there is only one winner so far. Smith has left it beyond any doubt that he is the best Test batsman in the world currently, as proved by his comfortable lead at the top of the ICC Test rankings.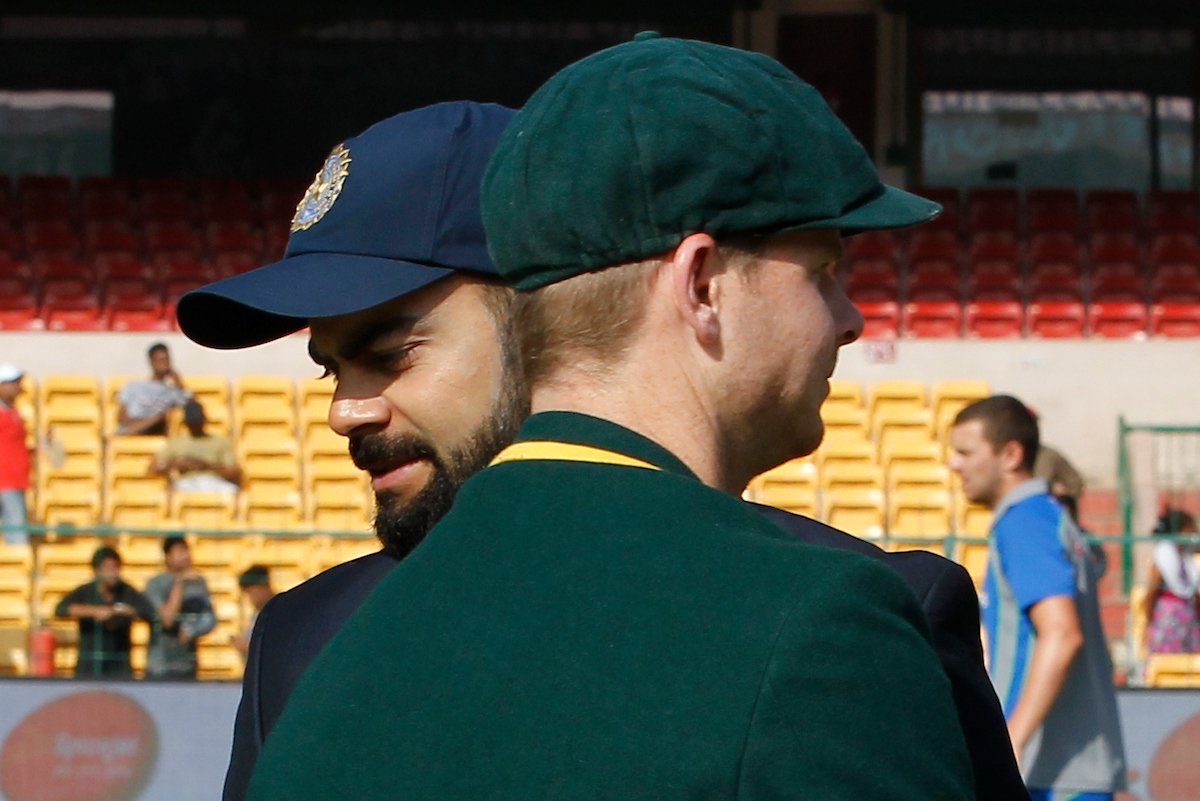 In Ranchi, it was yet another exhibition of his phenomenal talent. The man, as has been repeatedly pointed out, started his career as a part-time leg spinner who can make do with the bat. And now, as the Australian captain and world's foremost proponent of being fidgety at the batting crease, Smith has emphatically sealed his rise. Any great Australian batsman of the past would tell you that getting runs against India in Indian conditions is a badge of honour as precious as any in the cricketing world. 
On the other hand, Kohli's involvement in this series has been limited to an explosive press-conference, playing cheerleader to the crowd, barrage of expletives to send off Australian batsmen, displaying a plethora of emotions on the field and opening a DRS-shaped can of worms with his dismissal in Bangalore. The purple patch has ended for Kohli after what seemed like an eternity starting last year.
As for Smith, the first innings in Pune was a classic case of the batsman throwing his wicket away, with him stepping down the track and chipping it to straight to Kohli. In the second innings in Bengaluru he got an absolute grubber from Umesh Yadav — the dismissal that had the cricketing community debating for days on end.  He had as many lives as a cat in the 2nd innings in Pune but he made it count with a superlative 109. 
In Ranchi, on admittedly the flattest wicket of the current home season, he finished unbeaten on 178 — the highest score by a visiting Australian captain on Indian soil. It's no mean achievement when you consider the pedigree of the previous Australian captains to have led their side in the sub-continent. He was barely troubled, facing 361 balls — the joint-most he has faced in his glittering career so far. He displayed remarkable control and understanding of the conditions. His flicked his wrists like he was from Hyderabad. For someone who moves around so much before and after facing a ball, his balance at the crease was as perfect as a gymnast.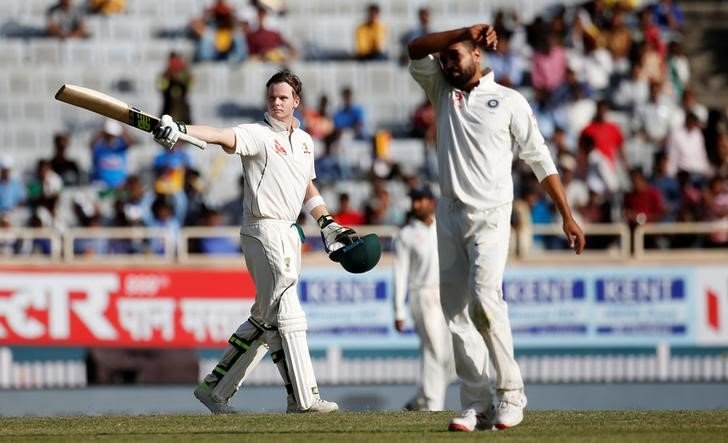 The closest Indian bowlers have come to figuring out Steve Smith the batsman is to imitate his head-shake at the crease. Ravindra Jadeja did it with class, Ishant Sharma did it and got trolled himself. But when it comes to finding a solution to stop him from scoring runs, they have not had much luck. 
When Kohli was scoring hundreds and double-hundreds for fun, he would have known a barren run of form was around the corner. Every great batsman does. If the law of averages were a person, it'd be a Lannister from Game of Thrones — always paying their debts. However, the ability to bounce from failures defines the greatness of a Test batsman as much as the ability to remain consistent over long periods. Just ask Sachin Tendulkar how much that 248 in Sydney mattered to him in his career.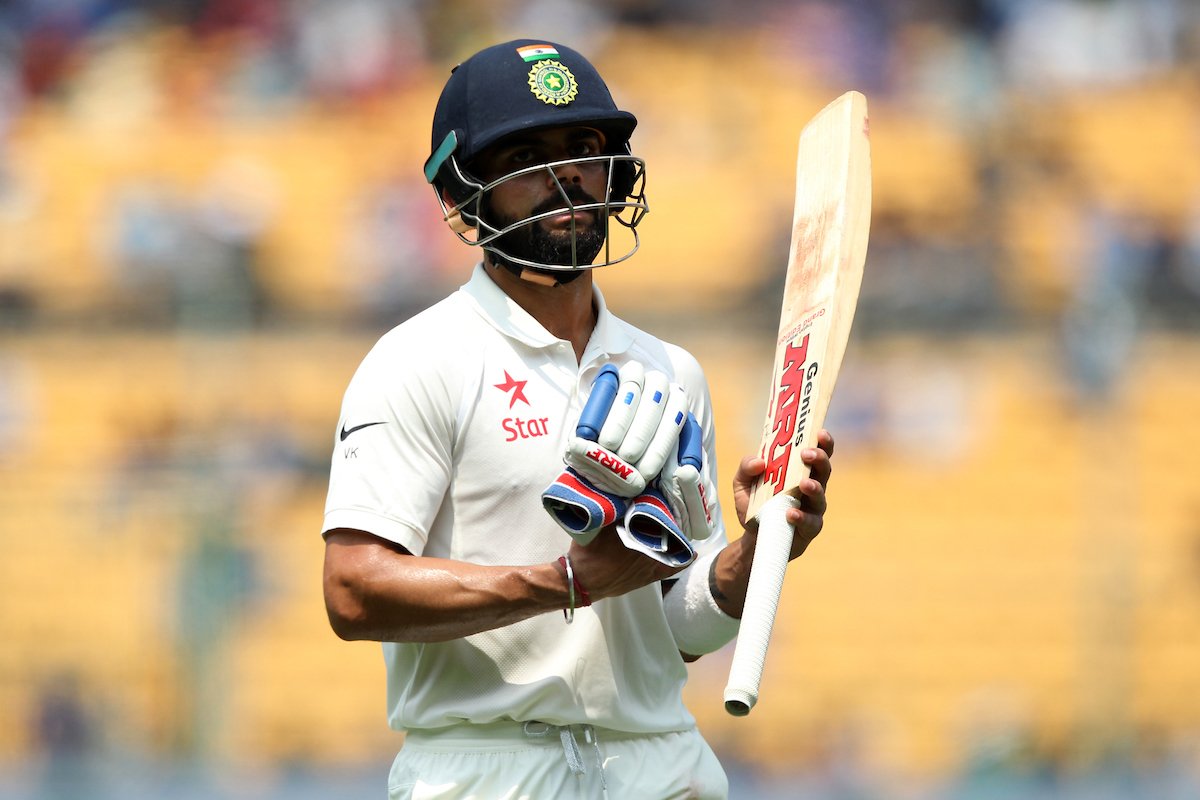 But the Indian captain's biggest contribution in Ranchi so far has been flipping the coin at the toss. A shoulder injury has relegated him to a spectator for the majority of the two days so far. Quashing false reports that he won't be available for the rest of the series, the BCCI has made it clear  that Kohli will walk out to bat. India managed fine without his runs in Bengaluru, but with Australia posting 451, one gets the feeling the captain's contribution with the bat is essential if India are to avoid a series defeat before the final match in Dharamsala.
He'll be itching to contribute. He will be smacking his lips to stand up and be counted. He prides himself on delivering when challenged by a worthy opponent. And the stage is now set up for him to show he is a leader who sets the example for his teammates to follow. He will rely on his troops to contribute, of course, but watching from the sidelines is perhaps Kohli's least favourite thing about cricket and he won't want to do that for much longer in this series.
In this fascinating battle between the two captains, Smith has played his hand wonderfully well so far. Now it's Kohli's turn.