"Abey tu apne aap ko Ronaldo samajhta hai kya?" 
Long before I had seen him play or even seen his face, I had already heard this phrase. My sin was that I tried to kick the ball while playing cricket in an attempt to save a boundary. I doubt a lot of people on that field actually ever saw him play. There wasn't much besides cricket on sports channels back then. The only opportunity to catch Ronaldo in action was when Brazil played in World Cups.
Besides that, all you could get from the few sports magazines available back then was a bald man wearing bright yellow number 9 jersey.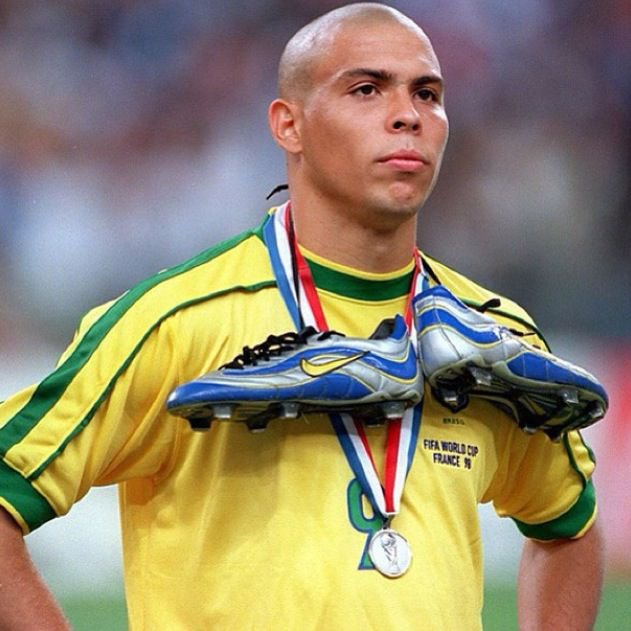 It was 1998. The World Cup was being held in France. To be honest, to know just how good Ronaldo is, you have to watch him play. 
To someone who did not have much knowledge of the game, he wouldn't have looked the most attractive person off the ball. He did not look too 'fit' for a footballer if you saw him strut around the field. Much unlike the Ronaldo we talk about these days.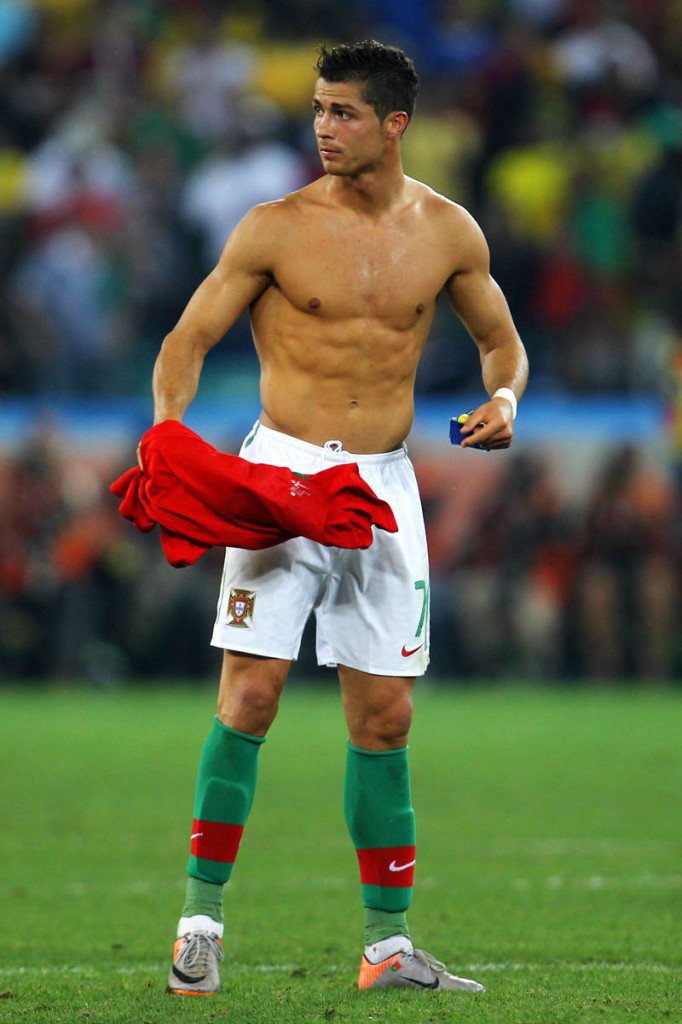 But with the ball at his feet, he was something else, something special, something divine. The movement, the speed, the sheer strength. It wasn't like watching a skilled individual. No, that would be undervaluing his ability. It was like watching an agile bull at full pelt. 
He suffered a seizure right before the final, against France. He still played but the French took advantage of an unfit Ronaldo. A wounded beast, when cornered, cannot hunt. The final slipped away and the glory went to the Europeans. 
But for his fans, that did not matter. The Brazilian number 9 had shown us something special and we knew where our loyalties lay.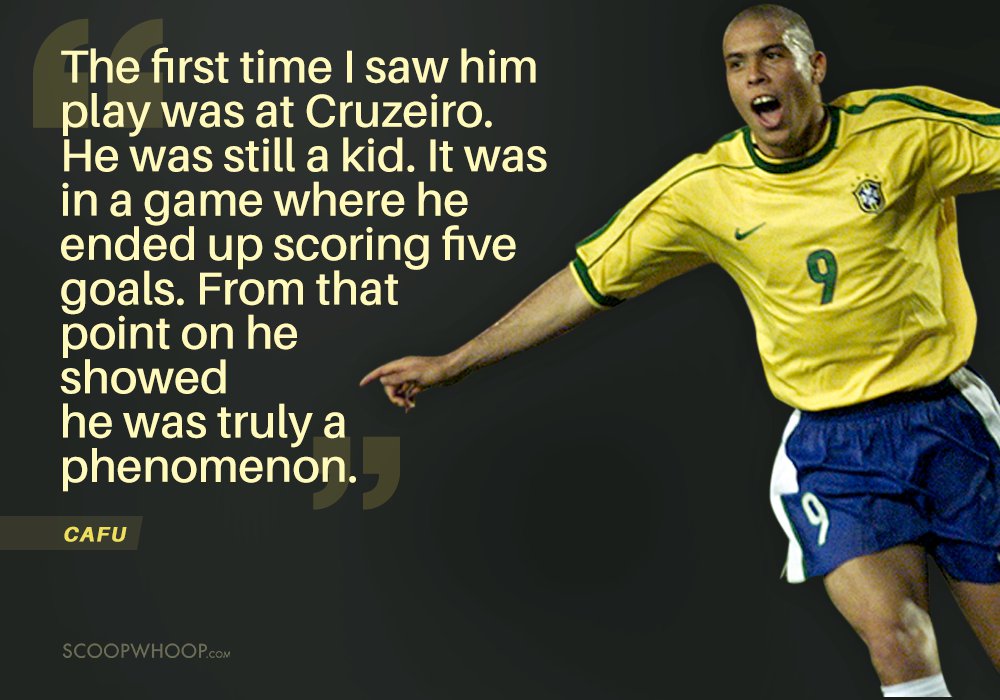 A quick online search will tell you about the accolades of the most talked about footballer of that time. He would eventually win it all. But only a few incidents would tell you of his unmatchable aura. 
Like the disastrous final of France '98 that had to redeemed and a career-threatening injury in April 2000 that led to debates whether the Ronaldo from the 90s would turn up at the 2002 World Cup. 
A romantic story was in the offing and the 2002 tournament in Japan-Korea was the perfect setting. As part of the 3 Rs – Rivaldo, Ronaldinho & Ronaldo – he led Brazil to their 5th World Cup. He was also the top scorer of the tournament, with 8 goals. 
That year, the phenomenal one became the immortal one. His legacy was already established.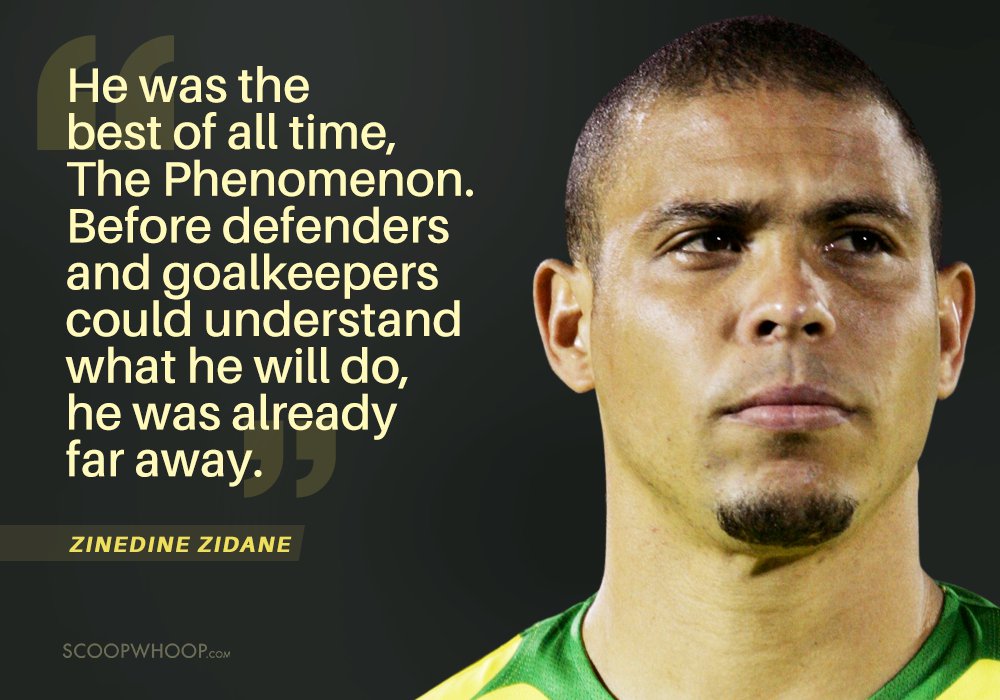 4 years down the line, at the next World Cup in Germany, the commentator would yell, "And Ronaldo is now, the greatest goal scorer of all time," when he accomplished the record for the then highest goal scorer in World Cup history. 
It was a trademark Ronaldo finish, stepovers and all.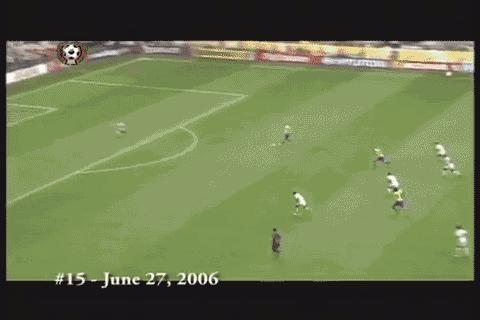 But apart from the clinical finishing, he also had the knack of acquiring injuries. Something that hindered with his otherwise flawless career. Think of it this way, by the time we had access to Ronaldo and whatever little bits and pieces of him we saw, he was already past his prime. 
The mid-90s was when he really thrived, but even later on in his career when we got to see him, the man had enough gas left in the tank to turn into that swift beast. 
He was only an unfit shadow of his previous best, but he was still a force to be reckoned with, still a cut above the rest. Makes you wonder how it must've been to witness him in his golden days, doesn't it?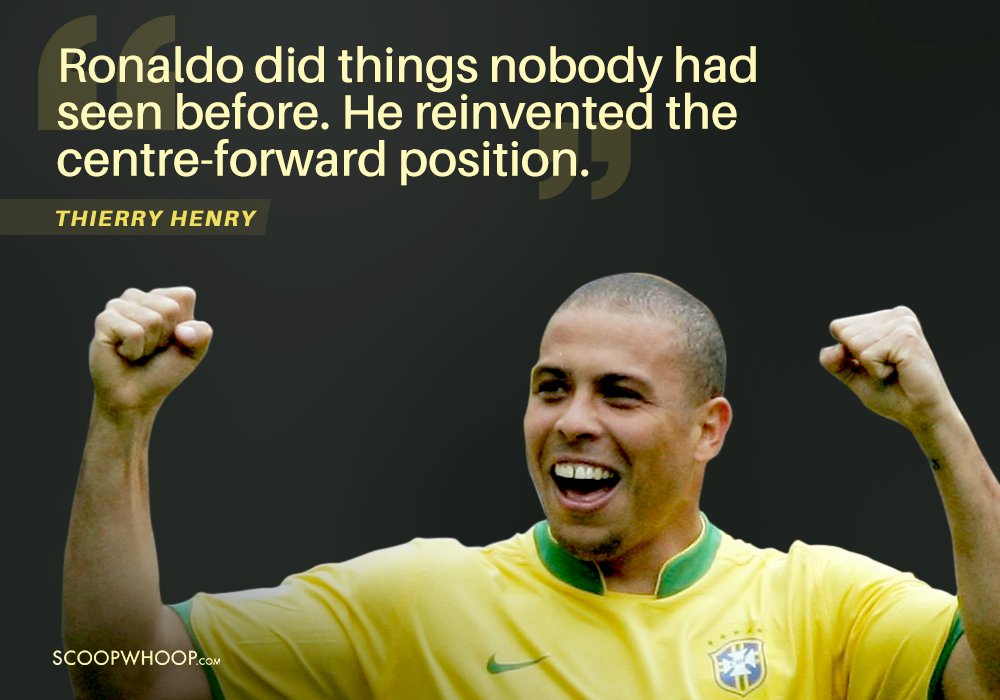 Now when you watch his old videos, it does not feel like he retired just 5 years ago. He feels like a player from an entirely different generation. A generation that actually existed exclusively for him, because when there was Ronaldo, there was no one else. 
It's thrilling to see what he did. Running past the opposition, making them look silly, making keepers fall all over the place, leaving defenders in disarray. It was pandemonium. And between all of that, a man moving like water, with inimitable fluidity and unimaginable grace.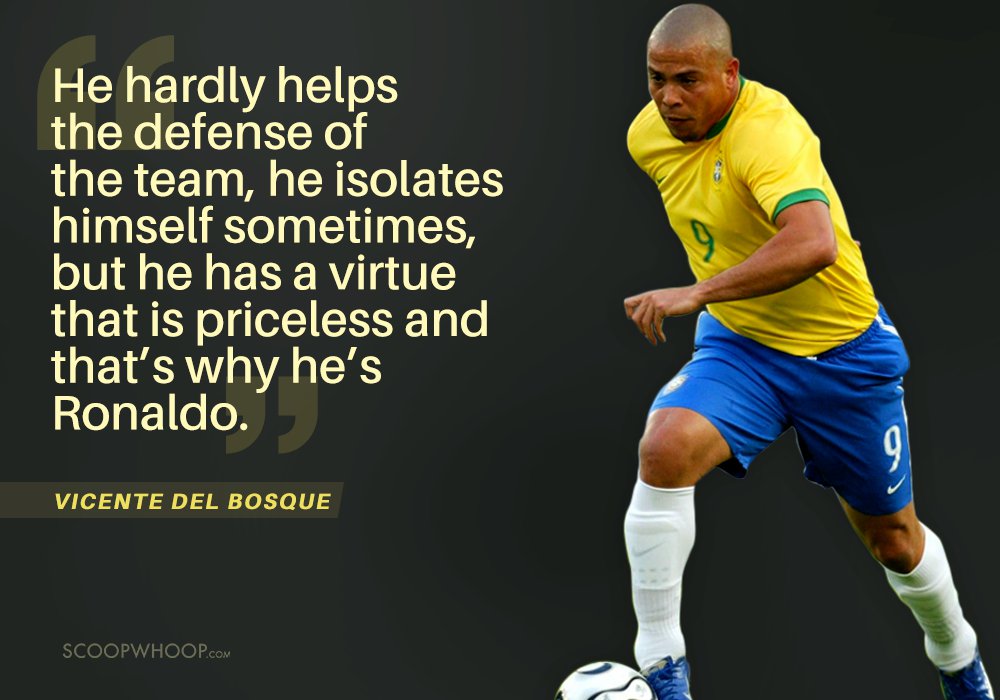 Now, when you watch the likes of Cristiano Ronaldo and Lionel Messi, there's no doubt that they are the current legends of the game. They will always be talked about. They have made themselves famous, by reaching the epitome of world class football. 
But if there's any player who could make you feel nostalgic about the game, anyone who you could thank for putting football on the map for us, it will be the Brazilian.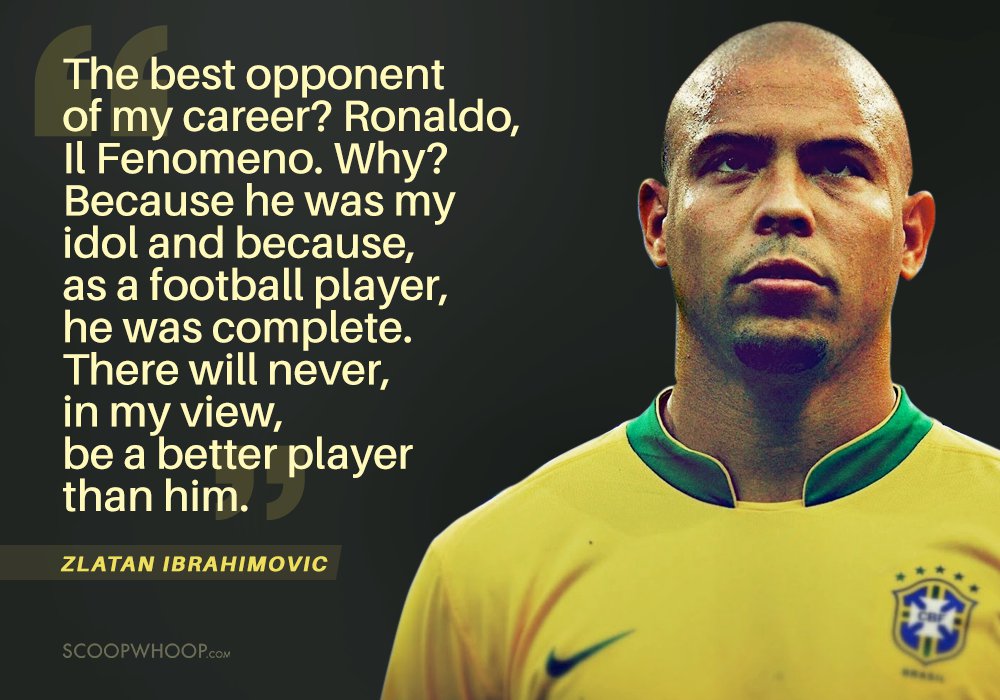 Yes, he did so much more with the clubs he played for. From Barcelona to Inter Milan to Real Madrid, his trophy cabinets are overflowing with trophies and medals. 
But the Ronaldo who made football famous, the one who attracted us as fans, will always be that guy from the old posters – bald, straight faced, buck-toothed, wearing that bright yellow shirt with the number 9. 
We would have loved to witness him live right now, but we are glad that at least a part of his career overlapped with our time. Football wouldn't have been football without Il Fenomeno!