In his lifetime, Viswanathan Anand has gone up against some absolute greats of the chess world and bested most. But every once in a while, comes along a challenger worthy of being called a nemesis.
Viswanathan Anand's bid to regain the World Chess Championship at Sochi isn't going too well.
After beating Anand in the 2013 World Chess Championship finals in Chennai, Magnus Carlsen seems to be haunting the Indian Grandmaster in this year's finals yet again.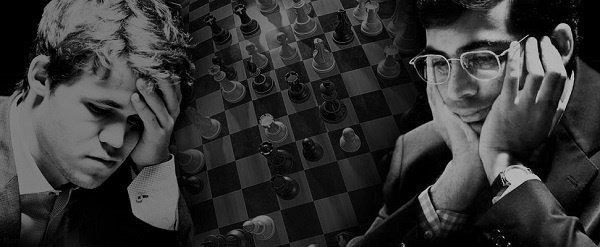 The 23-year-old is already being touted as Anand's biggest nemesis yet. We ask if the Norwegian chess-prodigy is worthy of his new-found title.
Here's the tally so far.
(Note: Hover over the bars on the graph to get exact numbers.)
Carlsen and Anand head-to-head
As it currently stands, Carlsen has won 8, Anand has won 7 matches and 33 have been draws.
Too close a call.
Anand vs Carlsen | Create Infographics
Quick fact: As of December 2010, Anand was leading Carlsen 6-1.
So in his 26 years as a Grandmaster, how did 'The Tiger of Madras' stack up against other arch-rivals?
Anatoly Karpov- Tolya (Meaning 'From the East' in Russian)
Karpov is the first Russian on the list. Anand's record against the nine-time consecutive World Champion stands tall. Looks like it's Anand all the way.
Anand vs Karpov | Create Infographics
Vladimir Kramnik- The Iceman
From Russia with Love, yet again. Lots of toiling stalemates but Vishy clinches it in the end.
Anand vs Kramnik | Create Infographics
Boris Gelfand – Gandalf
The Israeli famously lost the 2012 World Championship to Anand in a tie-breaker. However, Anand himself admitted that Gelfand always threw him off his natural game.
Close yet again, but one more for Anand.
Anand vs Gelfand | Create Infographics
Garry Kasparov- The Beast of Baku
Possibly the greatest chess player of all times, Kasparov played some classics against the mild-mannered Indian but Chessmaster Anand never really managed the upper hand.
Carlsen, you stand in line.
Anand vs Kasparov | Create Infographics
Carlsen has certainly found a chink in Anand's defence of late, but is still a few moves behind Kasparov's iron grip on the Indian.
How many of you are expecting an Anand comeback in game 9? Write in.
(Disclaimer: Only classical time-format games considered)