Indian star boxer Vijender Singh outslugged his Chinese opponent Zulpikar Maimaitiali in a close bout to annex the WBO Asia Pacific Super Middleweight title.
It was double delight for the fans as Vijender also snatched the WBO Oriental Super Middleweight title from the Chinese, who is nine years younger to him.
It was the 32-year-old Beijing Olympic bronze medallist's ninth successive win in his professional career.
In front of a partisan crowd, Vijender gave an exhibition of his class during the slugfest, and his oodles of experience came in handy during 10 intense rounds.
While Vijender had commented that 'Chinese products don't last long' but Zulpikar managed to squeze every ounce of his opponent's energy.
"I didn't expect him to fight so well and last the distance," Vijender said after the bout.
Using his height and greater reach to good effect, Vijender most of the time had the better of exchanges with his straight ones and hooks landing flush on Zulpikar, whose blows didn't have the desired effect.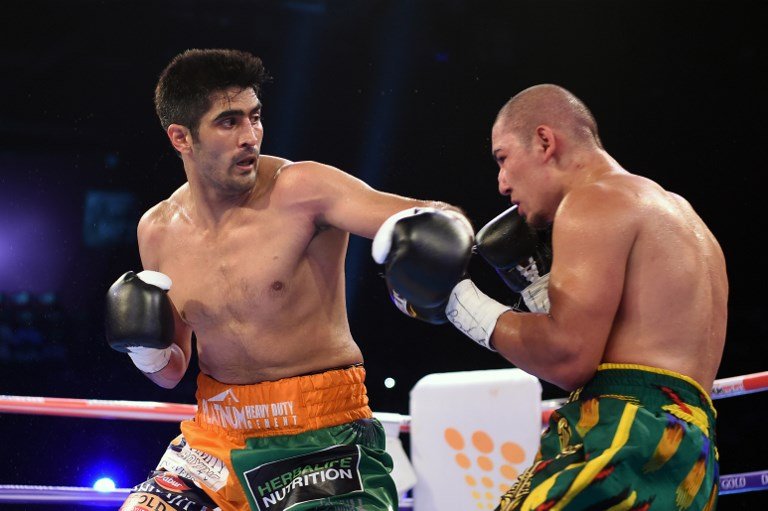 The Chinese southpaw had his guard up most of the times and with a crouched stance, was relying mostly on the uppercuts.
However, he was guilty of trying to hit Vijender below the belt with as many as five low blows for which he was promptly warned by the referee.
The only round when Zulpikar looked a bit assertive was the third one when he tried to chase the Indian, who again showed his fleet-footedness to evade his punches on more than one occasions.
A frustrated Zulpikar, in fact, pushed Vijender to the ground, a favour that the Indian duly returned in the very next round.
Zulpikar got the real taste of Vijender, when he landed a straight right followed by a left uppercut flush on his face as the crowd roared in approval.
However, the younger legs of Zulpikar did help him towards the fag end of the bout as the Indian looked tired.
Zulpikar took the chance to attack but Vijender's tight defence, despite jaded legs, helped him.
In the final round, Zulpikar landed an uppercut which left the Indian ace with a bloodied nose, but he did manage to hold his own in the end.
The bonhomie between the opponents was there to be seen as Zulpikar hugged Vijender and made him wear his cap.
Feature image: AFP