India's star professional boxer and Olympic bronze medalist Vijender Singh will clash with China's undefeated, left-handed fighter Zulpikar Maimaitiali for a double title fight on August 5.
Vijender, who is WBO Asia Pacific Middleweight Champion, will take on Zulpikar, the WBO Oriental Super Middleweight Champion, at the NSCI Stadium in Worli, Mumbai, it was announced at a media conference, in the presence of the Indian boxing star.
Vijender, the Beijing Olympics bronze medallist, has been training in Manchester, England, with his trainer Lee Beard for the bout, the first ticket of which was presented to cricket icon Sachin Tendulkar at the latter's house by the boxer himself.
In this fight, the two boxers will put their respective WBO titles at stake and whoever wins the bout will take home his defended title along with his opponent's too, it was announced.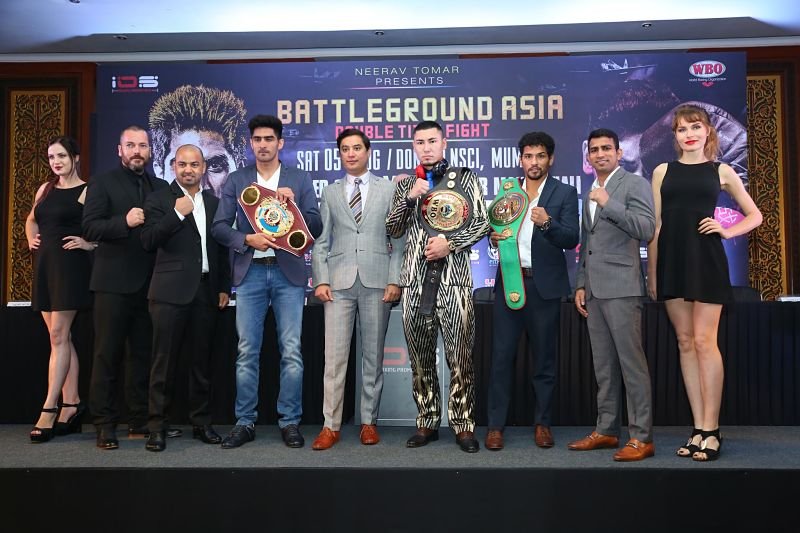 Three other Indian pugilists Akhil Kumar, Jitender Kumar and Neeraj Gayat will be seen in the ring, taking on international opponents, whose names will be declared later, on the fight day and it will be 2006 Melbourne Commonwealth Games gold medalist Akhil's debut bout as a pro.
Apart from them, three other Indian boxers- Pardeep Kharera, Dharmender Grewal and Kuldeep Dhanda- will also take on international boxers, whose names will be announced on the fight day.
"I am all set for the August 5 bout. He (Zulpikar) is just a young kid, a southpaw. When he said that he will knock me out, I was laughing. We will show China that we are the best," the 31-year-old Vijender said at the media conference.
"My training is in great shape. I will again go to Manchester tomorrow and start my training. I will come here (to Mumbai) a week before the fight," the pugilist added.
Fight organisers, IOS Boxing Promotions, said they had initially planned the fight in March-April, but it did not happen.
Zulpikar expressed confidence of winning against the Indian boxing star, saying he will knock Vijender down.
He has eight bouts against his name, the same as Vijender.
Zulpikar has scored five knock-outs wins and has fought 24 rounds. His last bout was with African boxer Thomas Mashali after which he won his current title of WBO Oriental Super Middleweight Champion last year. He turned towards pro in April 2015.
Vijender, who has remained unbeaten since his debut in professional boxing in 2015, has fought eight bouts with the last one being against former world number 1 boxer Francis Cheka from Tanzania, whom he defended for his title.
Vijender clinched on to his first title, in July 2016, against Kerry Hope of Australia, becoming the WBO Asia Pacific Super Middleweight Champion.
Overall, Vijender has fought eight bouts with seven of them being won by knock-out. He has 30 rounds under his belt, eight more than his opponent from China.
Feature image: IOS Boxing Promotions