Funny sport, professional boxing. Weeks of build-up, days and days of trash talking, thousands of column inches used up by words that the boxers probably didn't mean anyway. And then all it takes is minutes inside the ring for it to be over.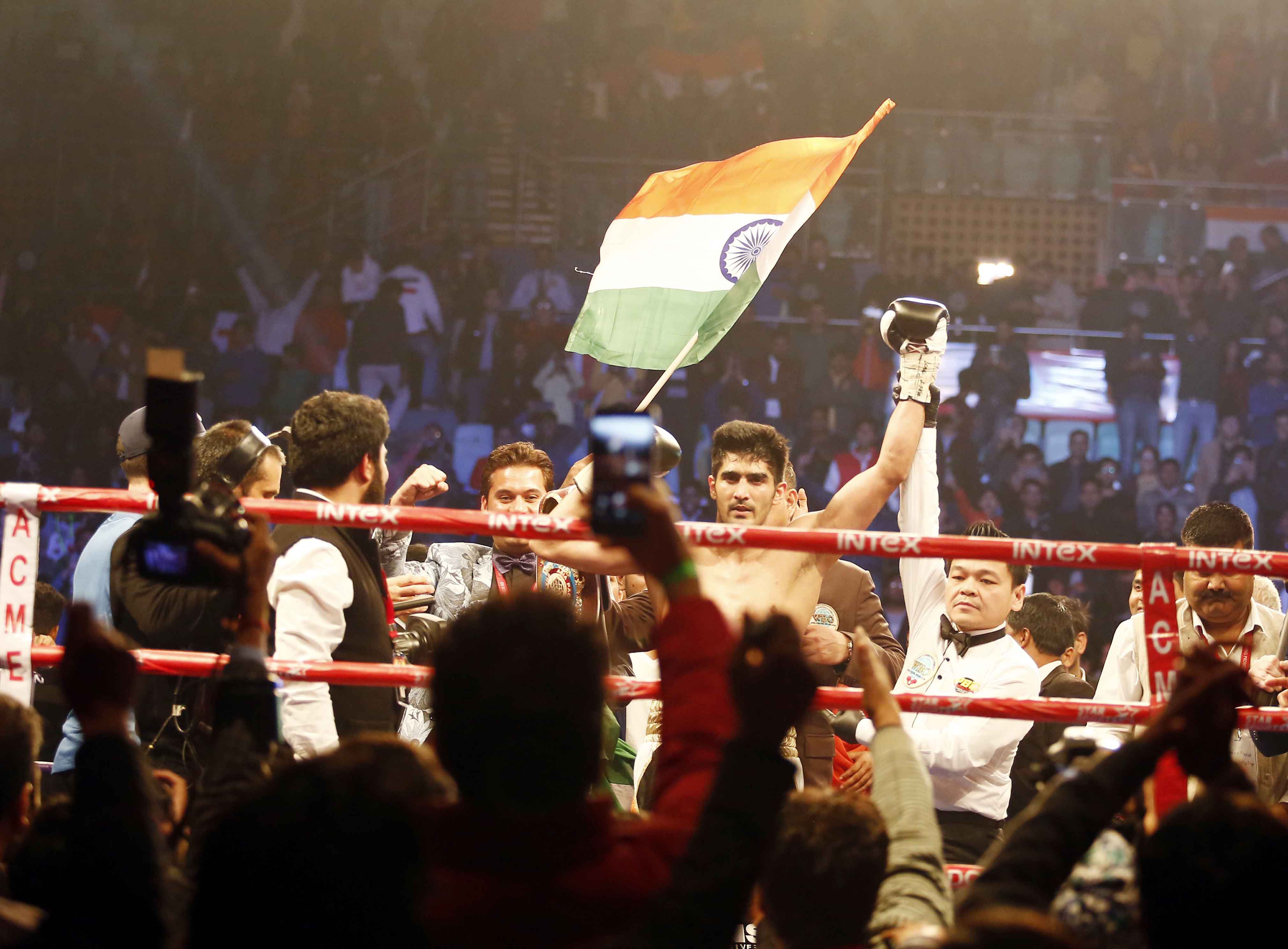 Seven minutes and 56 seconds. That's all it took for Vijender Singh to end the challenge from Francis Cheka — a loud, incessantly verbal challenge as it turned out. Eight fights fought, eight fights won. A hard-earned title in July in a bout which went the distance, defended in style. On a night when the noise level inside Thyagaraja Stadium in New Delhi reached ridiculous levels, Vijender's calm demeanour inside the ring proved to be the perfect foil. The man from Bhiwani put paid to Cheka's numerous claims about ending his career.
When the first round started, you could sense caution on Vijender's part. His guard was up as Cheka came swinging — almost recklessly, in hindsight. Vijender was staying upright, keeping his movements to a minimum, throwing an occasional left jab. Cheka, on the other hand, was staring right into Vijender's face with the intensity of a man out for the kill. His guard was down, his movements exaggerated. Just on the evidence of the first couple of minutes, you could not have foreseen such a swift end to the bout.
But Vijender pounced when it mattered. After a series of soft jabs with his left, Vijender landed a big right, seconds before the end of round one. If that caught Cheka off guard, what came in round two effectively ended his night. Using his height advantage, Vijender kept Cheka at arm's length and the moment Cheka took a step in — BOOM! — the big right hook again.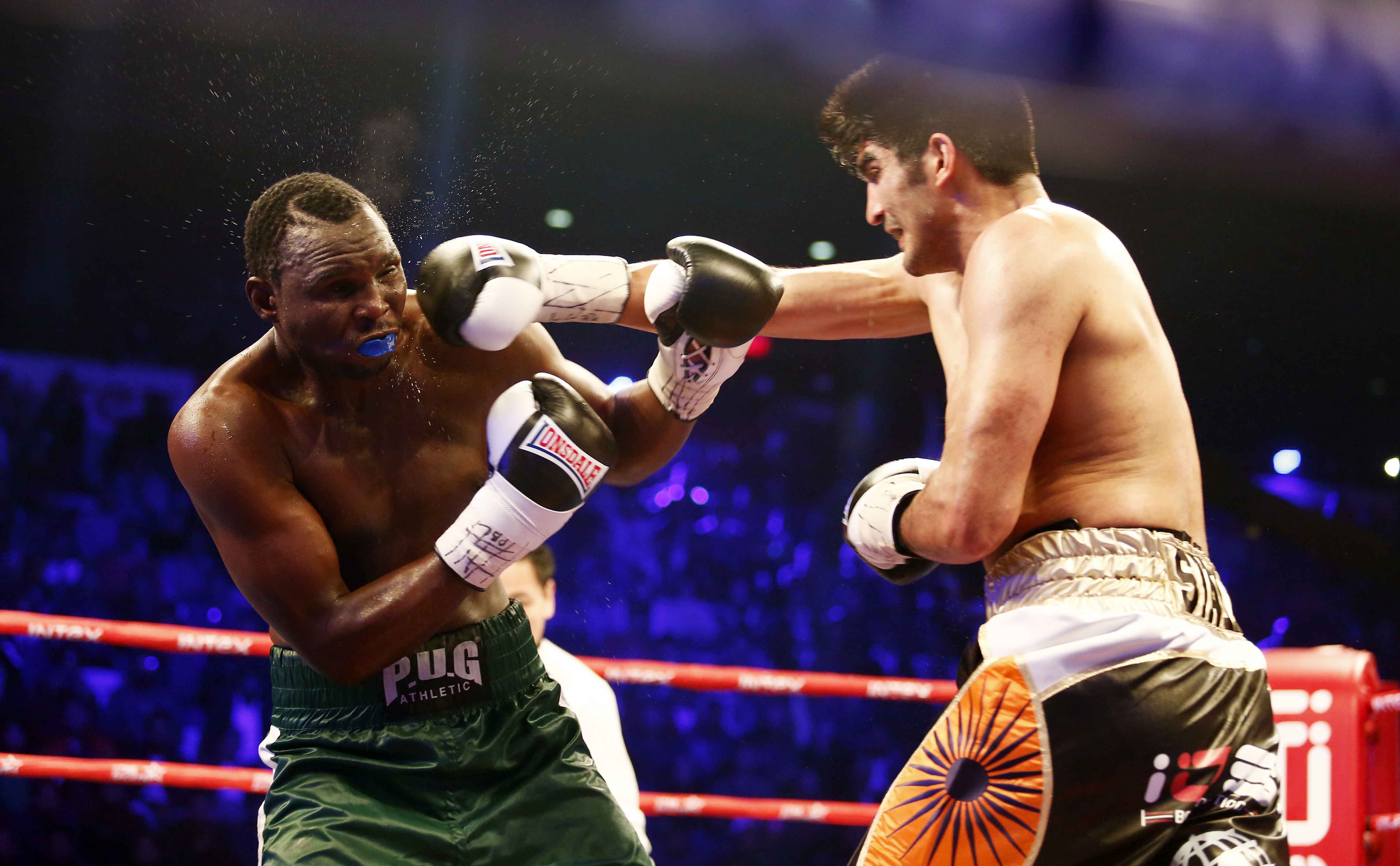 What followed that punch would be the defining aspect of Vijender's seventh TKO win in eight bouts. With a cheeky smile on his face, Vijender folded his arms behind his back, and did a little jig — lifting his left foot and stamping it into the ring. It was, quite literally, a stamp of authority. This was Vijender taunting Cheka, paying back in kind for the verbal barrage from the Tanzanian leading up to the fight. 
Right then and there, he knew the fight was as good as over. A few more right hooks followed, his guard went down, his footwork became exaggerated — Vijender was now putting up a show for the packed-stadium and thousands watching him around the country.
That is, perhaps, the biggest takeaway for Vijender and his team on the night. Here was a fighter of good pedigree, a former World Champion, a man who has fought the who's-who in the Super Middleweight category and Vijender handed him a swift defeat. 
"I thoroughly enjoyed it, man," Vijender said in the press conference, visibly delighted. "This was probably the most satisfying win in my career, because he just would not stop talking before the fight. It felt very good."
Five months back, Vijender welled up in tears as he won a battle of attrition against Kerry Hope. Hope, apart from being a southpaw which is out of Vijender's comfort zone, did not come with the same repute as Cheka did. But that was Vijender's toughest fight till date — a defeat in the first title shot would have been marketing disaster. And that showed in his approach that night — the punches still landed, but he prepared to wait it out.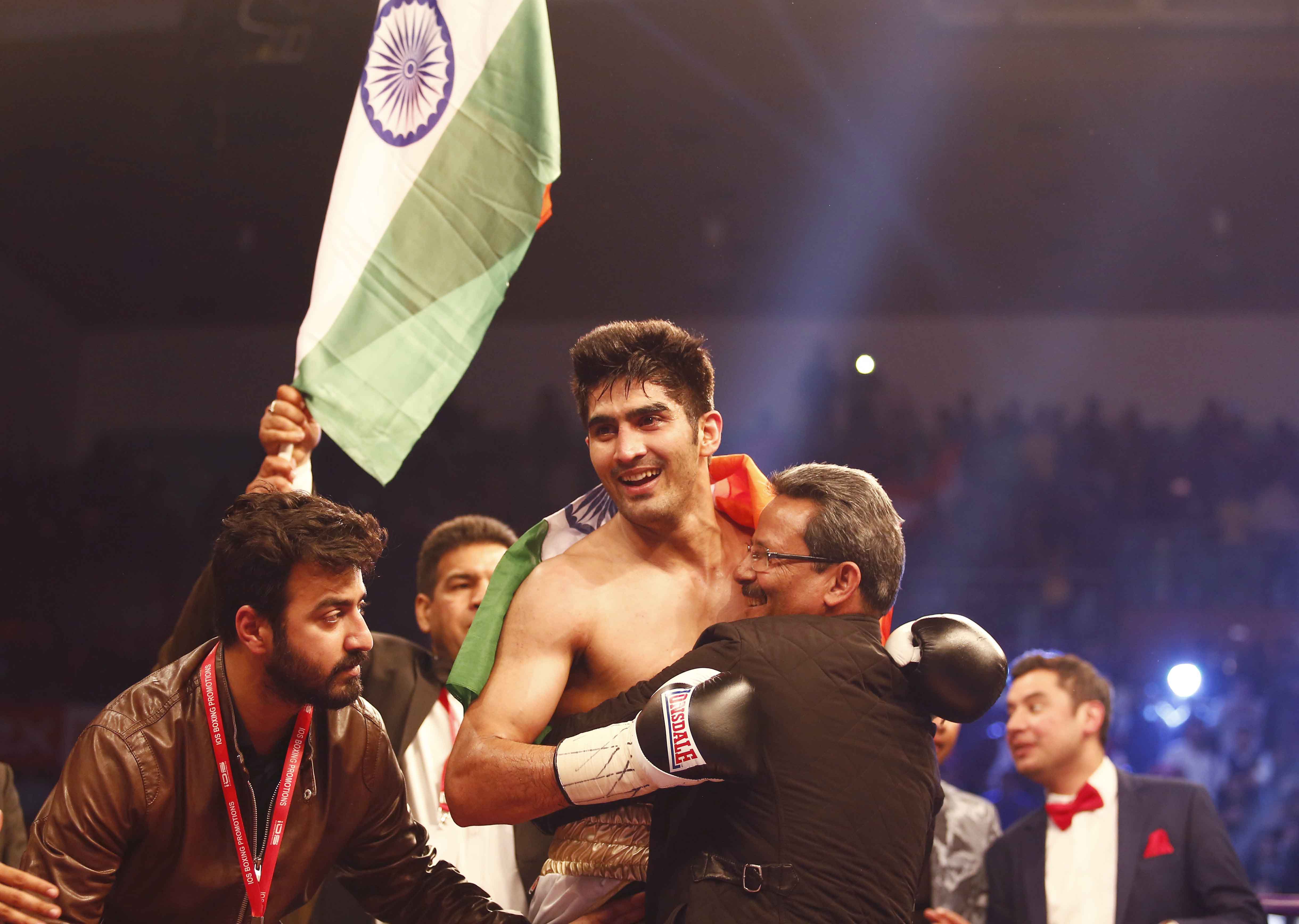 But on this cold Decemeber night in Delhi, Vijender struck when the proverbial iron was hot. He showed the world that he can take on a boxer who has been fighting professionally for 16 years more than he has. For all the talk about Vijender being a late starter in the cut-throat world of pro-boxing, he showed he can not just go toe-to-toe, he can win big too. And with some style.
This was a statement victory. It was tactical, it was quick, it was delivered with style. It did not just showcase his evolution as a professional boxer — this was Vijender winning with showmanship. As he keeps projecting the "good boy" image off the ring, with a reluctance to engage in trash-talking, the importance of putting up a show inside the ring cannot be understated.
And the importance of that cannot be under-estimated. This win will not catapult Vijender up the world rankings (he is already ranked 11) as much as his first title did, but his image as a marketable title contender shot up considerably.
Promoters around the world will now realise the potential he brings to put on a show that will be lapped up by his adoring fans. Vijender's promoters seem to have a plan in place where he takes fights outside India in the immediate future. He will challenge for a new title soon — perhaps the Commonwealth title or a fight in Dubai or China has been floated as options. The shot at the world title won't come just yet.
But on Saturday, 17 December 2016, Vijender showed the world that he is ready for it.