Contrary to popular perceptions that Wankhede Stadium pitch for the third Test will be a rank turner, one of the MCA groundstaff actively involved with the preparation of the 22-yard strip stated that it is expected to assist slow bowlers only from the third day.
The Wankhede curator was at the receiving end of the team management's scorn recently when Ravi Shastri lashed out after the ODI against South Africa last year. 
"The wicket will be normal. It won't turn on the first day and it can slowly start turning (assisting spin) from day three," a source told PTI.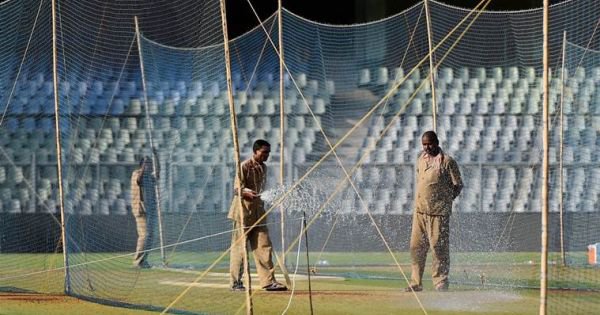 England are down 0-2 in the five-game series after the draw in the series opener at Rajkot and losses in the next two games at Vishakapatnam and Mohali.
The visiting team must win the game here in order to have a chance to square the series at Chennai, slated to host the final match from December 16-20.
"No special preparations are being made. The World T20 and Ranji matches have happened here. We have to prepare well for an international match and we have done that," he added.
"We got 20 days to prepare the wicket as a Ranji Trophy game was shifted away from the stadium (to another venue). In our opinion, there will be little bit of bounce.
"We are watering as per the usual procedure. There was a little dew factor that we had to take into consideration and have done watering accordingly. Because of the dew, we watered it less," they added.
The sources also dismissed news reports that instructions have been received from team management with regards to the preparation of the pitch.
Another MCA official said that "it will be good wicket" where one can expect good cricket, adding around 60-65 per cent season ticket sales have taken place so far.
This will be the 24th Test match at this ground and
the win-loss record in favour of the hosts is 10-7.
Incidentally, England had won the last two matches they had played here — in 2006 and 2012 — after having lost three Tests on the trot.
Their only victory prior to those three defeats was in the BCCI's Golden Jubilee Test in 1980.
The first-ever game between the two teams at this venue, in 1976, was drawn so that the win-loss record stands 3-3 between the two teams out of seven encounters.
The stadium is hosting a Test match after three years and the last match which it hosted was the 200th farewell Test of cricket icon Sachin Tendulkar against West Indies in November 2013.
Meanwhile, England will practise tomorrow morning while India will practise in the afternoon. The two teams have had an extended break after the conclusion of the third Test at Mohali.
Most of the visiting team members had travelled to Dubai in the United Arab Emirates during the break and are scheduled to reach here tonight.