Billionaire maverick Elon Musk unveiled his latest creation—Tesla Model 3, an electric car that can run about 350 km on a single charge—at Los Angeles on March 31. The car, which has a price tag of $35,000 (Rs 23.2 lakh) is being touted as the most 'affordable' electric car.  
The glitzy launch event was attended by 800 specially invited guests, the majority of whom are already Tesla owners, and was watched by thousands on the company's webcast. 
Here's the first look at the car.
Immediately after the unveiling, Tesla began taking orders with a reserve price of $1,000 per car. Musk also announced that he was going to launch the car in various countries beyond the US and Europe, including India. 
Adding several more countries to Model 3 order page tonight. Check for details, but will include India, Brazil, SA, SK, NZ, Sing & Ireland.

— Elon Musk (@elonmusk) March 31, 2016
While Tesla was hoping to get 55,000 orders during the first 72 hours after the unveiling and about 110,000 in the first year, its fans surpassed all expectations by placing a whopping 180,000 orders in less than 24 hours. 
Model 3 orders at 180,000 in 24 hours. Selling price w avg option mix prob $42k, so ~$7.5B in a day. Future of electric cars looking bright!

— Elon Musk (@elonmusk) April 1, 2016
In just two days, booking orders rose to 232,000. Quite an impressive feat for a company that sold only about 51,000 cars last year.
That's quite a surprise for a car that will begin deliveries first in the US in late 2017. In fact, Morgan Stanley analyst Adam Jonas told Reuters that he expects Tesla will produce only half that number in 2020. 
Jonas also said he expects Tesla initially will sell only well-equipped, high-end versions of the Model 3, at an average price of around $60,000, well above the car's starting price.
But fans are still gushing about the cool features of the car. Here's a look at them.
A range of at least 215 miles (346 km) on a single charge.
It has front and rear trunks.
A touchscreen dashboard.
 Loaded with autopilot safety features, such as Autonomous Emergency Braking.
 It can go from 0-60 mph (0-100 kmph) in under six seconds.
Musk said that Tesla was preparing for the surge in demand by prepping its California assembly plant to build as many as 500,000 electric cars a year, and building a new factory in Nevada to produce batteries. 
Here's a video of the launch.
What's in it for Indians?
While the price tag seems affordable for now, most Indians might end up shelling almost double the price because India applies a heavy duty on cars that are imported as CBUs (completely built units) from foreign countries. 
While the Indian government has been gung-ho about subsidising locally-manufactured electric cars, it has made no decision as yet on those that are imported into the country. Another problem is the fluctuating electricity and long power cuts in India, which could make it tough for Tesla to operate its Supercharging stations.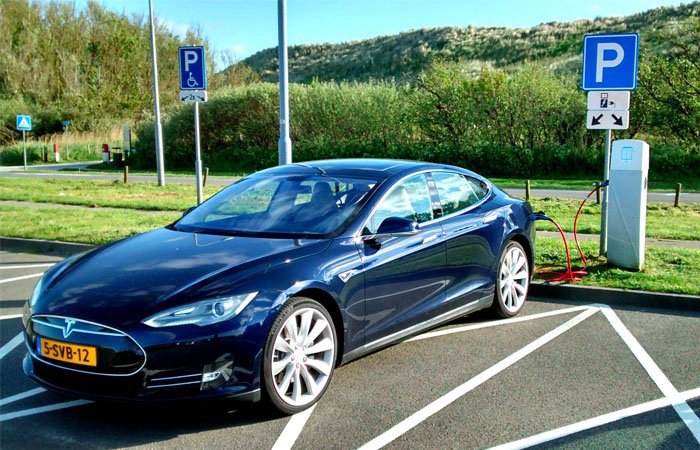 Tesla's biggest competition will be the Chevrolet Bolt EV which is already in production. General Motor's latest venture also promises to cover 200 miles on a single charge and will probably have a price tag of $30,000-35,000. It will be available in a few countries from December this year. 
Here's a look at the Bolt EV.