Much like the country itself, Malaysian street food is exciting, eclectic and bursting with a myriad flavours. We all know that the best street food in the world is that which takes its influences from a variety of culinary origins. With its Chinese, Thai and Indian roots, the best Malaysian food will blow your mind with a range of dishes that use interesting and exotic ingredients to create a truly satisfying gastronomic experience. Here are some that you should definitely try when you visit the country. After all, what is a foreign trip without some good old fashioned pigging out?
1. Penang Assam Laksa
In Penang the humble noodle soup dish called laksa is transformed into a tangy and delightful concoction by adding tamarind and a bounty of flavourful herbs, making it one of the most popular Malaysian street foods. Flat thick rice noodles and mackerel shavings give the broth its flavour while lemongrass, ginger flower and Vietnamese mint leaves tease your taste buds with every spoonful. Add a scoop of shrimp paste to this mix and you'll be in heaven.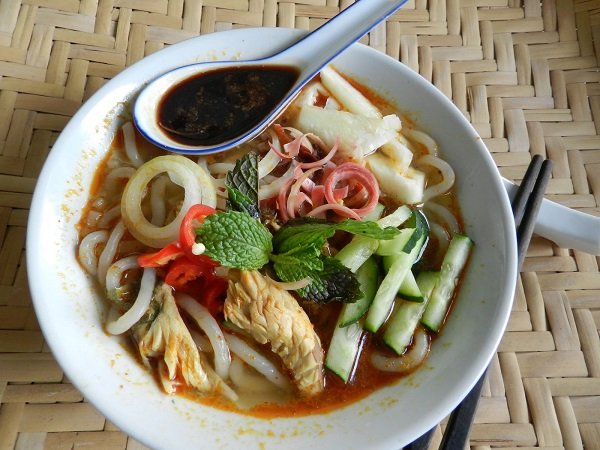 Source: peppers-love.blogspot.com 
2. Rojak
We know it doesn't sound like it, but this is actually a salad. "What is a salad doing on a list of street food?," is what you'll ask. However, this quintessentially Malaysian variant is a sweet and sour preparation of assorted fruits and vegetables in shrimp sauce garnished with crushed peanuts. It usually consists of turnips, cucumber, green mangoes, bean sprouts, fried tofu and green apples. The final dressing of sugar, chilli, lime juice and shrimp paste suffuses the dish with its unique flavour.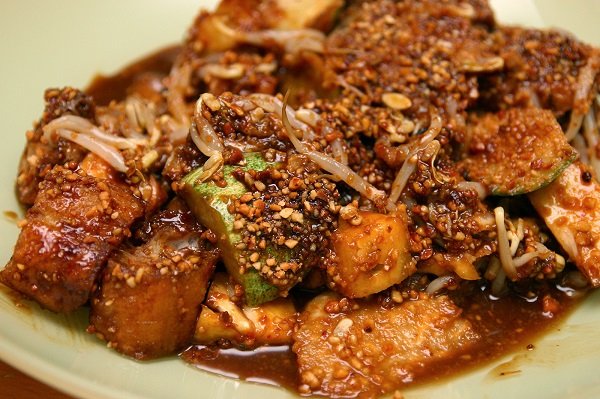 Source: camemberu.com 
3. Ipoh Hor Fun
These unique flat rice noodles are found nowhere else in the world. Brought to Malaysia by the Chinese immigrants at Ipoh (in Perak State), these noodles are said to get their unmatched flavour by using the special spring water from limestone hills around Ipoh. The rice noodles are served in a rich chicken and prawn broth with shredded chicken, prawns, mushrooms, spring onions, fish balls, et al. Light, wholesome and flavourful. Perfect.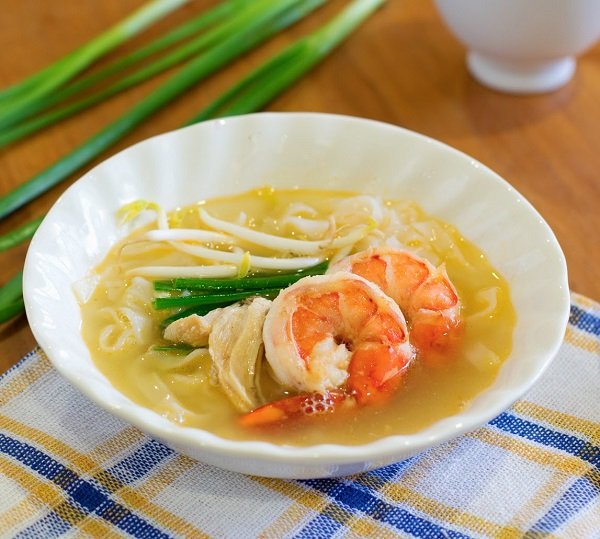 Source: gingybite.blogspot.com 
4. Hokkien Mee
Brought to Malaysia by the Hokkien immigrants from China, this is another Malaysian food offering a flavour overload with its range of ingredients. Yellow egg noodles cooked in a dark soy sauce are then topped with pork chunks, squid, prawns and pork lard. The Penang variant is cooked in shrimp stock and garnished with fish cake, spring onions and lime to give it a distinct flavour, while keeping the basic dish same.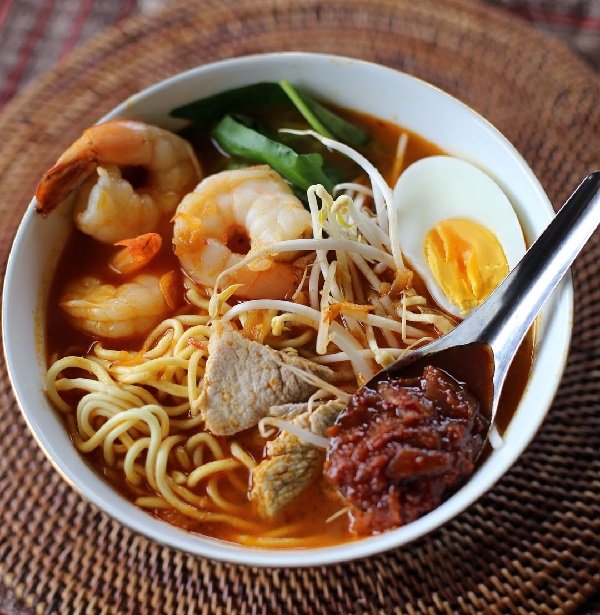 Source: angsarap.net 
5. Lok Lok
Literally meaning "dip dip," this is one ubiquitous Malaysian street food that offers a variety of tastes in a single, complete meal. The idea is to choose from a range of Malaysian food skewers and dip them in a steaming hot delicious broth. This fun way of community eating is an authentic Malay experience in itself. The semi-cooked skewers include meatballs, prawn, cockles, etc. which are dipped in either hot peanut sauce or boiling soup stock.
Source: blog.galvintan.com
6. Nasi Lemak
Though Nasi Lemak is available at most restaurants and cafes, nothing beats the fresh banana leaf packages sold on the streets. This popular Malaysian food is primarily a delicious and sumptuous rice breakfast dish. The delicious coconut cooked rice are served with boiled eggs, cucumbers and fried anchovies in shrimp paste and chili sauce. This fragrant rice dish is apparently considered as the national dish of Malaysia. Just thinking about having some can make one's mouth water.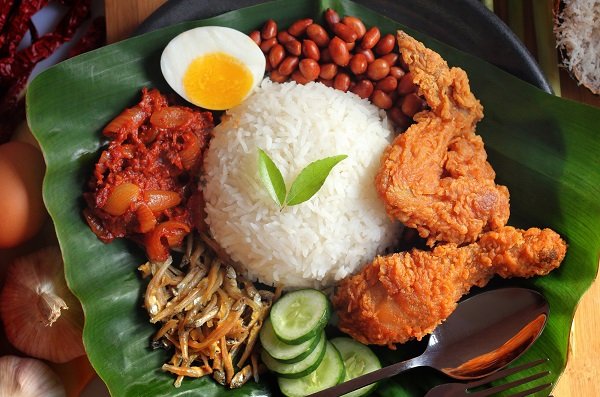 Source: tripcanvas.com 
7. Chee Cheong Fun
Chee Cheong Fun is originally a Cantonese dish belonging to southern China and Hong Kong, yet it is popular in Malaysia. It is similar yet distinct from the rice-noodle rolls sold at dimsum stalls. This one uses thick rice noodles in a dark sweet shrimp sauce with some chilli sauce.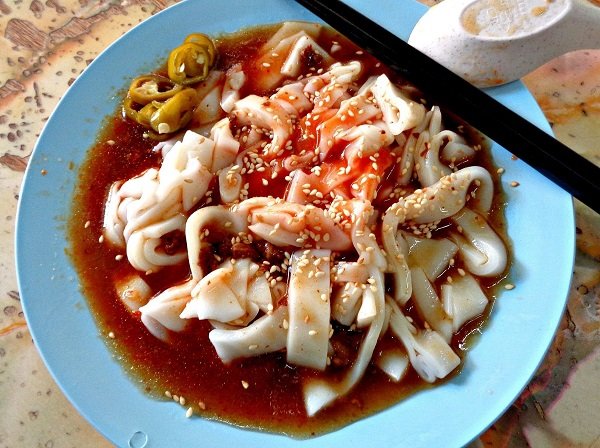 Source: hungryonion.org 
8. Chendol
Nursing a serious sweet tooth? Don't worry, Malay street food has you covered. This creamy and flavourful Malaysian dessert is a must-try. Prepared with coconut milk, palm sugar syrup, and ice shavings, Chendol is usually served in a tall glass or a bowl. The green jelly-like noodles made from mung-bean flour and food colouring (from the pendan leaf, a vanilla like plant) give the dish its unique taste and drool-worthy appearance.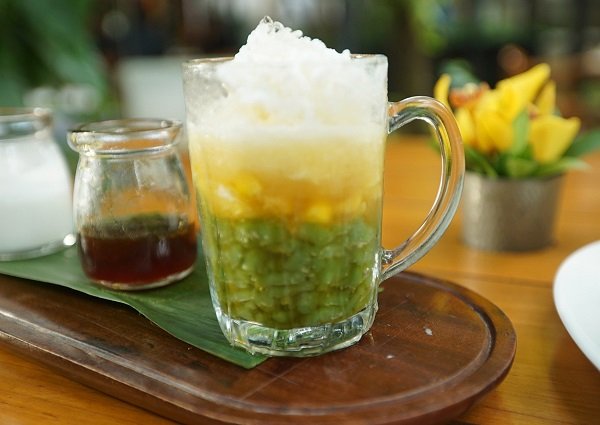 Source: asiaone.com 
9. Char Kuey Teow
One of the most flavourful noodle preparations in Malaysia, these are flat rice noodles cooked in a traditional Chinese wok at high flame, giving this dish a distinct smoky flavour. Soy sauce, prawns, bean sprouts, spring onions and sausages lend their flavours and taste to make it the king of Malay noodle dishes. Certain special versions are peppered with mantis prawns and crabs.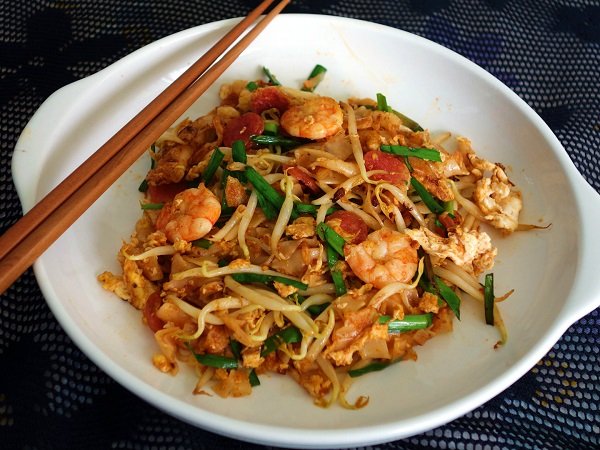 Source: ingredientmatcher.com 
10. Apom Balik
Apom Balik is an unusual pancake that you will only find in the streets of Malaysia. The pancake is made from sticky rice with a creamy corn side. It is sweet, eggy and fluffy. You will also find a peanut filling inside it that endows a crunchy and Nutella like taste to the pancake.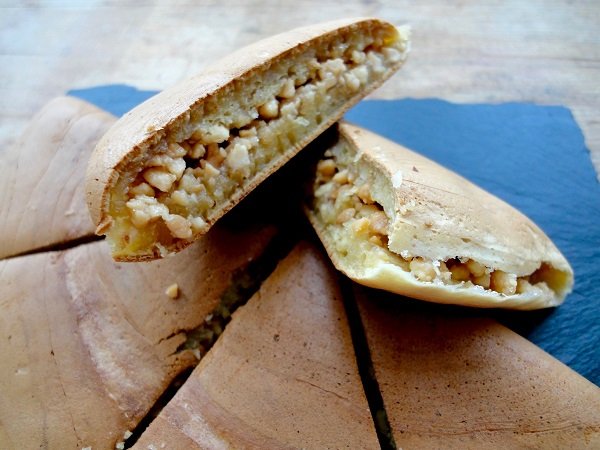 Source: makan.ch 
Order up!