I don't know about you, but I am legitimately nuts about Thai food. I like it because it's really diverse. It can be anything your taste buds desire it to be. It can be really spicy and wholesome or it can be really mellow and soulful. Their enthusiastic use of spices, nuts and sauces only serves to take everything to the next level. And if you're like me, you're just raring to take a trip to the country and hitting the streets to get your hands on the choicest street foods the nation has to offer. So if you're planning a trip there or you've already lucked out and booked one, here's a list of dishes you should definitely try when you're there.
1. Pad See Eiw
Pad See Eiw is like the rajma chawal of Thai cuisine: hearty, warm, and comforting. The dish consists of wide rice noodles which are stir-fried in dark soy sauce with chicken, pork or beef as well as either Chinese broccoli or cabbage. A flavorful but safe choice, it's an excellent option for those who want to branch out from Pad Thai but want to stay away from spicier fare. But we're not afraid, are we?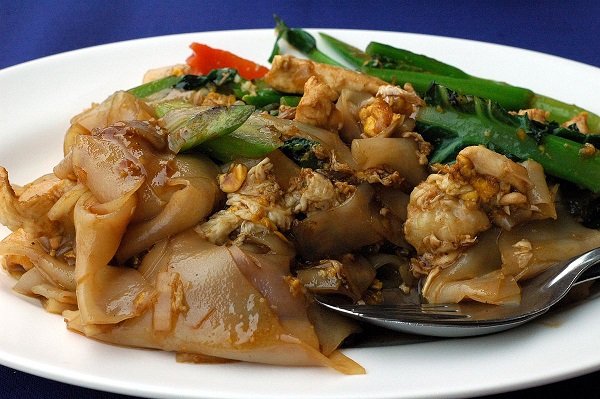 2. Kluay Tod
Got a sweeth tooth that needs nursing? Well, these deep fried bananas are for you. The bananas are typically prepared in a batter of desiccated coconut and sesame seeds. The result is a slightly crunchy and golden outside, and a creamy and warm center. They're excellent freshly fried, or even after they cool off to room temperature.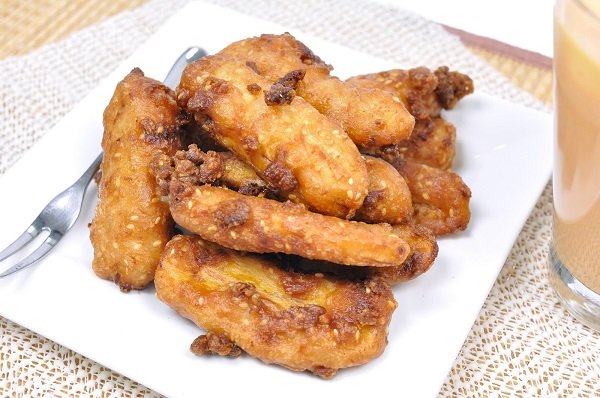 3. Pad Kra Pao
Pad Kra Pao consists of minced pork or chicken stir fried with Thai basil and chilies, all served over white rice. Be warned; the Thai basil has a very sharp, peppery flavor, while the chilies add a considerable dose of spice. You can always take the heat down a notch by asking the vendor to make it pet nit noi (only a little spicy). The dish also often includes a fried egg.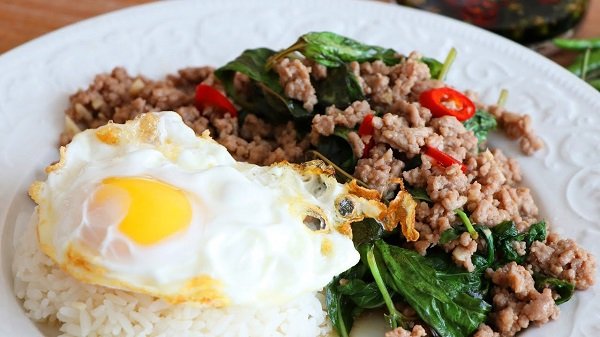 4. Som Tam
Looking for something a bit more healthy? What about some Som Tam? The basic dish consists of shredded green papaya, tomatoes, carrots, peanuts, dried shrimp string beans, sugar, garlic, fish sauce, lime juice, and plenty of chilies. The ingredients are mixed together using a mortar and pestle, which blends the flavors beautifully. This dish tends to be quite spicy by default, so ask the vendor to make it according to your own tastes.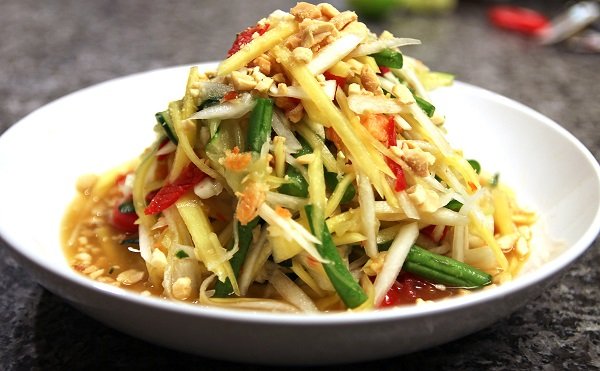 5. Kai Jeow
A nice treat to have for breakfast is the Kai Jeow. It's one of the cheapest dishes served at most food stalls and is basically a Thai omelet served over rice. Thai omelets are made a little differently; the inside is fluffy like a standard omelet, but the outside is golden and crispy. The dish is usually cooked with fish sauce and chillies & topped with chili sauce.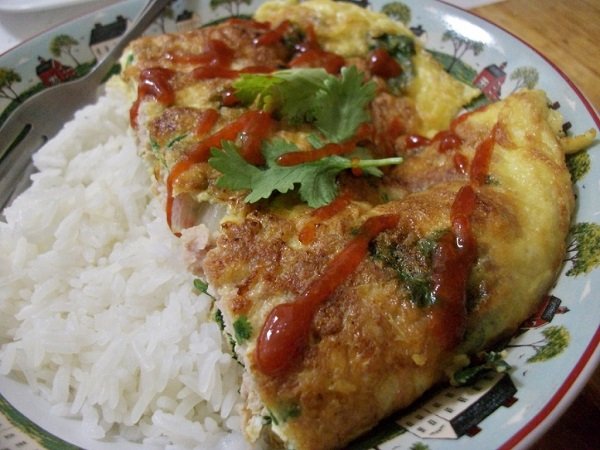 6. Moo Ping
The Moo ping is easily one of Thailand's best on-the-go street snacks. These skewers of grilled pork are often sold along with little plastic bags of sticky rice. Although pork skewers are common, you'll also see pieces of chicken and other meats grilled up and served by street vendors. Every vendor has a secret marinade, but it typically involves a mix of garlic, soy sauce and sugar, creating a flavor that's pleasantly sweet and savory.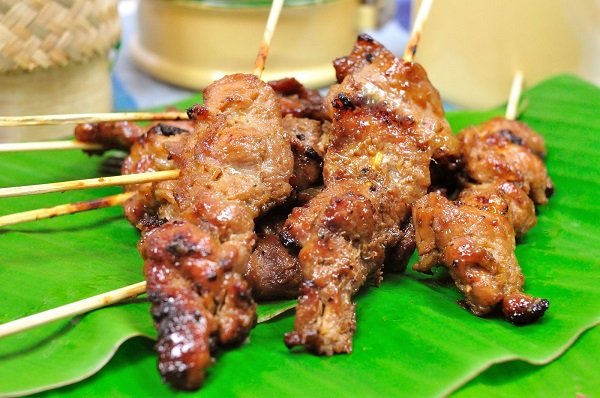 7. Gai Tod
Fried chicken may not be a uniquely Thai dish, but boy do they do it well. Gai Tod is typically prepared by marinating chicken wings or drumsticks in a blend of spices and rice flour before deep frying the whole mixture. To add a little extra flavor, the chicken is also often finished with Thai chilli paste or served with a spicy dipping sauce. Sticky rice comes as a compliment, obviously.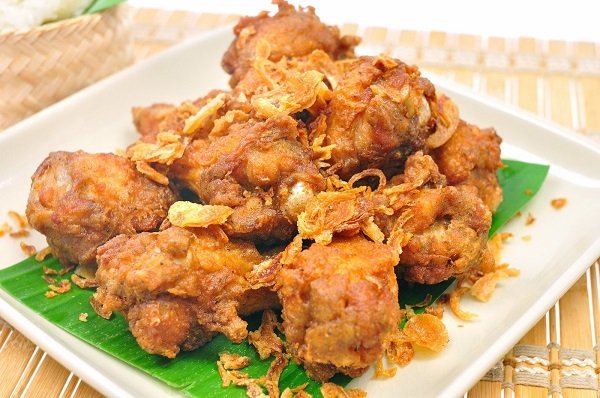 8. Guay Teow
Guay Teow describes any type of noodle soup. It can be made with chicken, pork or beef stock, as well as either rice noodles or egg noodles. There are so many variations of the dish that, like many Thai foods, it's a bit different everywhere you try it, but it's always warm and satisfying. Most of the time, vendors also add wontons or meat balls to the broth.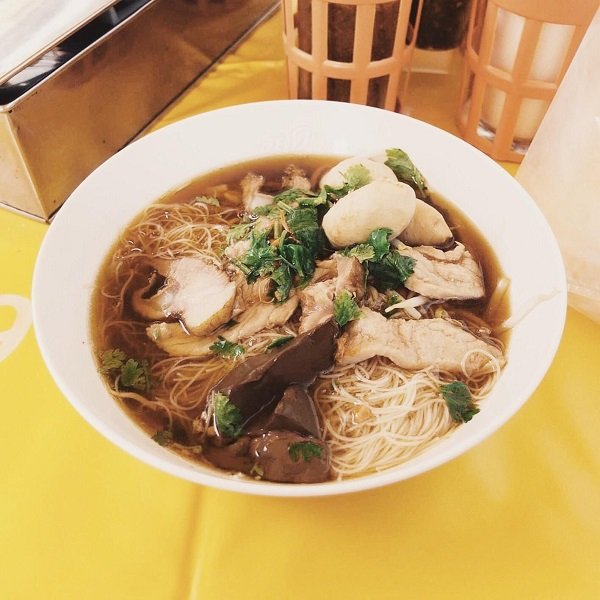 9. Massaman Gai
It's no secret that Thai curries are delectable, but Massaman is particularly unique because it incorporates noticeably Persian influences. Like many Thai curries, it's made with coconut milk, along with chicken and potatoes which form the bulk of the dish. The curry is flavored with roasted peanuts, cinnamon, bay leaves, tamarind sauce and sugar. It's a good option for foodies who prefer milder dishes, and it can also be made with tofu instead of chicken for vegetarians.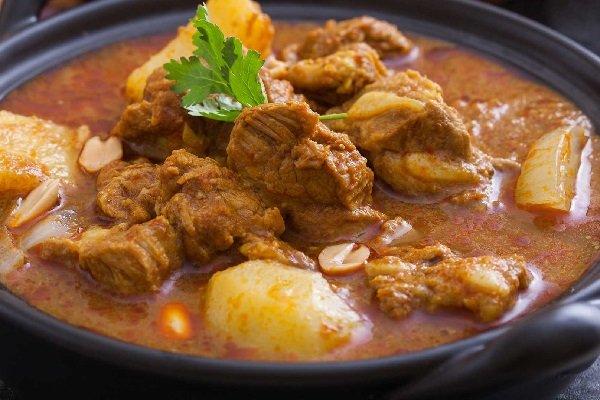 10. Kao Niew Ma Muang
If you like your mangoes then this Thai sweet dish will send you to foodie heaven. Kao Niew Ma Muang is simple but extremely delicious, made with sticky rice, fresh mango slices, and coconut cream syrup. The sticky rice absorbs the coconut cream, creating a pleasantly soft texture and mild sweet taste. The dish is particularly popular when mangos are in season, but you'll see stalls serving it up year round.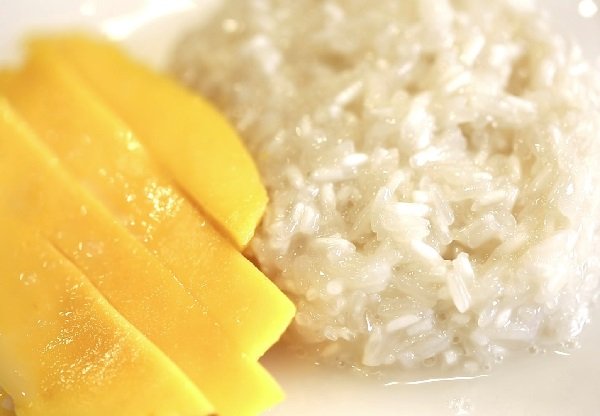 *Salivating*