Oh, I know what you are thinking. 
"What!? There are travel destinations I should visit on the basis of my zodiac!? What are you on, man?"
Snort not, child. 
Read on, and when you are back from your awesome-sauce vacation recommended by us, you can thank us then.
1. Leo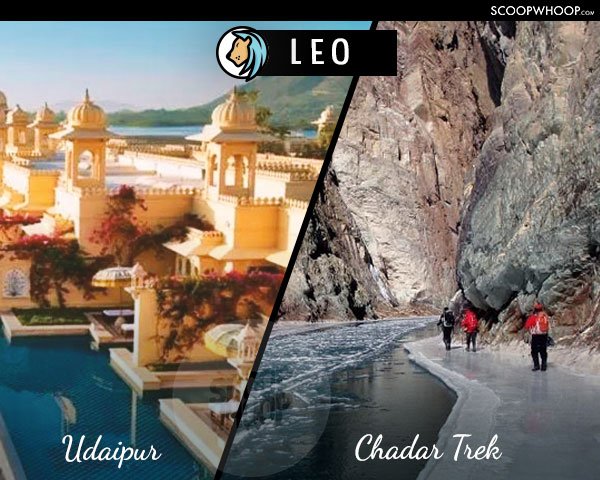 For someone who enjoys a rich lifestyle, you will love a vacay that makes you feel like a king. Take up a resort stay in Udaipur and you will adore it. And if you're in the mood to tickle your adventurous side, consider the famous and challenging Chadar Trek.
2. Pisces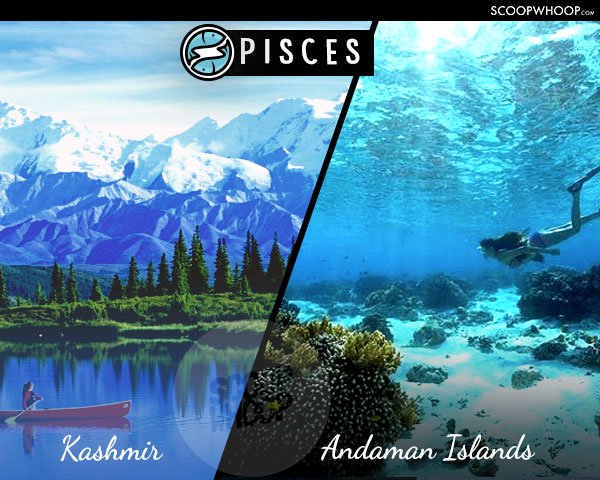 Water babies through and through, how about a trip to the beautiful Andaman Islands? Or if you want to cater to your dreamy side, a visit to Kashmir is on the cards.
3. Cancer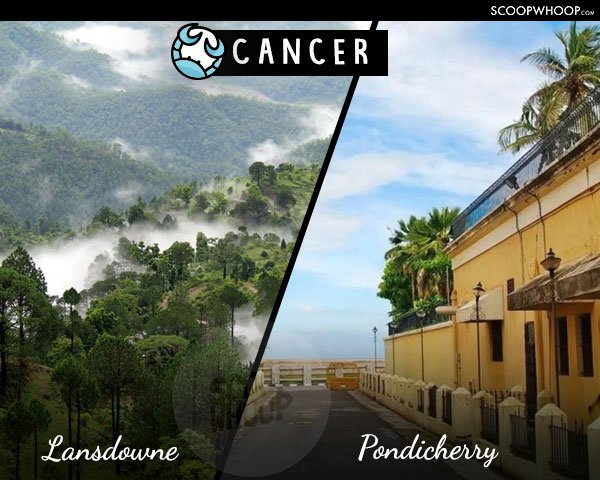 You guys tend to enjoy time with your close ones as much as you love connecting with the nature. So how about traveling to Pondicherry? And if you're looking for a quiet time in the hills, give Lansdowne a try. 
4. Scorpio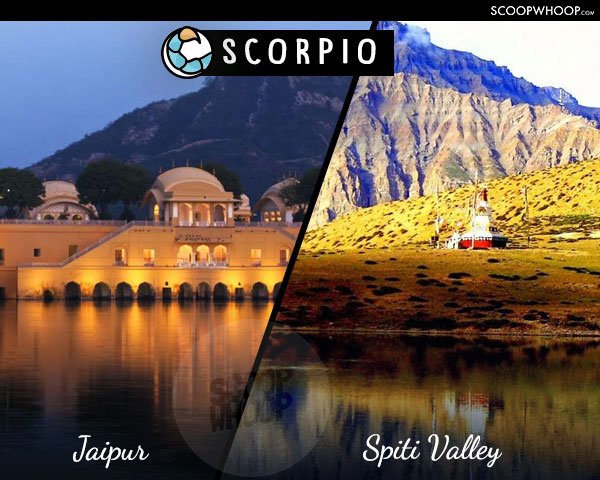 You like the city as much as you love the nature. We suggest Spiti Valley for its mesmerizing beauty. And how about Jaipur for its rich colors and culture?
5. Taurus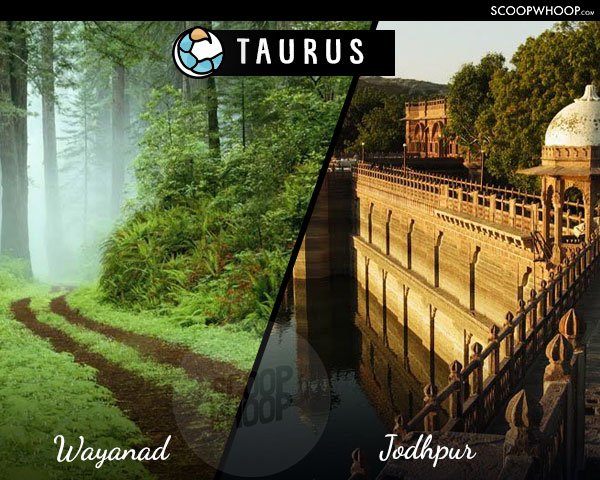 Hedonist, indulgent and with a taste for the lavish, Taurians should consider holding up a place in a boutique resort in Jodhpur. And when they want to relax, a vacation in Wayanad is a great option.
6. Virgo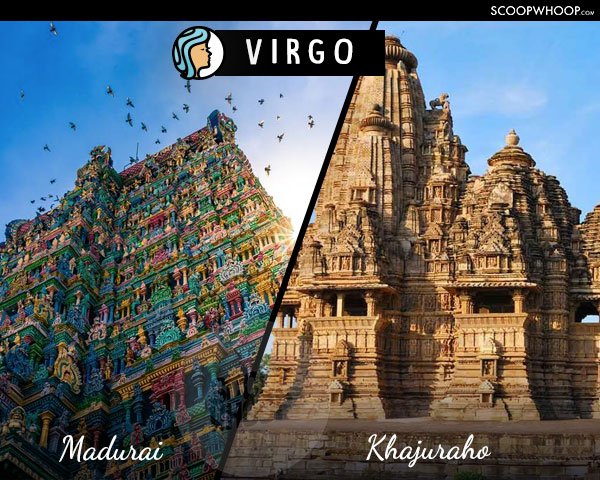 A simple, easy-going vacation is what will make a Virgo happy. But they will love to relax as they take in the beauty of some architectural wonders or temples. So how about Khajuraho? Madurai is another option you'll love to explore. 
7. Capricorn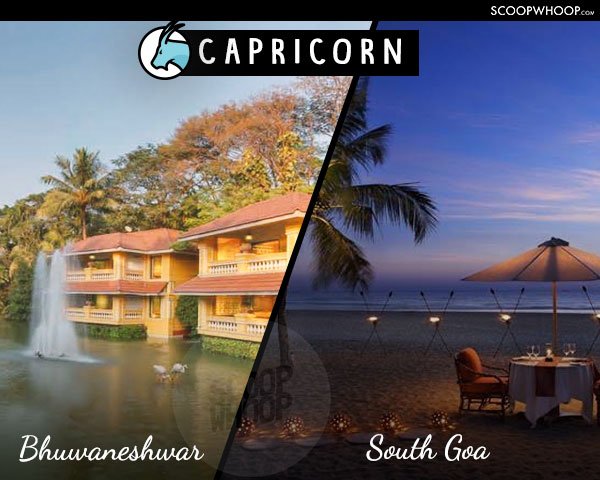 You guys will love to just relax as much as you experience art on a vacation. Bhuvaneshwar will be lovely for you to relax and enjoy the temples, and the history around. And if you simply want to chill, how about South Goa?
8. Aries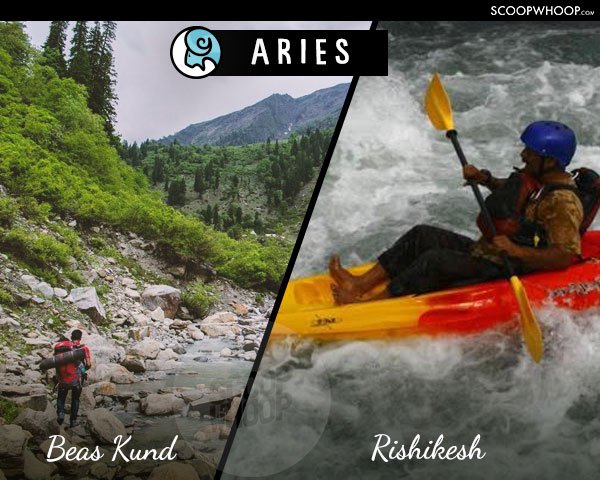 Arians are always looking for exciting chances to push themselves. And for this adventurous soul, a trip to Rishikesh will be ideal. You can also give the Beas Kund trek a try.
9. Aquarian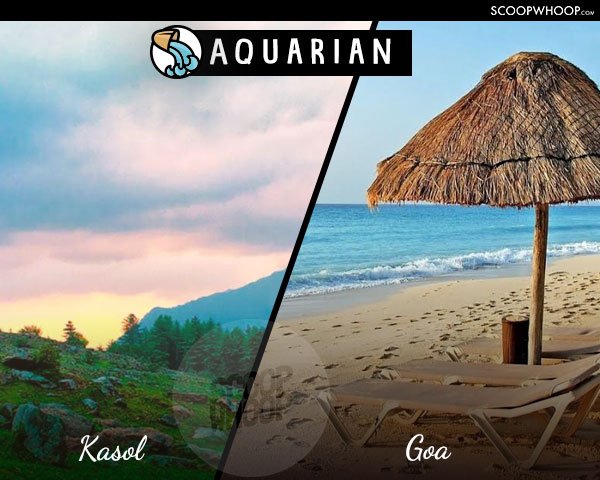 Always up for meeting new people, experiencing new things and cultures, and yet they are incomplete without the fun element. Goa will be perfect for them. As will Kasol which also offers natural beauty.
10. Gemini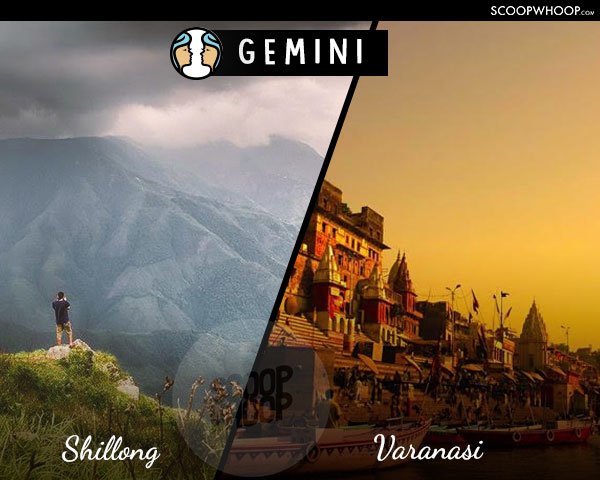 The inquisitive, restless side of a Gemini makes them want to go someplace they learn about the locals and discover themselves. Varanasi and Shillong will make for interesting options for Geminis. 
11. Libra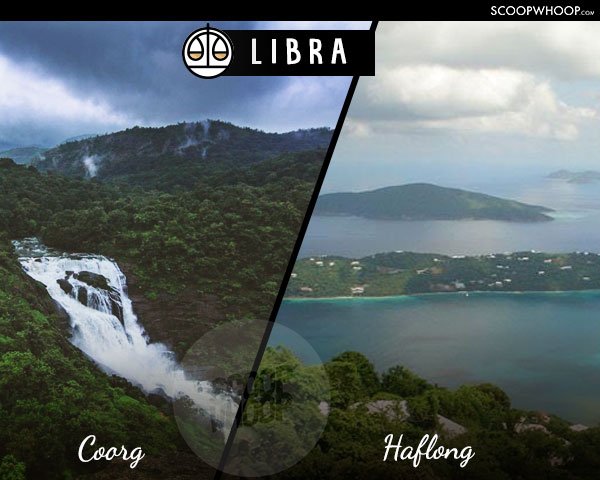 These people want to find a balance in life, so an ideal vacation for them will be a run into a forest or the mountains, away from the city. Coorg will be loved by Librans, as will Haflong in Assam.
12. Sagittarius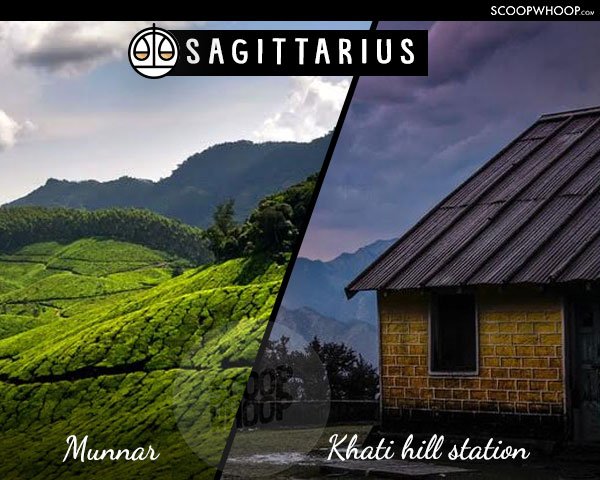 When you guys travel, it is because you want to cut off from the world and take some time-out. The mountains are your haven. So how about Khati hill station? And if you go down south, Munnar would be the perfect place for you. 
So, where are you heading?