Virender Sehwag is a fearless batsman known for his bindass style and humour quotient.
But, at the end of the day, he is a husband trying to keep his wife happy while keeping up with his hobbies too. Well, we aren't just saying generic things. This tweet by the destructive former opening batsman of the Indian team proves what a genius he is at maintaining a perfect balance.
A happy wife means a happy Life. In a theatre ,watching match as wife watches a movie. Main bhi khush, Biwi bhi khush.

Simple joys.#MIvRPS pic.twitter.com/JulwjdzSe8— Virender Sehwag (@virendersehwag) May 16, 2017
Twitter was genuinely impressed by this move of Viru.
@virendersehwag Wah pajjiii tusi to bahut kamal ho...Ek teer se do do nishana...

— |MOHIT| | MI | (@mohitkeshri27) May 16, 2017
But then, they have to make jokes, right?
@virendersehwag paise laga rakhe hai kya??

— ㅤ (@firkiii) May 16, 2017
And some people were concerned about the others sitting next to Sehwag.
@virendersehwag Your other side or back side person must got irritated with this mobile light.

— Lazy Cat (@uPoliticat) May 16, 2017
@virendersehwag aap aur biwi toh khush ho par aas pass ke viewers shayad khush na ho. Light from cell in theatre can distract viewers. Shame

— Fenil Seta (@fenil_seta) May 16, 2017
This user also tried to explain the gravity of the situation.
@virendersehwag biwi agar khush nhi rahegi toh belan ka kharch badh jayega. Roz ek belan tutega.

— Rishabh Tripathi (@Rishabh13032001) May 16, 2017
Meanwhile, the person behind the social media of Hotstar is definitely looking towards a salary hike.
Jo biwi se kare pyaar, woh Hotstar se kaise kare inkaar 😄! https://t.co/izIeJQi2u9

— Hotstar (@hotstartweets) May 17, 2017
We all had that one student in class who used to attend a class but never listen to the teacher.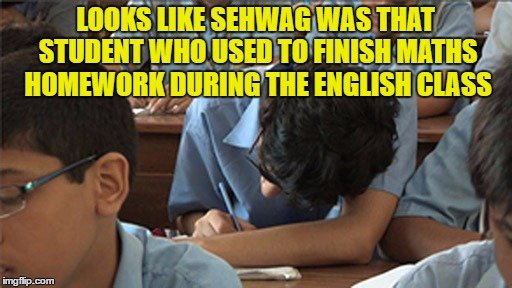 We only miss Viru more on the crease now!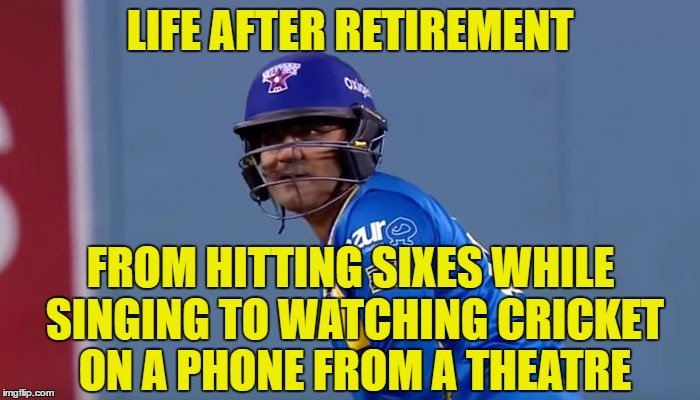 Kudos Sehwag, apart from being a funny guy you are also a loving husband. Stay awesome.