We're sure you've all heard of Fu Yuanhui by now. The Chinese swimmer may have come to the Rio Olympics as a relative unknown, but her adorable antics have made her a household name almost overnight. 
Her carefree innocence is wonderful to watch and that's exactly what has made her the most loved athlete at the 2016 event.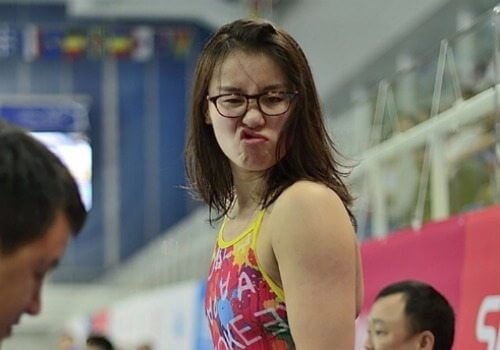 But as it turns out, Fu isn't all about goofing around. She speaks her mind too. About issues that are supposedly taboo in sport. Like a woman's period.
After her final race – the women's 4×100-meter medley relay – a reporter asked Fu about her performance and she said, "I feel I didn't swim well today. I let my teammates down." And when the interviewer asked if she was having a stomach ache, she said: 
"Because my period came yesterday, I'm feeling a bit weak, but this is not an excuse."
In one sentence, Fu Yuanhui made talking about periods perfectly normal. She talked about menstruation like it's no big deal, which it clearly isn't. And just by that simple statement, she braced a subject which is barely discussed in society, let alone at the Olympics. 
In fact, according to a Quartz report, many people were shocked to know that you can actually swim on your period without turning the pool into a giant, red water bathtub. Her comment was so relevant and engaging that it sparked off discussions about period-related misconceptions all over the world wide web.