Addressing the Indian diaspora in Nairobi, Kenya, on Sunday, amid repeated chants of "Modi, Modi", PM Narendra Modi spoke on a number of issues, including the initiatives taken by his two-year old government for transforming the lives of common people in India and fulfill their "dreams".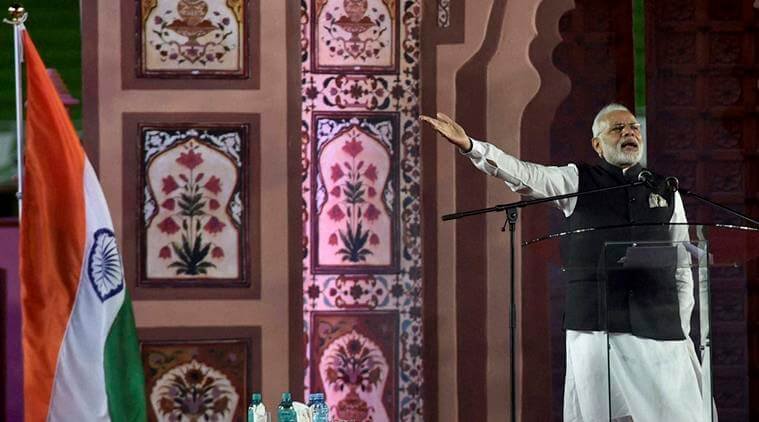 Significantly, Kenyan President Uhuru Kenyatta accompanied Modi to the Kasarani Stadium where he addressed the gathering of estimated 20,000 Indians and people of Indian origin, soon after his arrival from Tanzania.
Talking about the challenges facing the world, the Prime Minister identified terrorism and global warming as the two problems. 
Describing terrorism as one of the two major challenges facing the world, Prime Minister Narendra Modi said that all forces believing in humanity must come together to defeat this "anti-humanity" menace:
"These are challenges to the entire humanity…The world needs to come together to deal with these, — Those believing in humanity must come together. The sooner they come together, the sooner terrorism can be ended… Therefore, those believing in humanity must join forces to defeat anti-humanity forces. We need this resolve," he said.
With regard to global warming, Modi said India can show the way when it comes to mitigating the problem of climate change.
Talking about domestic issues of India, he said in the run up to 2014 Lok Sabha elections, his critics would question as to what he would do by becoming the Prime Minister as he belonged to a "small state" of Gujarat:
"Several questions were raised, — I have no complaints against anyone….It (questions) was correct also. I saw Parliament after becoming the Prime Minister," Modi said, referring to his critics. 
The Prime Minister then added that during the two years of his rule, India has seen "good governance" and implementation of announcements, unlike the past when "decisions were taken without anybody bothering as to what happened to them".
"The last two years saw less rainfall in many parts of India, so much that we had to run trains to ferry water…Apparently God also wanted to test me, — Also, the world was going through recession. Despite that India saw a growth of 7.6 per cent. This is a matter of pride. But we are not going to stop here. We have to move ahead, go higher and reach over 8 per cent growth," he said.
"We gave an impetus to good governance and to bring a positive difference in the lives of our citizens," Modi said amid repeated sloganeering like 'Bharat mata ki jai'.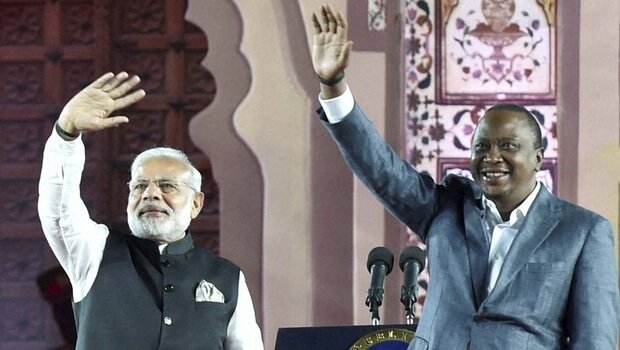 Contending that India has started to change and move towards progress, he said whatever has happened is due to work being conducted in a planned fashion.
"The country is changing because of its 125 crore people and their resolve… I recognise the strength of 125 crore Indians who are determined to move ahead. This is the real public power," the Prime Minister said.
He spoke about his resolves like ensuring toilets are built in government schools and making available electricity within 1000 days to 18,000 villages "which have remained without power for 70 years".
He also talked about Start-Up programme and the Mudra Bank to fund such initiatives, saying 3.5 crore people have been given Rs 1.25 lakh crore as loans "without any guarantees" under the programme.
"Our youth have the initiative, innovation and energy. They just needed somebody in New Delhi to hand-hold them," he said, adding under the Start-up initiative, they would not only be getting employment for themselves but would also be giving jobs to others too.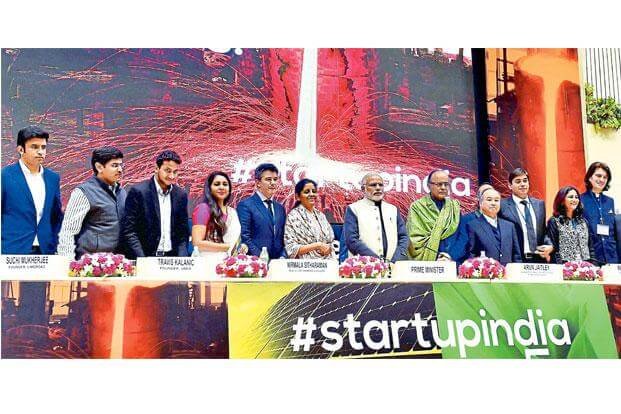 He told the Indian diaspora that details of all the work done by his government could be obtained from the Narendra Modi App.
"Improving the quality of life for the ordinary Indian is the main task of my government," the Prime Minister said.
Referring to his initiative about toilets announced by him in his first Independence Day address in 2014, he said his critics had criticised him for talking about such a "mundane" issue when "I had got a chance to speak about big issues" from the Red Fort.
He said there had been talk about eradicating poverty earlier but it can be removed only by empowering the poor and making them to stand on their own feet.
"Today, when the world is facing an economic crisis, India is growing at a quick pace. Be it the World Bank, IMF or any rating agency, everyone is saying with one voice that India is the brightest spot in the world," Modi said. — This has not happened suddenly…In the last two years, one by one, this government has taken steps because of which the world today is looking at India differently. This is a matter of pride for all Indians. No such thing has been done which would make Indians to hang their heads in shame. Today, Indians can move around the world holding their heads high,– It is because of you all that the world's way of looking at India has changed and they look at India in a way that makes us all happy," he said.
He said the world acknowledges the prowess of India's space scientists who just launched 20 satellites in one go.
"But India is not a selfish nation, only bothered about itself. We believe in 'Vasudhaiva Kutumbakam' (the whole world is one)," he said.
Declaring that Africa is very vital for India, Modi said, "Our journeys have been shared" and that he would like the two to move together in the future also.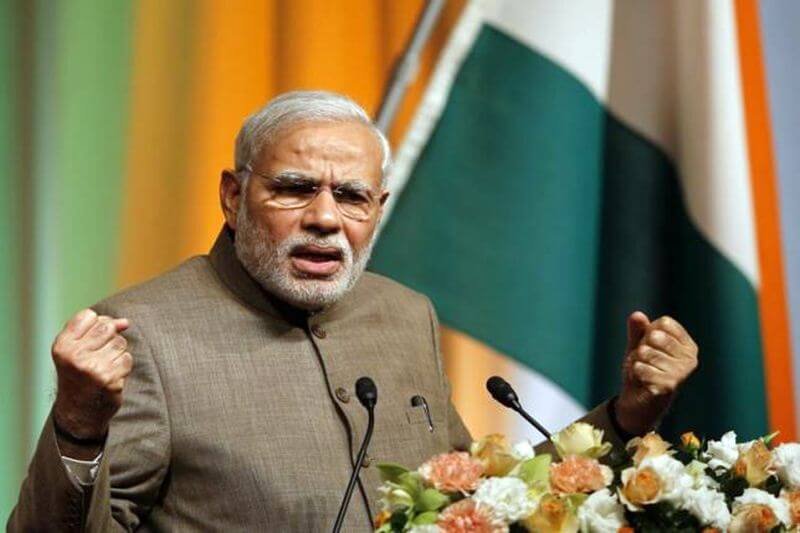 He praised the Indian diaspora, saying they were the true ambassadors of the country and "the living embodiments of India's eternal values".
Earlier, Kenyatta also hailed the Indian diaspora while noting that the relations between India and his country went back to over 100 years. This is the first Indian visit to the Kenya in 35 years. The PM is expected to leave on Monday after holding bilateral talks with the Nigerian government. 
(Feature Image Source: PTI)