We know LinkedIn is not a dating site. But what if you looked back at your previous relationships as if they were experiences that helped you hone different kind of skills? You know, like you learnt different skills in previous jobs.
Richard Stallbrook, a twice-divorced man from Hereford and Worcester, UK, has a LinkedIn account , where his profile currently reads "Eligible bachelor seeks refined lady".
His summary reads –
"I am an attractive, steady going and reliable man currently residing in the West Midlands area. After my previous relationship ended several months ago, I am now seeking a fresh start in a long term position with a similarly attractive woman with a successful career and between one and three children."
Loving the confidence, Richard. Putting yourself out there on a site like LinkedIn can be quite weird. But at least you've decided to take a unique approach to it.
Here are some of the highlights of his profile. He starts with his current status.

Stay classy, Richard. This seems to be just one side of the story. But well played, mate. Clearly, you were husband of the year material and anyone who denies this is just a jealous ex.

And the first marriage –

It's like when you're between jobs, but still decide to give that start-up a shot.

Yes, we always "do it by the book", sir. Especially when we don't want to talk about it.
But wait, here comes the interesting one. We're wondering what exactly he means by "sharing the position of boyfriend".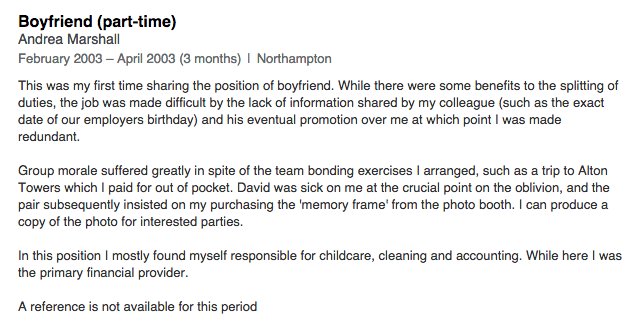 Were you part of a threesome or were you just a glorified third wheel? We need to know, Richard. For "reasons".

Ah, the vigour of youth. Yes, Richard, we get it. It was when your Don Juan de Marco- ish skills peaked. And we could have done without the juvenile wink smiley face. But at least you're honest about the whole "not being capable" of the same feats anymore part. So, you get points for that.

Who can forget their first job, right? Every man needs an education on period pains, "girls nights in and leg shaving", like you did, Richard. The first serious stint is such an eye opener.
But as far as scoring points for honesty goes, this one wins takes the cake. A brief homosexual encounter Richard likes to not-too-fondly remember as an "intermediate position", just gave us a whole new perspective on Mr. Stallbrook. You sir, are a legend. For the candour you display.

Also, kudos for not outing someone.
And, finally, we get to know about the one that got away.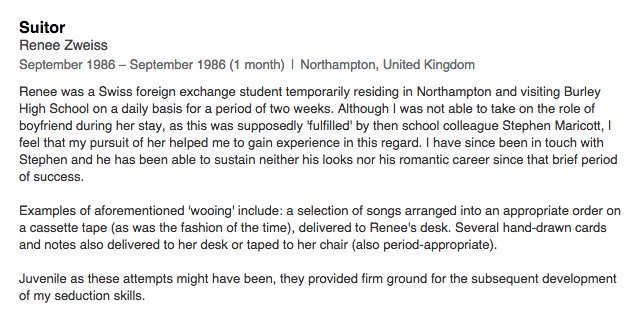 You even made her a mixtape. The mid-eighties were so classy. Nowadays, people just mostly send dick pics on Snapchat.
We hope you find what you're looking for, Richard. And we hope you make each other really happy.
h/t LinkedIn