Vangardist, a leading magazine in Switzerland, has decided to break the mould by designing their latest cover by using HIV+ blood as their ink so as to engage their audience in to more conversation about the virus and the consequent disease.
There has been an 80% increase in HIV cases, in the last 10 years. Saatchi & Saatchi Switzerland think this is because people have stopped talking about the issue at hand. To combat the stigma of being HIV+, the agency with the help of the magazine will bring 3000 copies of this edition.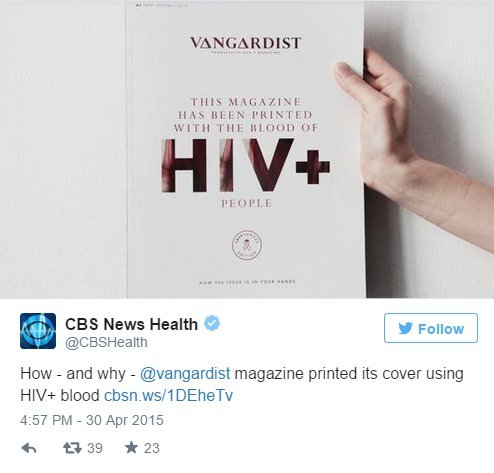 Production included collecting blood from three people diagnosed with the virus, mixing it with the ink. To present the audience with an extra assurance that the cover contains no health risks, the blood was sent to a lab to be pasteurized before mixing it with the ink. The issue comes wrapped in a plastic bag, with a label that reads "Break the seal and help break the stigma."
There are plans to auction off issues in the future to help raise funds for HIV/AIDS awareness.
Original story featured on AOL