On Friday, BloodPlusApp put out a request on Twitter asking for blood donations. 
What was shocking was that it was sought donors only from the Kamma caste. The Kamma caste is a higher caste found largely in the southern Indian states of Andhra Pradesh, Tamil Nadu and Karnataka.
This is what they tweeted: 
#Hyderabad ONLY Kamma Caste Donors, O+ ve blood needed at Max Cure Hospital. 3 yr old CHILD. Pls call 8063266677. Aug 19. Via ShekarNews

— Blood+ (@bloodplusapp) August 18, 2016
The same request was also tweeted by Blood Donors India but it was quickly deleted after widespread outrage.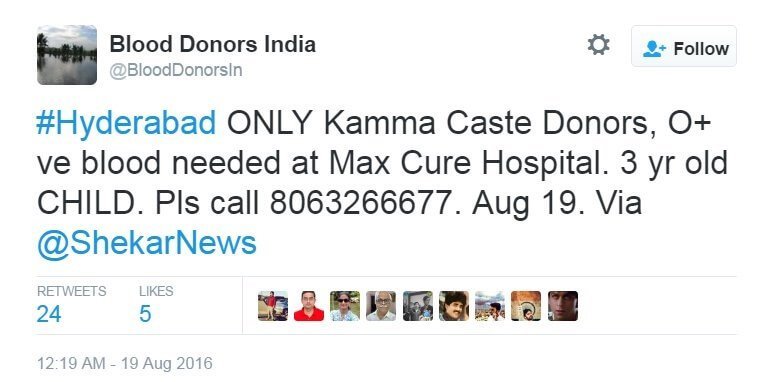 They later offered this apology:
We are sorry if you were offended by an earlier tweet. We want to help others and are repeating info we get. We will now take greater care.

— Blood Donors India (@BloodDonorsIn) August 18, 2016
Quite expected, this shocking tweet reeking of casteism caused an outrage on Twitter with people visibly upset about this blatant casteism. 
@bloodplusapp Anyone who says casteism barely exists should see this. Is there something special in Kamma blood?

— aseemcam (@aseemcam) August 19, 2016
@bloodplusapp let the bastard who gave this adv die .. What is the fault of 3yr old child to wait for matching caste blood

— agoyr (@agoyr) August 19, 2016