Cast your mind a few days back, as the Indian Test team under Virat Kohli were dealing New Zealand blows after blows, on their way to a 3-0 whitewash. Ravichandran Ashwin and Ravindra Jadeja were proving to be a challenge too far for the Kiwis.
And in a tweet that has since taken up a lot of media attention, Harbhajan said the pitches these days are a lot more spin-friendly, adding that Kumble and himself would have ended up with many more wickets.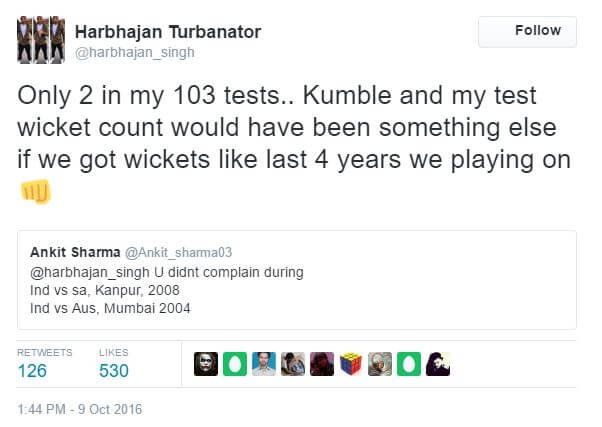 Yes, he did not target the Indian spinners in particular but it was kinda sorta evident that he was taking on the records of Ashwin and Jadeja. This created quite a few ripples in the media. Even Virat Kohli was asked about it in the press conference after the Indore Test.
Responding to all the noise about the topic, Ashwin took it upon himself to clear the air. On Monday, the off-spinner who is currently not involved in the ODI series, tweeted saying he has utmost respect for Harbhajan and the media was pitting the players against each other.
By pitting players against each other we aren't going to gain anything but just a juicy headline.Lets respect ppl and keep the game healthy🙏

— Ashwin Ravichandran (@ashwinravi99) October 17, 2016
@harbhajan_singh has been an inspiration nd I started bowling off spin only after seeing the 2001 series.This banter going on is unhealthy

— Ashwin Ravichandran (@ashwinravi99) October 17, 2016
Ashwin could have very well tried to make a comeback on his own to Bhajji's comments but he decided to put an end to it and his response is just that.
Harbhajan Singh later cleared the air as well:
Dear got nothing against you. For some reasons my words are misconstrued. Wish you nothing but the best ✌️ Keep the flag high! God bless 😇 https://t.co/flIqJYDT4y

— Harbhajan Turbanator (@harbhajan_singh) October 17, 2016
Some of the fans agreed with Ashwin's point of view:
While the India media are indeed often guilty for twisting stories out of context and reading between the lines when there is nothing to be read, this is rather odd from Ashwin. Harbhajan was the one clearly talking about pitches 'these days' and he started the discussion over pitches when there was actually nothing much to talk about. In comparison to the South Africa series last year, the pitches were a lot more sporting in the New Zealand series. The tracks had enough for batsmen, fast bowlers and spinners — though Ashwin did end up dominating.
Point being, Harbhajan fanned the flame on a topic where there was not even any smoke. 
The turbanator's tweet had received a lot of backlash on Twitter even then.
But that said, it is great to see two of India's greatest off-spinners attempt to move past this controversy and the 'mutual' respect they have for each other. After all, Bhajji is not done playing for the country yet and could very well be in the same dressing room as Ashwin in the near future. This hopefully puts an end to any sort of misunderstanding between the two.