On Saturday, two cargo ships, one of them an oil tanker, collided off the Kamarajar Port in Ennore coast near Chennai spilling tonnes of oil.
As a result, the pristine beaches of Chennai are now smothered in oil and all that beach lovers can see is oil swirling in the waters. A thick layer of slick has developed along the Chennai coast line and the spill has been thickening every day.
Basically there is oil everywhere. Lots of it.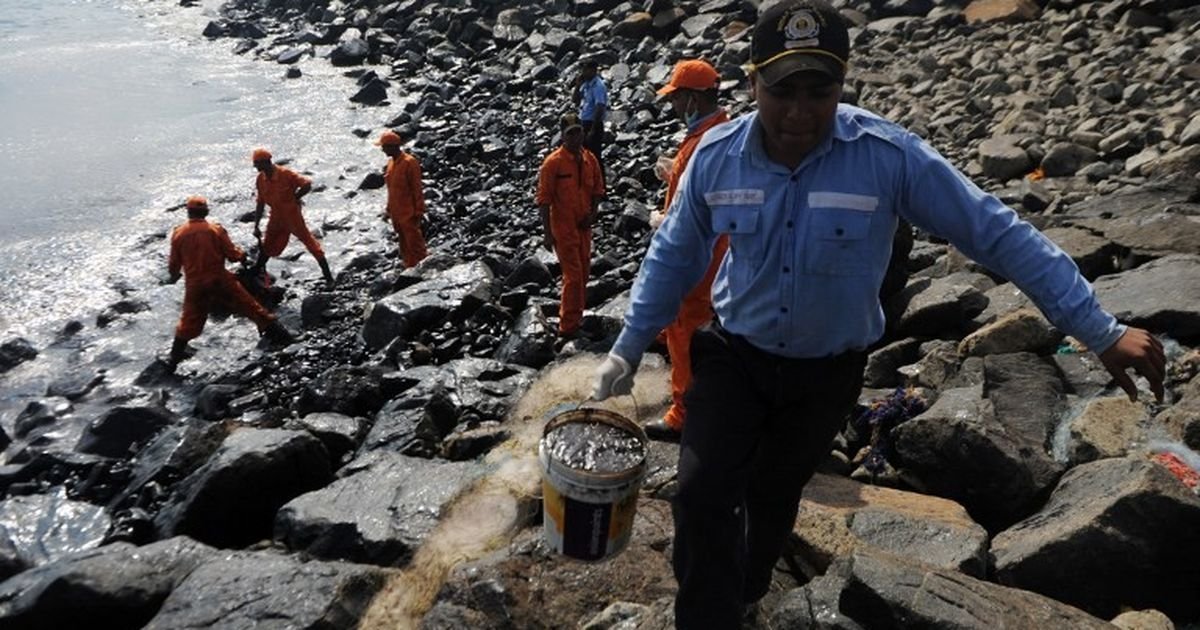 What exactly happened and what is being done?
The mishap occurred at 4 am on January 28 when vessel 'MT BW Maple' was leaving the port after emptying Liquefied Petroleum Gas (LPG) and MT Dawn, Kanchipuram. Loaded with petroleum oil lubricant, it was on its way to the berth at the Ennore port. The ships collided and a massive disaster ensued.
To fight the black wave, both men and machines have joined hands to remove the oil spill. Hundreds of Coast Guard personnel and Tamil Nadu Pollution Control Board volunteers are manually scooping out oil with their hands. Three super suckers (truck-mounted machines used to clean silt from drains ) has been deployed but they have also failed to pump out the sludge.
Coast Guard ship Varada, along with a helicopter fitted with pollution control equipment, is now also joining the clean-up.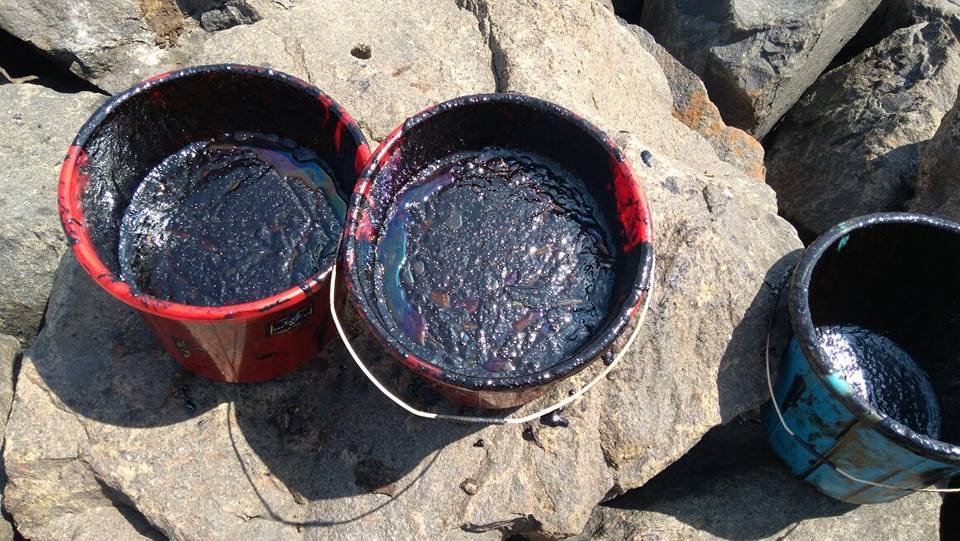 Initially, the authorities had estimated that 1 tonne of oil was spilt following the collision, but by Wednesday, the Coast Guard collected 40 tonnes of sludge and another 27 tonnes of oil mixed with water. Still more needs to be done and more oil has to be gouged out.
Why is this worrying?
Five days after the mishap, the oil spill is spreading rapidly at an alarming pace on the coast of Bay of Bengal, and affecting humans and marine animals alike.
The sea water has completely blackened and several turtles coated with the black oil were found dead near the north Chennai shoreline in the aftermath of the incident. Environmentalists are worried more species will die as the spill affects oxygen supply to these aquatic species.
Chennai oil spill - dooms turtles. Damage to marine life may be irreparable!https://t.co/qrC5hH34AB

Image: B. Jothi Ramalingam, The Hindu pic.twitter.com/bO1Xm92kT0— Greenpeace India (@greenpeaceindia) January 31, 2017
The fishermen community has also been severely affected because of the oil spill and have demanded action as soon as possible. A fisherman told NDTV that fewer people are buying fish and sea animals now and that is affecting their business.
It is damaging to people's health too. An expert on oil spills told The Hindu said people should not be allowed on beaches that had been polluted as it was very harmful to the skin and also to inhale the benzene found in such fuels. Despite this, port authorities have not yet issued a formal advisory to those living near the coastline.
In addition to this, NGO volunteers, port authorities and even coast guard officials who are cleaning up the beaches, have been handed out inadequate protective gear and they are now witnessing the effects of the exposure to the chemicals.
@TimesNow about chennai oil spill wht they are doing can u imagin they can clear oil spread in buckets.why ty r not using druging machin

— kiranbailur (@kiranbailur) February 2, 2017
# Hats off to the labour team clearing the oil spill in Chennai, in such arduous conditions. Is there no mechanized methods for this task ?

— K.R.Prithvi Raj (@KRPrithviRaj) February 2, 2017
"The smell from the oil is irritating my eyes constantly," Venkatesh told The News Minute "I have developed boils all over my hands as well," he adds.
People are now raising questions on the readiness of the authorities to handle the crisis and are pointing out that how the situation has spiraled out of control
#EnnoreBeach Chennai, scary oil spill. Negligence will harm marine life and affect fishermen's livelihood.

— Gita S. Kapoor (@GitaSKapoor) February 2, 2017
Some also pointed how the mainstream media largely ignored the issue
The oil spill in Ennore,Chennai will have worst environmental impact. No media coverage till now. #ChennaiOilSpill

— Ashwin (@Ashwin_0291) February 1, 2017
National new channels just now discovering the oil spill in Chennai and calling it exclusive. Pathetic! Tyranny of distance from Lutyens! https://t.co/gdzLDwS54W

— Mahesh (@invest_mutual) February 2, 2017
This is not the first time such calamity of monumental proportions has hit India. In the recent past, major oil spills have caused major damage to the ecology.
In October 2013, a pipeline in the Oil and Natural Gas Corporation's Uran plant developed a leak spilling about 5,000 litres of crude oil into the Arabian Sea that spread about 10 km along the coastline and caused considerable water pollution.

In August 2010, the collision of merchant ships MSC Chitra and MV Khalija 3 off Mumbai's coast spilled over 800 tons of oil into the sea. As a result, over 8.57 lakh mangroves along the coastlines of Mumbai, Thane and Raigad districts were severely affected.

In January 2011, ONGC's Mumbai-Uran trunk pipeline burst spilling oil across four sq.km. off the Mumbai coast. Again in August the same year, MV Rak which was carrying 60,000 metric tons of coal, 290 tons of furnace oil and 50 tons of fuel oil, sank off the coast of Mumbai.